Basic Embroidery Stitches and their uses
Basic embroidery stitches are the building blocks of all decorative needlework. Some are easier to work than others, but by following the instructions, step-by-step photos and videos you will soon get the hang of them. 
You can try out the stitches on scrap material, but why not do what children in past generations did and create your very own sampler? This can then live in your needlework basket or frame it and hang it on the wall. Don't forget to include your name and the date you completed your project. 
I have grouped the embroidery stitches to make it easier for you to find what you are looking for, but do check out all the links as you might find just what you need in a different section. 
This library contains line stitches (ideal for lettering) and those that are best for filling areas such as for embroidered flowers or leaves for example. 
Surface embroidery stitches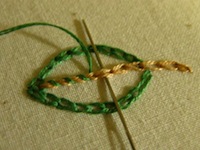 Cross
Knotted
Straight
Pulled work

Needlepoint stitches
Hardanger stitches
Needlelace
If you find a stitch on the site that isn't listed here please let me know and I will direct you to a free blackwork chart to say thank you.

---
---
Oct 28, 19 05:33 AM

Learn how to use Split stitch in multiple ways in your embroidery projects

Sep 21, 19 05:48 AM

Simple blackwork Christmas designs to download and stitch for cards, coasters or decorations. Choose from star, bell, robin or blackwork angel patterns

Sep 21, 19 05:32 AM

Learn how to do blackwork embroidery? Find instructions, patterns and ideas for this, and lots of other types of needlework