Viva Colcha Embroidery!
An article on colcha embroidery by Beverly Johnson-Davis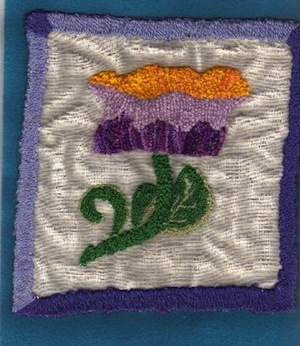 It all began with an ad offering a Colcha Embroidery Class, $50 (US).
Kristen, who was visiting in Silver City, New Mexico, USA said, ìMom, can we take this class?î That was the genesis of our entering a world of needlecraft and history little known to most needle workers.
The class, attended by fourteen stitching enthusiasts, asked the same question of our instructor. What is Colcha? In three hours we learned most of the history, where to find patterns, and the how to of Colcha. Further more, most had completed our first image and learned basic techniques by the end of the class!
We were now ready for the Intermediate class - guess what? There is no intermediate, or advanced class; there are no "carved in stone" rules.
The history of Colcha
The materials needed are common; natural dyed wool (the colors from nature), onasburg or sabanilla cloth (which costs $85/yard), a large-eyed tapestry needle and a hoop is optional.
Indeed Sabanilla labrada (pronounced sab a nee yah), or wool-on-wool Colcha embroidery work, is distinct because it may be one of the few textiles developed and made in New Mexico during the Spanish colonial period.
The wool was from their particular black sheep; the colors emerged from dyes made by indigenous plants (except for Indigo), and the patterns were primitive drawings of what the women observed in their daily lives in this rough and wild place where they now lived.
The Spanish word colcha means coverlet or counterpane. New Mexicans typically call any bed covering a Colcha. Textile enthusiasts use the word Colcha to identify an embroidery stitch; or any finished piece in which they use the colcha stitch.
There are many theories on how colcha embroidery developed. The colonists, of the Upper Rio Grande (present day Colorado and Northern New Mexico) river basin, may have been inspired by the flowers and leaves they saw on East Indian chintz, or indianilla. Evidenced by the claim of Mildred Stapely...
"The floral designs of almost any Spanish spread can easily be traced to the printed Indian cotton hangings that came into the country in the late seventeenth century.
It is also possible that the Oriental silk shawls imported to the isolated outposts of Spain's new kingdom inspired the settlers to imitate the pretty floral shapes using available, albeit coarser materials. You will find many of the designs used in New Mexican colchas, including the double-headed Hapsburg eagle, in Spanish and Mexican embroideries.
The linen and silk embroidery of Spain and Mexico, is closely related in design and function, to the Colcha embroidery found in the American Southwest. (excerpt from an article by Teresa Archuleta-Sage in Spanish New Mexico, The Spanish Colonial Arts Society Collection).
An excellent source for further investigation of the fascinating history of this needle art is Stitching Rites: Colcha Embroidery along the Northern Rio Grande written by Suzanne P. MacAulay. 
How to do Colcha embroidery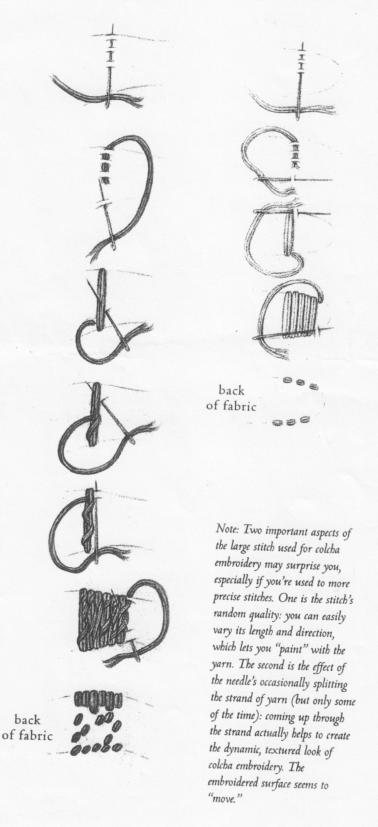 NOTE: Two important aspects of the large stitch used for this embroidery may surprise you, especially if you are used to more precise stitches.
One is the stitch's random quality. You can easily vary its length and direction, which lets you paint with the yarn. The second is the effect of the needle's occasionally splitting the strand of yarn (but only sometimes, it isn't desirable as a stitch, just as an effect) as coming up through the yarn actually creates the dynamic, textured look of colcha. The embroidered surface seems to move.
There are two distinct schools of approach...
The first was the use of flora and fauna as elements in patterns.
The second is the evolution of scenes which depict important events in the stitcher's life or her Catholic faith.
There are wedding scenes, scenes built upon oral tales of divine intervention of angels during wars with the local indigenous peoples; and even the Spanish Colonial armies. These become a record of the stitcher's life which are passed on to their children; much like the Quilts and Lace that is passed down in other cultures.
There are stitching of Santos (saints) used in the religious Images of the Spanish new world. Anglos who've taken up Colcha often produce Christmas tree ornaments made of colcha stitching on small shapes of felt. These may be saints, the nativity, deer, or other modern images of Christmas.
In summary
In closing, I would like to thank Carol for her invitation to share this embroidery work with a larger audience of those who love stitching.
I am, primarily, a tatter. Colcha embroidery, for me, has been an introduction to the State of New Mexico and its cultural history since our relocation here in 2005.
Suggested reading
One of my most books is Weaving and Colcha from the Hispanic Southwest Edited by William Wroth, Ancient City Press, 1985.
Other favourites are shown below.

New Mexico Village Arts: Roland F. Dickey, University of New Mexico Press, reissued 1990;
Piecework Magazine November/December 1993, Interweave Press;
Across Frontiers, Dexter Cirillo, Chronicle Books, San Francisco, 1998.
Keep in Touch with Stitchin'Times Newsletter