Cross stitch software makes it easy(er)
I am often asked "Do you use counted cross stitch software to design your kits?" Or "Will your computer convert a photo to cross stitch?"
Whereas most programs do have a feature to automatically convert photos, that is not necessarily the best method of cross stitch chart creation.
However, I do now use a computer to speed up the process of creating my own designs.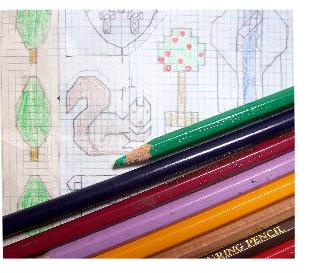 My early days of designing
Back in the early 1990's I started playing around with designing my own patterns. I used cross stitch graph paper and coloured pencils along with plenty of glue sticks!
One of my projects was to design commemorative samplers for friends. Each motif was drawn onto squared paper, then cut out, and pasted onto a larger sheet of paper. This cut and paste job was time consuming, messy and sticky!
Next, I designed some small cross stitch motifs and submitted them to a major UK needlework magazine. They were accepted and I was lucky enough to be asked to design for them on a regular basis.
My introduction to computers
In order to look professional I suggested to my husband that we bought an electric typewriter.
He thought a computer would make more sense and offered to buy me one. I have to admit that back then, the thoughts of using a computer frightened me, but he agreed that if I really didn't get on with it, he would swap it for a typewriter after 3 weeks.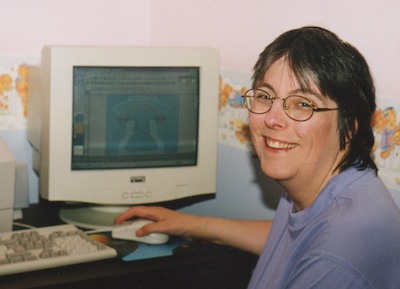 So what happened three weeks later? He would have had to chop off my hand to make me let go of the computer!
Soon after that I discovered my first DOS cross stitch software. It enabled me to print the charts that I sent to the magazine so they were neat and easy to read. No more scruffy hand-drawn charts with parts of the paper almost worn away where I had erased mistakes.
I soon learned that the benefits of designing cross stitch (and later blackwork) on the computer were many.
The next step was a bigger and better computer (why is the one we have never good enough?) and I looked around for a Windows program.
By this time we also had the internet and I downloaded and tried all the cross stitch pattern makers I could find. I eventually settled on the most expensive program I could find, after all if it cost a lot it must be good eh?
Sadly the software I had chosen was slow to be updated, and eventually I started looking around for a replacement.
I happily used Easy Cross for my cross stitch designs for many years until moving from PCs to a Mac.
Cross stitch software for the Mac
Cross stitch software for the Mac was harder to find. Eventually I found MacStitch by Ursa Software.
This worked well and did just what I needed. The company also provide a version for Windows, and even one for the iPad, so I can design wherever I am. Guess who is now a happy girl?
Now for something exciting! Jeff at Ursa has kindly allowed me to offer both versions (Mac and Windows) to you at a discount price. You can use the button underneath to order a copy for yourself.
Do you have a question about charting or designing a pattern of your own?
If you are a budding designer, or just want to chart out a special poem or quote to hang on your wall, I am sure there are questions you would like answered. Unless you know another designer, it is difficult to find those answers isn't it? Well not any longer! You can ask me.

I don't profess to being the fount of all knowledge, but after having been a designer for many years I might just be able to steer you in the right direction. There is no harm in asking is there?...
What Other Visitors Have Asked
Click below to see questions from other visitors to this page...

Keep in Touch with Stitchin'Times Newsletter