Counted Cross stitch is fun for everyone
Have you tried counted cross stitch? If not, you have a treat in store.
Watch those neat little stitches form into a picture on a blank piece of fabric. It's magical. And you don't need to know how to draw.
Warning!
Your family won't believe you when you say "I'll just finish this petal".
Hours later you will still be stitching.
One petal looked lonely, so you did the one next to it, and then the next. Before you know it you have finished the first flower and be on to the next.
Want in on this addictive craft? Read on.
Cross Stitch Beginner?
Cross stitch is a form of embroidery that uses X-shaped stitches to create a pattern or design.
Cross stitch may seem daunting at first, but once you get the hang of it, it's really quite simple. The basic stitches are easy to learn, and with practice, you'll be able to create intricate and beautiful designs.
Plus, it's a great way to relax and unwind.
Getting started
To get started, all you need is a simple cross stitch kit, which includes everything - fabric, embroidery floss, a blunt needle, and a pattern. Or you can just buy the pattern and use your supplies from other stitching projects.
You might find an embroidery hoop helpful as well as other basic needlework supplies. 
All you have to do is follow the pattern and stitch one square at a time. The pattern will tell you what symbol relates to what colour. It's like painting by numbers, but with thread!
I have created a beginner's tutorial for you here. This page also offers a PDF booklet of small bird patterns that are suitable to get started. 
So what makes a pattern good for beginners?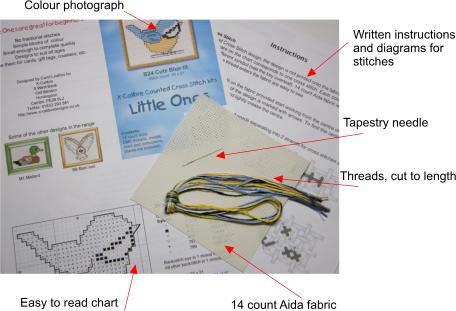 One of my cross stitch beginners kits
Pick something small
Although a larger design may not be any more complex to stitch than a small one, actually finishing something small can be motivating. With a larger design that feeling of accomplishment is delayed. 
The sense of achievement when you complete a small project is what will have you eager to start the next.
Limit the number of colours
Make it easy on yourself by choosing a pattern with simple areas of colour. This will reduce the number of times you need to thread your needle. 
Having only a few, distinctly different hues will make it easy to ensure you thread the right one in the needle. 
Some more complex patterns might have many similar shades meaning you will need good light to see the difference between them.
Patterns with more subtle shading can look very realistic, but maybe leave them until you have a little more experience. 
Start with Aida fabric
Aida is a block weave fabric and is the easiest to learn on.
The threads are grouped together into little squares, with holes in the corners. This makes it simple to see where to insert your needle.
Plus the squares are represented on your pattern (also known as a cross stitch chart) making it clear to follow. 
Beginner cross stitch kits tend to include either 11 or 14 count Aida. The numbers refer to how many stitches you will fit into an inch.
As you gain more experience you might want to pick a different count of fabric. I have a nifty cross stitch calculator that makes this conversion a doddle. 
When you're ready, this page will help you choose the best embroidery fabric for your project. 
Fractional stitches
Some designers use what are known as fractional stitches to "round off" their design edges. These are best left until you have learned the basics. 
They do help to make larger designs more realistic looking, but it is still possible to create attractive designs without them. 
Here is a link for when you are ready to check them out. 
Free cross stitch patterns
If you would like to try cross stitch I have designed some freebies for you. You will find some seasonal designs among the collection.
Presenting your finished work
One of the great things about cross stitch is that you can create so many different things with it.
You can stitch beautiful pictures, personalize gifts with initials or names, make cute bookmarks, or even create your own home decor items.
Your small beginners projects make super greeting cards. Learn how to mount your cross stitch in aperture cards to give to loved ones or friends. 
Framing can be expensive if you take it to a professional. However, I'll show you how to frame your cross-stitched pieces yourself, which saves a lot of money. The tutorial will walk you through the process step by step.
More resources for you...
Learn to stitch on your clothing using waste canvas

Learn to embellish your work with beads

Would you like to make your work reversible?
Would you like to wash your finished cross stitch?
---
I found the craft one lazy summer afternoon, many years ago. I purchased the basics along with a cute angel pattern. The shop owner, Rita, gave me a 5-minute lesson and I never looked back.
I spent the evening stitching and was back the next day for more!
Rita and I became good friends over the years. I even ended up teaching embroidery classes in the room above the shop.
Ready to learn more?
Trained your family to understand and respect that 5 minutes really means 2 hours? It's time for the next stage of your cross stitch mastery!
Are you...
Are you ready to try evenweave and linen?
Are you having trouble seeing your stitches?
Are you ready to chart your own designs on paper?
Want to progress to using computer software to design patterns?
Want to sell your own designs?
Have you...
Have you mastered fractional stitches?
Have you got a stain on your finished piece?
Would you like to...
Would you like to try Assisi work?
Would you like to change the size of your project?
Would you like to ask a question?
---
What Other Visitors Have Said
Click below to see contributions from other visitors to this page...

Keep in Touch with Stitchin'Times Newsletter