Choosing hand embroidery stitches for lines

Do you need help with choosing hand embroidery stitches for your project?  
You may have stuck to counted cross stitch in the past to avoid having to make such decisions? But now the lure of freestyle embroidery is calling to you and you are not sure where to start?
One option is to pick a kit that includes full instructions for what to use where. Smart move, but most kits tend to stick to the same selection of stitches. With so many available to choose from, why limit yourself?
A hand embroidery design is usually presented in outline format. You can stitch along the lines, or fill the areas between them. The choice is yours. We will start by looking at line stitches on this page. 
Although your designs may differ, there are often common elements between them. Instead of always using stem stitch for stalks, for example, let's look at alternative options together.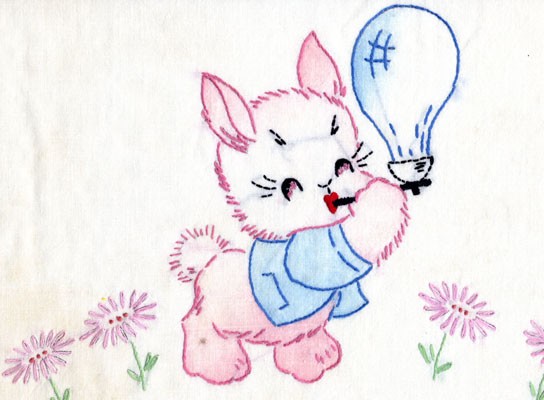 In floral or botanical designs you are likely to encounter stems and tendrils. These can be straight or curved. They may even have shorter lines coming out of them to represent thorns or side shoots. 
You might want them to appear thin and delicate or to be wider with more substance. Of course the thread you use affects this, but so too can your choice of stitch.
You may also just wish to outline a shape rather than filling it in. Let's look at some of the stitches you could use for these purposes.
Smooth stalks and outlined shapes
The examples in the photograph were all worked in 2 strands of floss. From left to right I used the following stitches…

Offshoots from the main stem use the same stitch, worked from the main stalk afterwards, perhaps using less strands of cotton to give a finer line. 
These stitches work well for lettering, also.
Knobbly twigs and branches
Sometimes you may like to add some texture to your lines. Knotted stitches are ideal here. You can also use speciality threads by couching them to the surface.
From left to right...
Coral knot (2 strands)
Couching (with floss)
Palestrina knot (pearl cotton)
Couching (with pearl cotton)
Coral knot (3 strands)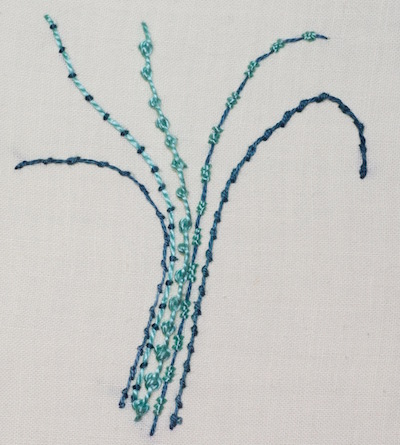 Hand embroidery stitches for borders
Time to let your hair down and go wild! Line stitches work well for borders. I also like using the examples in the photograph for crazy quilt seam decoration.
The Blanket and Cretan stitch samples show two rows of the same stitch in different colored pearl cottons. Working multiple rows in this manner offers many options for borders. Why not try combining different stitches for even more variety!
You may be wondering about the line on the right of the photo? To create this magic chain stitch you thread two colors in the needle. You then alternate which one you lay under the needle for each stitch. I will be adding full instructions for this pretty stitch to the site soon. 
I hope this page has given you some ideas for choosing hand embroidery stitches for the lines in your design. Next time fill stitches will be the stars of the show!

Keep in Touch with Stitchin'Times Newsletter