Hand Embroidery for Beginners -
Embroidering a Name or Initial
I have taught hand embroidery for beginners throughout the UK. One of the most popular subjects is always embroidering a name or initial to personalise belongings. 

This is nothing new, of course. In days gone past young girls completed samplers featuring alphabets as practice pieces. This ensured they could mark their own linens when they grew up. 

To create your own personalised item you can get away with just a few basic embroidery stitches. So what can you decorate in this manner?

baby bibs
baby blankets
Christmas stockings
handkerchiefs
gym bags
pockets
pillowcases
samplers
pictures

The first step is learning how to get the word or letter you want to hand embroider onto your fabric. The best method depends on the type of cloth you are embellishing. 

When I have taught hand embroidery for beginners I tend to stick with cotton, calico  or polycotton materials for their first attempt. 



Transferring your text to smooth cloth
Method One - making an iron on transfer
Start by writing, or tracing, your letters onto tracing paper. Then lay that over your garment to check the size. If it looks good, turn over your paper and retrace with a transfer pencil. This will ensure your writing is the right way round once you iron it onto the fabric. 
Iron on transfers won't wash out, so you will need to cover the lines with your stitches.
Method Two - Use a Light Box or Window
A light box is a smooth surface with a light behind it. When you place your template and garment on top, you will be able to see through the fabric. You can then trace the lettering with a disappearing ink pen or a graphite pencil. 
Don't have a light box? Use a window instead. The window will only work during daylight hours of course.
Transferring to fabrics with a "nap"
The methods above won't work on textured fabrics such as baby's blankets or toweling.  The deep pile, or nap, does not lie flat enough to get a good result.
A good method to use here involves tissue paper and tacking stitches. 

You would first write the letters onto the paper, with care! Then position the paper over the garment. Using contrasting colored thread, stitch over the lines with a straight stitch. You can then tear away the tissue to leave a guide to follow for your embroidery. 
Hand embroidery stitches to use for lettering
The best stitches to use will depend on the size of your letters.
Small words look great just outlined. You might like to get more creative with larger initials or monograms. There are a variety of filling stitches that work well for these.
Back stitch and stem stitch
Simple stem stitch and back stitch lettering
I suggest you start with outline stitches.

Backstitch and stem stitch work well for the name shown in the photograph. 
Stem stitch gives a thicker line for the first letter and the line underneath. Full instructions for this stitch and variations are included on my stem stitch tutorial page. 
---
Split Stitch
If you want to create letters that vary in width, split stitch is a good choice. You can work a single row in the thinner sections, and add extra in the wider parts. It is a great introduction to hand embroidery for beginners.

I recommend using an embroidery hoop for split stitch. You then have both hands free. Thread your needle with an even number of strands of embroidery floss.
Start by bringing the needle up through the fabric from the back. 

Take it down a stitch length away. You don't want to make each stitch too big - half a centimeter is large enough. 
Bring the needle back up through the center of the previous stitch. Try to have the same number of strands on each side of where you split the stitch. This will give the neatest result.
Take the needle down half a centimeter away from its current position. 
Repeat this, splitting the center of the previous stitch each time.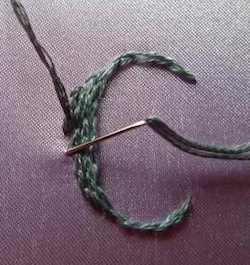 ---
Satin stitch
You can also use the split stitch to outline a letter then fill it with satin stitches, which helps give a neat edge.
Keeping the satin stitches laying smooth can take practice, but it is worth persevering. You might like to try out a laying tool to help here. 
Try to avoid making your satin stitches too long, as they are liable to catch or snag.

Satin stitch worked on the diagonal
---
Padded Satin Stitch

Padded satin stitch consists of two layers, often worked in different directions. It gives more dimension to your hand embroidery. For beginners, I would stick to just the first layer.

With more practice you can work over a cut out shape to create a raised satin stitch letter, as shown here. Felt or a stiff interfacing work well for this technique.
I was lucky enough to find vintage letter shapes in a mixed box of transfers that were given to me. They were all the letter S but as my mother's name is Shirley I used one to make her a birthday card.
When working a curved letter ensure that you keep the stitches tight together on the inner curve and slightly spaced on the outside. This will help to create a smooth finished result without gaps or bumps in your work.
---
More hand embroidery for beginners
These are just a few stitches that you can use for lettering. To learn more stitches do check out my basic embroidery stitches page. I hope this introduction to hand embroidery for beginners will encourage you to take things further. 
---
---
Keep in Touch with Stitchin'Times Newsletter