Couching stitch - how to embroider with beautiful textured threads
Couching stitch saved my marriage!
Ok, that is a dramatic statement, but it certainly resolved an issue. I was enjoying my embroidery and the company of my husband one evening when I realized he was muttering under his breath.
Before long he asked, "Why do you have to be so noisy?" Huh?
Embroidery is not generally thought of as a noisy occupation and I had been intent on my stitching, not chatting.
"Your thread is making too much noise!" he grumbled.
I looked up in surprise and then paid attention to my project. Each time I inserted my needle into the drum-tight hooped fabric it first made a loud pop and then a long scraping sound as I dragged the yarn through the fabric.
I had been unaware of the friction between the chunky yarn and closely woven fabric. That was certainly not a marriage made in heaven!
I hastily rethought my plans. Was there a quieter embroidery technique? One that would also reduce wear on the fabric and thread?
Couching stitch to the rescue!
It enabled me to use the gorgeous fibres I had picked out by laying them on top of the fabric and securing them with finer embroidery threads. No noise, no friction!
Fibers you can couch down
Remember those threads you fell in love with at the last stitching show? The ones that were too thick to go through your fabric, so you set them to one side? This collection could include...

Boucle or bobbly yarns
Flat and tubular ribbons
Braids
Cords
Beaded or sequinned threads
Faux fur
Artic Rays - chainette
Estaz - this looks like Christmas tinsel
Chunky metallic threads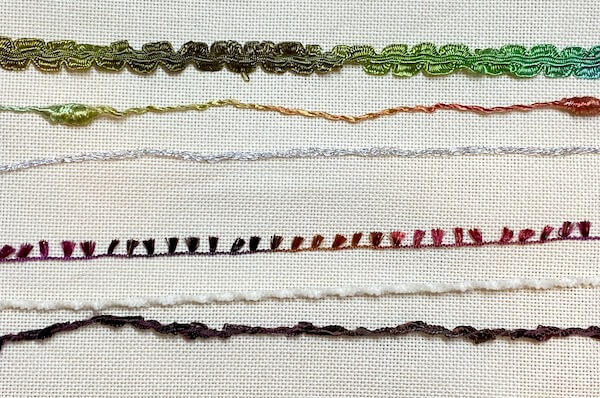 Get them out of storage! They can all add flair and dimension to your work.
Color choices make a difference
By carefully selecting colours, you can create various effects. Choose contrasting threads if you want your stitches to be visible.
For instance, a red cord with fine white embroidery floss can resemble a Christmas candy cane.
Select a thread colour that blends well with the laid threads and background fabric to conceal the small stitches. This will make the couched thread appear to float on the surface.
Designing your pattern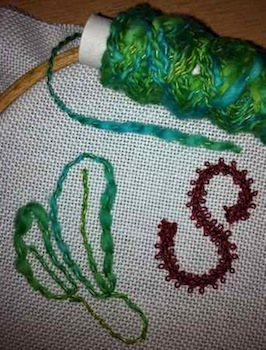 A couched braid and a yarn with thick and thin areas - both couched
You can either doodle a line on the fabric with a disappearing ink pen, or just lay the thread where you fancy, with no line to guide you, as I did with the leaves in the photograph above.
The fancy thread can meander across the background in swirls or curves, or it can lay straight. It is your decision.
I created the letter S on the piece above from a burgundy braid sold for miniature doll's clothing, stitched in place with a matching strand of floss.
You are not limited to lines. Couching is also ideal for filling shapes. You can work. lines side by side, spiral around or even cross over previous lines to form a chequered pattern. 
A simple couching stitch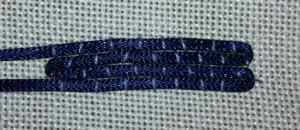 Couching in a brickwork formation
In this photo, I use a dark blue ribbon, folding it back like a hairpin bend at the end of each row.
I used light blue floss to catch down the ribbon, placing small straight stitches across the ribbon in a brickwork-like arrangement
We also use this form of couching stitch in goldwork, where we lay the gold threads side by side on the surface and catch them down in an all-over diaper pattern with silk.
Raised cording - simple couching
Another use for this embroidery technique is to create a raised line. This could represent a branch, twig, or perhaps a bird's foot, as in the photo below. For this tiny foot I used white soft cotton covered with floss.
In this case you would want to completely cover the laid work by placing your couching stitches close together.
Imagine a vine passing across in front of a tree trunk or branch worked in this method. We are entering into the realms of stumpwork here.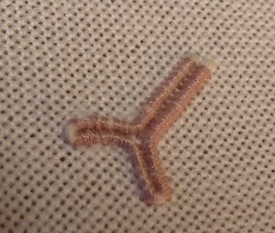 Raised cording resembling a bird foot
Using other stitches to decorate a ribbon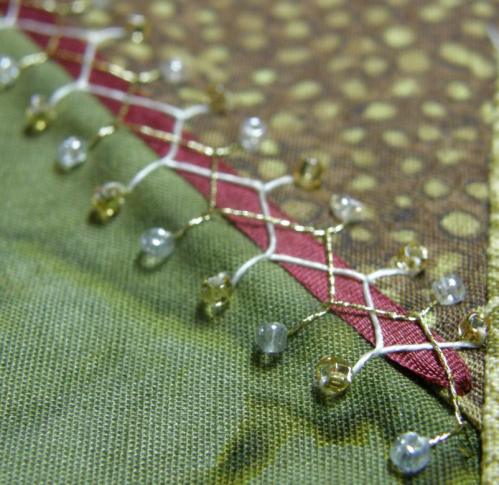 You don't have to stick with a straight stitch when couching.
This photograph shows where I used two rows of cretan stitch to attach a length of ribbon to a crazy quilt block. You could use Herringbone stitch for the same purpose. 
You could even use a chain stitch along the center of the length of ribbon to hold it in place. There are no rules. Experiment!
The couching stitch in needlelace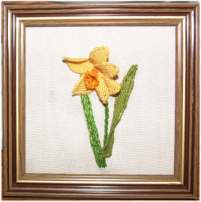 Needlelace is a technique that involves using couching.
To begin, draw a pattern on paper and place it on a folded piece of fabric. Cover it with smooth sticky-backed plastic or architects linen. Place a doubled thread over the outline and secure it in place with tiny stitches that go through all layers. The technical term for this is laying a cordonnet. 
Once the piece is finished, remove the stitches to release it from its backing. For those new to this craft, try my daffodil in the needlepoint lace section of the website.
Stumpwork
Stumpwork, a type of raised embroidery, can incorporate the couching stitch.
In my bunny project, I used this stitch for the basket he sits in.
Using one thread, I alternated between laying a long horizontal stitch across the basket and working tiny stitches to secure it in place. Known as Bokhara Couching this was effective in representing the basketwork in my design.

Tips for couching
This is a simple and fun technique, and the only thing that may cause problems is securing the end of the fancy thread or braid.
Securing the end
To start working, bring the braid or ribbon through from the back of the work leaving a short tail to secure later.
If the fibre you are using is too thick to allow this, just lay it in position and hold it in place with tiny stitches using a matching coloured thread.
If you don't want the end showing, try covering it with other embroidery or a button to make it less noticeable.
After you have finished
Couching is more suited to decorative pieces of embroidery rather than practical items that will need washing often. The long threads can snag and the securing threads can break if handled roughly.
Keep in Touch with Stitchin'Times Newsletter