Couching Stitch -
for those beautiful but tricky fibres
The couching stitch gives you the opportunity to include a vast array of fibres, ribbons, braids or cords into your embroidery projects.

Those threads that you picked up at the last stitching show because they looked so beautiful, but when you got home wouldn't go through your fabric, can be couched in place with finer threads.
By careful choice of colors you can make the couching stitches almost disappear, so that all you see is the decorative fibre that lies on the surface.
The fancy thread can meander across the background in swirls or curves, or it can lay straight. It is your decision.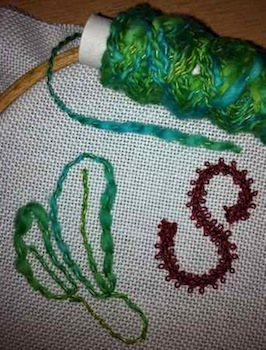 You can either doodle a line on the fabric with a disappearing ink pen, or just lay the thread where you fancy, with no line to guide you, as I did with the leaves in the photograph above.
I created the letter S on this piece from a burgundy braid sold for miniature doll's clothing, stitched in place with a matching strand of floss.
Goldwork and diaper patterning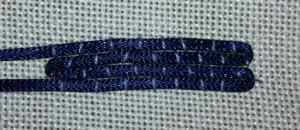 For the navy blue ribbon in the next photo I used a pale blue floss, placing each couching stitch in position carefully to form a brickwork pattern.
We also use this form of couching stitch in goldwork, where we lay the gold threads side by side on the surface and catch them down in an all-over diaper pattern with silk.
Raised cording
Alternatively, you can cover the couched thread completely, to give a raised appearance for things like bird's feet, (as in the photo), branches and twigs.
Here I used a white mat cotton and stitched over it in two strands of floss. If I was using this on an actual project, rather than as an example, I would take more care to cover the cotton where it turns back on itself.
This technique can look really effective when worked over the top of other stitching, for example, as a vine twisted around a log.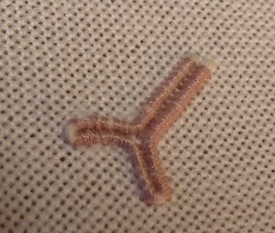 Using other stitches to couch a ribbon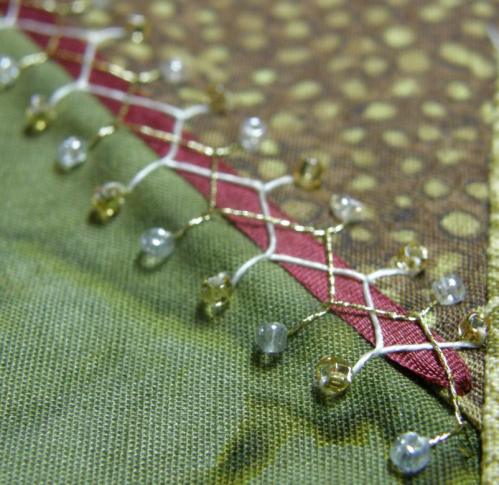 This photograph shows where I used cretan stitch to couch a length of ribbon to a crazy quilt block.
You can use any stitch that spans the fibre or ribbon you wish to attach to your project, as a couching stitch in this manner.
The couching stitch in needlelace
Another technique that makes use of couching is needlelace.
For this, we draw a pattern on paper, which is laid onto a folded scrap of fabric, then covered with a smooth sticky-backed plastic (or architects linen). Lay a doubled thread over the outline and couch it in place with tiny stitches that go through all layers (fabric backing, paper and plastic).
After completing the lace, remove the couching stitches, freeing the piece of lace from its backing. If this appeals you could try my pretty daffodil in my starting needlepoint lace section of the site.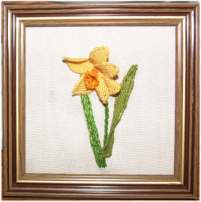 Stumpwork
Stumpwork, or raised embroidery projects can also incorporate the couching stitch.
For my stumpwork bunny I used Bokhara Couching for the basket that he is sitting in. For this, I used just one thread and alternated between laying a long horizontal stitch across the basket and then working tiny stitches to hold it in place on my way back.
As Bokhara Couching resembles a woven textile, it was really effective in representing the basketwork in this design.

Tips for couching
This is a simple and fun technique, and the only thing that can cause problems is securing the end of the fancy thread or braid.
Securing the end
If it will go through the fabric without damage to either the thread or fabric, then tie a knot in the end and bring it up where you want to start work. Easy!
If this isn't possible, then you will need to leave the end of the braid, ribbon, or whatever on the surface. You may choose to turn the end under and stitch through it to hold it in place, if it isn't too heavy.
If all else fails, try to cover the end by other embroidery, or maybe a button, so it is less obvious.
After you have finished
Couching is more suited to decorative pieces of embroidery rather than practical items that will need washing often. The long threads can snag and the couching threads can break if handled roughly.
Keep in Touch with Stitchin'Times Newsletter