So What is Blackwork Embroidery?
My love affair with blackwork embroidery began about 50 years ago, when I spotted a school friend stitching a beautiful frog in black and golden threads.
I have loved it ever since and am so happy that I can now share this wonderful needlework technique with you.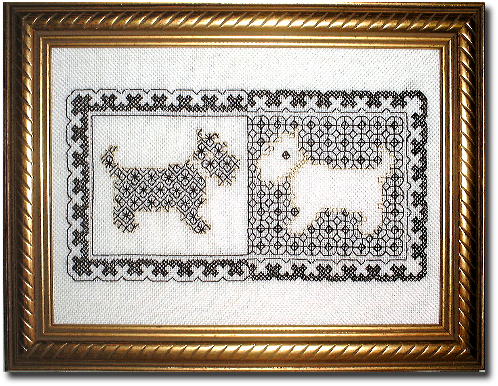 Let's start with some of the commonly asked questions I get when teaching blackwork embroidery at workshops and exhibitions.

What is blackwork?
Do you always stitch it in black thread?
What materials do you use for blackwork embroidery?
How long does it take to learn blackwork embroidery skills?
Does it have to be the same on the back and front?
What stitches will I use in a blackwork pattern?
Are all blackwork patterns geometric in style?
All good questions. And if you've ever wondered what blackwork is, or how it's done, I hope this section of the site will answer some of your queries so that you can try it
An Introduction to Blackwork
Blackwork (sometimes called 'spanish work') is a form of counted thread embroidery.
It involves stitching with one colour, traditionally black silk thread, on a contrasting coloured fabric, traditionally white, using a blunt tapestry needle. Today, it is often worked in coloured thread, sometimes with metallic fibres and beads used as accents. Fabrics commonly used include Aida, evenweave or linen.

A blackwork design consists of outlined shapes, filled with repeating patterns. To create contrast in my designs I use a thicker thread (or more strands) for the outline than I do for the filling.
The stitches follow the weave of the fabric and are therefore vertical, horizontal or diagonal. However, they can represent natural elements such as flowers, leaves, fruits and even animals, as well as general geometric patterns.
Some, but not all, of the patterns can be worked reversibly. This is achieved by stitching every other stitch in one "journey" and then coming back to fill in the gaps. Stitches used for this technique include double running stitch, Holbein stitch or backstitch. Some patterns will also include cross stitches.
Finished pieces can be framed or made into various household items, such as pillows, bookmarks, coasters or table coverings. It is also possible to decorate your clothing as was the norm in the past.
As it was quicker to stitch lace-like patterns than to make the real thing, it was often referred to as poor man's lace.
To complete this mini introduction I can tell you that it can be quicker to complete a blackwork project than one done in cross stitch.
Learn how to do blackwork embroidery
How do I stitch reversible patterns?
Free course to get you started
These free blackwork patterns will teach you the basics and then you can move on to slightly more advanced techniques, such as shading.
I have listed the lessons in the same order as I teach my live classes. I would suggest you start with lesson one, rather than jumping in at the deep end. Put aside around two hours for each lesson, but don't worry if you take longer to begin with.
Patterns for you to Download and Stitch
Click on the images below to take you to the relevant sections in my online store, where you can purchase and download patterns direct to your computer. Instantly! 
Keep in Touch with Stitchin'Times Newsletter