Stumpwork embroidery - a free guide
A brief history of stumpwork embroidery
Stumpwork embroidery is a fascinating and intricate form of needlework that dates back to 17th century England. This article not only delves into some of the fundamental techniques used in stumpwork embroidery to produce raised embroidery elements that provide a touch of depth and texture to any project, but also provides a brief history of stumpwork.
Historically, the art of stumpwork embroidery was commonly utilized for ornamenting religious vestments, church decorations, and personal items like boxes or caskets.
An example of a stumpwork box embroidered by Hannah Trapham and dated 1671, is held in the collection of the National Trust at Sudbury Hall, Derbyshire. The embroidery features animals, flowers and fruit along with elements depicting a biblical story, all common themes within stumpwork.
The craft of stumpwork embroidery was often taught to children to improve their fine motor skills and creativity. Many of the stumpwork treasures found in museums, such as the V&A in London, include the child's age as evidence of their work.
This technique required precision and attention to detail, which, no doubt, would have helped to cultivate patience and perseverance in young learners.
The finished products were often used as decorative pieces in homes and churches, making the mastery of stumpwork embroidery a valuable skill for both personal and professional purposes.
Stumpwork today
The use of stumpwork embroidery allows for a level of depth and texture that cannot be achieved with traditional flat embroidery techniques.
By incorporating raised elements, such as flowers, insects, or animals, into the design, the piece becomes more visually appealing and tactile.

Also known as Raised Embroidery this art form is a testament to the creativity and skill of needleworkers throughout history.
Simple stumpwork embroidery techniques
Stumpwork embroidery is a technique that involves creating raised elements in a design. This can be done using several methods, each of which adds its own unique texture and dimension to the design.
One of the most common techniques used in stumpwork is padding. This involves layering threads or felt underneath the stitches to create a raised effect. The padding can be moulded to create a variety of different shapes.
Another technique used is working raised stitches. This involves creating stitches that are raised above the surface of the fabric. These stitches can be used to create intricate patterns and designs, adding depth and texture to the overall piece.
Slips or small pieces of embroidered fabric or canvas can be attached to the surface of the design, which is another way to create a raised effect. 
Incorporating embroidered, fabric shapes with wired edges allow free-standing elements to be attached to a stumpwork piece to create wings, leaves or even clothing. 
By combining these stumpwork embroidery techniques with traditional embroidery methods, it's possible to create truly unique and beautiful pieces of art.
Padding with thread
To create a padded base under a motif, you can work one or more layers of stitches in alternate directions. This technique will provide extra cushioning to your design. In the photo below, you can see an example of this method using cream cotton thread. To demonstrate, I worked only half of the motif and built up three layers in the center
I then used a green hand-dyed thread to work satin stitch over the padding. This technique helped me to achieve a gradual slope from the peak of the work down to the level of the fabric. If I had padded the entire area, it would have resulted in a round shape that looked like a ball cut in half. Instead, I opted for this method as it gives the impression of a field that is sloping down to a river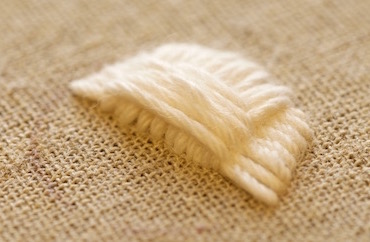 Fig 2 - Padding worked in DMC Soft Cotton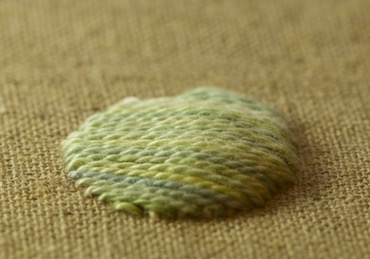 Fig 3 - Satin stitch over the padding
Padding with felt
If you want to raise your stitching off the surface fabric, felt can also be a great option.
To do this, first trace the shape onto a piece of paper and then cut it from the felt. After that, cut two more pieces from the felt, making each one smaller than the last.
It's important to choose a felt color that matches your embroidery floss to avoid it showing through your stitching.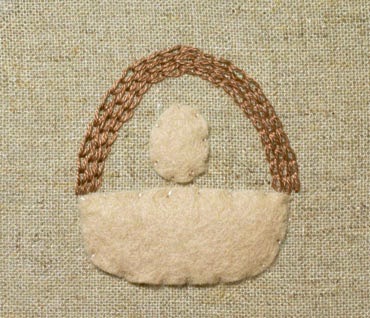 Fig 4 - Felt padding for basket and head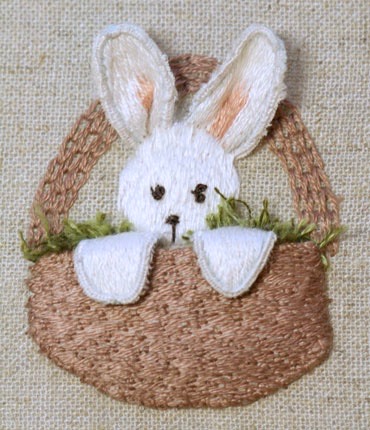 Fig 5 - Finished project
Sew the felt shapes onto your project using small stitches around the edge, beginning with the smallest piece. This will create a center with greater depth than the edges. Embroider over the top of the felt.
I used this method for the bunny's head and basket in my stumpwork tutorial as pictured in Figures 4 and 5. 
Raised stitches
You can use various stitches to add a 3D effect to your stumpwork embroidery. These include bullion knots, woven, detached and couched stitches. Some stitch names even give you a hint as to what they can be used for, like raised fishbone. raised buttonhole flowers or velvet stitch.
The photos below show raised stem band.
Take short straight stitches across the width of the shape. Turn the fabric by 90 degrees, and work rows of stem stem, slipping the needle under each of your foundation stitches without piercing the fabric. If you require further height, you can lay padding threads under the horizontal stitches before working the stem stitch. You can check out my entire stem stitch tutorial for other ways of working this stitch.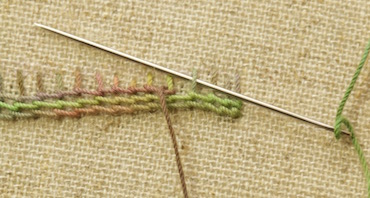 Fig 6 - working raised stem band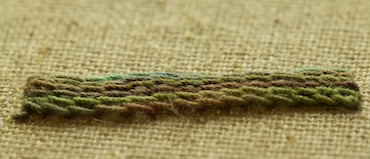 Fig 7 - Raised stem band complete
Detached stitches come into their own, when doing stumpwork embroidery. One of my favorites is the needlewoven picot, which I used in my bunny tutorial mentioned above.
Attaching fabric slips
For this technique, work the embroidery on a separate piece of fabric or canvas, known as a slip. In the sample here I used French knots which give a slightly raised appearance by themselves.
I then cut out the stitched shape, leaving a small amount of extra cloth around the outside. I turned the raw edges to the back before attaching it to my main fabric. To give a little extra dimension, I tucked some soft cotton thread underneath.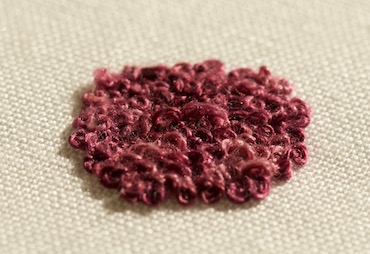 Fig 8 - Stitched french knots slip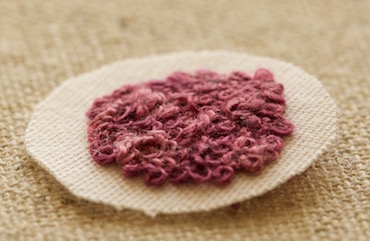 Fig 9 - Slip cut out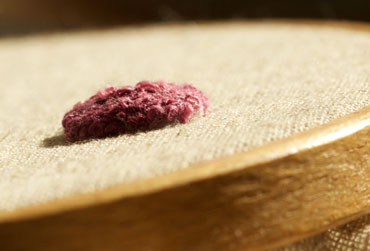 Fig 10 - Slip attached to project
Wired shapes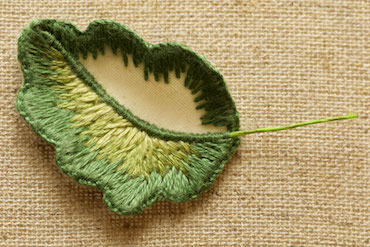 Fig 11 - Wired leaf in progress
If you need additional shaping, couch wire along the edge of the piece. Buttonhole over this wire and then fill the area with your chosen stitch. I used long and short stitch for the sample shown in Fig 11. Cut around the shape, close to the edge, when completed.
You will often find flower petals and leaves handled in this manner in stumpwork embroidery designs. For leaves you can also add a wire vein.
If your stumpwork embroidery design has a background of flat embroidery, do that first. Then attach the raised and freestanding pieces, leaving those closest to the viewer until last. The sections closest to the viewer will then overlap those further back, giving your stumpwork embroidery piece a more natural look.
Avoid cutting any wire with your expensive embroidery scissors!
A pair of wire cutters are better for this.
Keep in Touch with Stitchin'Times Newsletter