Hardanger Embroidery for Beginners
Learn Hardanger embroidery with my beginners course. Find out the equipment, fabric and threads you will need. Stitch six free patterns which introduce you to the stitches used in this Norwegian embroidery.

Traditional and modern designs are available
Hardanger embroidery is a simple form of whitework. It involves counted thread stitches, drawn thread work and some pulled thread embroidery. It was traditionally used for linens, caps, and aprons. 
Modern patterns include tablecloths, runners, pillows, ornaments and framed samplers. Most often geometric in design, it is also possible to create pictures in hardanger.
Beginners step by step Hardanger course
Learn hardanger with my free course, which covers the basic techniques.
If you want to learn more about Hardanger the following books by Janice Love will be helpful...

Hardanger embroidery threads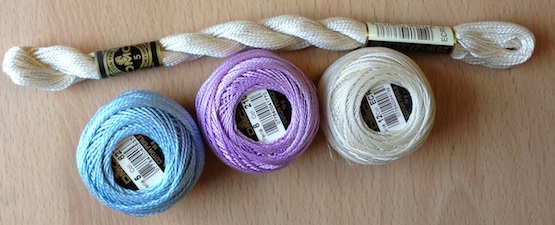 You will need two different thicknesses of Pearl cotton for this type of embroidery. You will use the finer thread for the lacy filling stitches.  The surface stitchery uses the thicker thread. 
These pearl cotton threads are numbered depending on their thickness.
The number 3 cotton tends to be too thick for our purposes. Next is the number 5, which comes in skeins and balls. Pearl cotton numbers, 8 and 12 are only supplied in balls.
Fabric for Hardanger embroidery
Hardanger fabric is available in a number of different threads to the inch, or "counts". It is important to use a suitable weight of thread for each fabric type, as shown in the table below.
Fabric Count

22 count Oslo

28 count evenweave

32 count Linen

Threads to use

Pearl 5 and 8

Pearl 8 and 12

Pearl 12 only
What else will you need?
Tapestry needles 
You will need two sizes, one for each thread. Try a size 20 for the Pearl no 5, size 22 for the Pearl no 8, and a size 24 for Pearl 12.
Sharp scissors
Sharp, pointed embroidery scissors are necessary for cutting the threads. Those with angled blades make life a little easier.
Embroidery hoop
I recommend you use an embroidery hoop while working the surface stitches. Remove it before cutting the fabric threads and doing the needleweaving.
Tweezers
A pair of pointed tweezers may also come in handy for teasing out the cut fabric threads.
Small pot
A container, in which to pop the cut threads, can help to keep your working area neat and tidy.
How to follow Hardanger patterns
As this is a form of counted thread embroidery the design is not printed onto the fabric. Instead, you will follow a paper chart which shows where to place the stitches. 
The grid lines on the chart represent fabric threads. It is important to take care to check whether each line shows a single thread, or more. Large designs often use a line to mean two fabric threads. This makes the pattern smaller and easier to handle.
While learning, it is easier to follow charts that show every fabric thread. The patterns in my beginner course  follow this method.
For your Bookshelf
What if you cut the wrong thread?
When I have taught hardanger embroidery at workshops, this is everyone's first question.
It can be worrying taking the scissors to your work after you have put time and effort into the stitching! My charts have  special red lines so you can see which threads to cut and which to leave well alone.
Please remember to breathe whilst cutting the threads.

If you do happen to make a mistake all is not lost there are ways of rectifying the problem.
Do you have a question about Hardanger embroidery?
Whether you are a beginner to Hardanger embroidery or you have been stitching it for years, this is the place to ask for help or share your knowledge.
What Other Visitors Have Asked
Click below to see contributions from other visitors to this page...


---
---
Nov 20, 19 04:00 AM

4 sided stitch, worked diagonally, completes the last band of our whitework sampler

Nov 20, 19 03:48 AM

Blackwork for Beginners - learn this fascinating needlework technique with Carol Leather's book

Nov 20, 19 03:33 AM

This ebook gives an insider guide to becoming a cross stitch designer and starting your own business