Hardanger embroidery - 
learn how it's done 
Hardanger embroidery made an impression on me at a very young age.
I was visiting my grandmother's bungalow and, as usual, the first thing I did upon arriving was to check out her dressing table.
She always placed hand embroidered doilies on top, to protect the wooden surface from scratches. Normally they featured brightly coloured flowers or even crinoline ladies. That day I was in for a surprise.
Quick Links to help you navigate this page
In pride of place lay a crisp white mat encrusted with neat white stitchery. She had decorated the open areas of the cloth with fine lacy stitches. It was stunningly beautiful.

During the time we shared, I often watched her creating her masterpieces with needle and thread, and sometimes she let me add a stitch. She would then say that we made the project together.

When Nan started her next piece of Hardanger embroidery, I watched intently, keen to see the process in action. I didn't understand at that age, that you couldn't fill holes with lace without working the stitches around the perimeter first. I couldn't wait for the fancy work. Taking her stork-handled scissors, she started carefully cutting threads in between her solid stitching.
Then she laid her work on the chair arm while she went to boil a kettle.
Of course, I had to help. Oh dear. Disaster!
Let's just say that Nan never finished that project, and it was decades before I plucked up the courage to try Hardanger embroidery again. But once I did, there was no stopping me.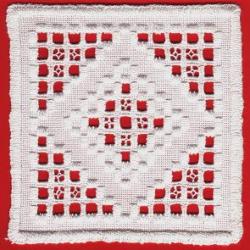 Now it's time for me to share it with you
Traditional Hardanger embroidery originates from the Norwegian area that gives it its name. The women there would embellish their aprons, caps and household linens such as tablecloths and runners with Hardanger stitching.

Whether you stick to the traditional white on white method, or introduce some colour, is your decision. It looks lovely either way.
You may decide to frame your work or complete your finished pieces as bellpulls, coasters, Christmas tree ornaments or perhaps a mat to place on your own dressing table instead of decorating your garments.   
Most Hardanger designs are geometric. However, I like to be inventive and enjoy designing pictorial pieces, such as the little owl shown here, although it still uses traditional stitches.
The method of working is just as my grandmother showed me all those years ago.
Start with the satin stitch blocks known as "Kloster blocks" that form the outer boundaries of the cut areas. Add decorative surface stitchery, such as the cable stitched feathers on the breast. Next you need those sharp-pointed scissors, which I caused so much damage with! However, once you know which threads to cut and which to leave in place, it is simple. The pretty lace stitches complete your project. 
Beginners step-by-step Hardanger course
In just six lessons, I provide Hardanger needlework instructions that will cover the basics. You learn to stitch small pieces that can become coasters, greetings cards, or a bookmark. As you progress through the course, I introduce you to the different stitches that you need. I list those you will learn in each step under the clickable images below.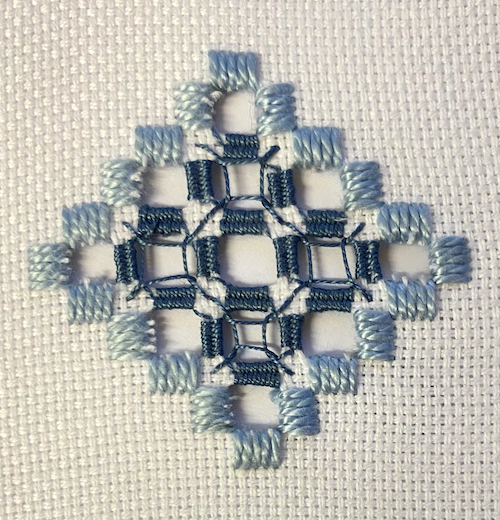 Kloster blocks
Needleweaving
Square Filets

Fancy Kloster blocks
Overcast bars
Doves Eyes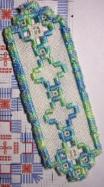 Kloster blocks
Square Eyelets
Buttonhole edging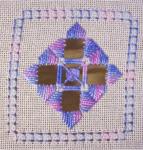 Spider's Web
Four-sided stitch

Satin Stitch motifs
Hemstitch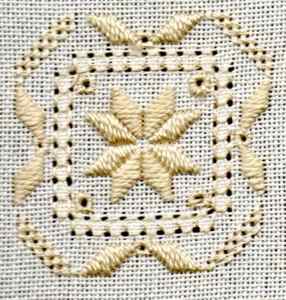 Satin Stitch
Four-sided stitch
Cable stitch
Diamond Eyelets
What threads should I use for Hardanger embroidery?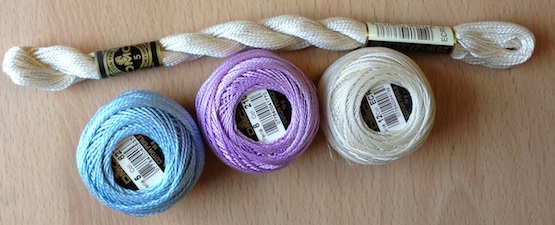 Next, in this beginner's guide to Hardanger let's look at the materials you will need to try this type of embroidery yourself. 
We don't work Hardanger with the normal embroidery floss, instead you need two different thicknesses of Pearl cotton. Which you choose will depend on your fabric. The lower the number, the thicker the thread.
Unless you are working on fabric with few threads per inch, we normally ignore the thickest, Pearl cotton number three, as it would be too chunky. Instead, we either pair numbers five and eight, or eight and twelve, to give the best results.
As shown in the photograph, Pearl cotton comes in both balls and skeins. You will normally find only the finer versions, eight and twelve, sold in balls. 
Use the thicker thread for your Kloster blocks and any other satin stitches. Work the rest of your design with the finer thread. 
What fabric should I use?
You need an evenly woven fabric on which to work Hardanger. This means it needs the same number of threads in both directions. However, that number can vary. 
Oslo, a fabric with 22 threads per inch, is the most commonly used. If you want something a little more delicate, you can choose either 28 or 32 count linens. 
The table below shows which threads to use with which fabric to give the best effect. You can find more information on embroidery fabrics that are suitable for Hardanger by clicking the link to my dedicated page. 
22 count Oslo - Pearl 5 and 8

28 count evenweave - Pearl 8 and 12

32 count Linen - Pearl 12 only

Hardanger Stitches
What else will you need?
Tapestry needles 
You need two needle sizes, one for each thread. Try a size 20 for the Pearl number 5 thread, size 22 for the Pearl number 8, and a size 24 for Pearl 12.
Sharp scissors
Sharp-pointed embroidery scissors are necessary for cutting the threads. Those with angled blades make life a little easier.
Embroidery hoop
I recommend you use an embroidery hoop while working on surface stitches. Remove it before cutting the fabric threads and doing the needleweaving.
Light to work by
A magnifying lamp proves useful in preventing eye strain when stitching in low light. 
Tweezers
A pair of pointed tweezers may also come in handy for teasing out the cut fabric threads.
Small pot
A container in which to pop the cut threads helps to keep your working area tidy.
How to follow Hardanger patterns
You won't find the design printed onto the fabric as this is a form of counted whitework embroidery. Instead, you will follow a chart which shows where to place the stitches. 
The grid lines on the chart represent fabric threads. It is important to take care to check whether each line shows a single thread or more. Large designs often use a line to mean two fabric threads. This makes the pattern smaller and easier to handle.
For the same reason, a chart may only show a quarter of a symmetrical design. You turn it 90 degrees to work in each quadrant.
While learning, it is easier to follow charts that show every fabric thread. The patterns in my beginner course follow this method, as do my larger designs.
What if I cut the wrong thread?
As I discovered as a little girl, cutting the wrong threads can be devastating. But don't panic, as there are ways to rectify minor mistakes. But please keep your scissors away from young children, especially those with an interest in stitching!
To eliminate such errors at source, my charts have special red lines so you can see which threads to cut and which to leave well alone.
Please remember to breathe whilst cutting the threads. Every time I teach someone, I find they forget to do so at this stage in their project.
For your bookshelf
If you want to learn more about Hardanger, the following books by Janice Love will prove indispensable...
Hardanger Basics and Beyond
Fundamentals made Fancy
Do you have a question about Hardanger embroidery?
Whether you are a beginner to Hardanger embroidery or you have been stitching it for years, this is the place to ask for help or share your knowledge.
What Other Visitors Have Asked
Click below to see contributions from other visitors to this page...

Keep in Touch with Stitchin'Times Newsletter