Downloadable cross stitch patterns you'll love

These downloadable cross stitch patterns will enable your inner artist to create something beautiful to keep or give away as a lovely gift. The classic crafts, such as cross stitching have stood the test of time and continue to captivate people of all ages. And the best part? You don't need any prior skills to get started!
Whether you're a beginner or a seasoned stitcher, I have a wide variety of designs that will cater to your level of expertise. And don't worry, you won't have to deal with any complex fractional stitches. My cross stitch patterns feature whole crosses only, making it easy for anyone to follow along.
Easy to follow patterns
Plus, my patterns are designed with readability in mind, so you won't have any trouble deciphering them. The thicker grid lines after every 10 stitches won't overwhelm you, and the symbols used to represent colors are easy to understand - dark symbols for dark DMC embroidery floss colors and vice versa, each clearly laid out in the color key.
Even if you've never picked up a tapestry needle before, trust me when I say that cross stitching is easier than it looks. With my design collection, you'll be spoilt for choice as to which to complete first. And who knows? You may just surprise yourself with what you can create!
Ready to explore?
So what are you waiting for? Give cross stitching a try and discover your hidden talent. Click on the links below to explore my selection of patterns and take the first step towards creating something beautiful that you and your loved ones will cherish forever.
Your only trouble will be choosing which pattern to stitch next! Clicking on the links below will take you to pages with full descriptions so you can choose your first one. 
Lacemakers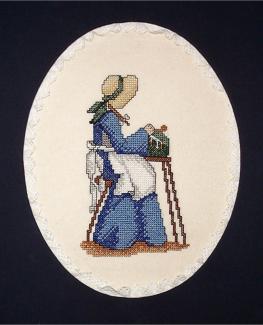 Blackwork and cross stitch lacemakers - Why settle for just one design when you can have two? Experiment with the same lady in two different techniques and see how it transforms.
Or, if you're feeling adventurous, why not choose Mary, a more advanced pattern featuring a lacemaker in stunning sepia tones?
Baby cross stitch patterns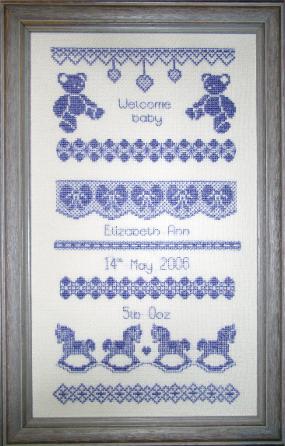 What could be more perfect than crafting a sweet gift to celebrate the arrival of a precious little one?
Imagine the joy on the face of a new mum or grandmother as they unwrap a personalized sampler, lovingly stitched with the baby's name and birth details. This is more than just a gift - it's a heartfelt tribute to the newest addition to the family that will be treasured for years to come.
Looking for something smaller? A charming rocking horse design in both cross stitch and blackwork could be just what you are looking for to celebrate the occasion.
British wildlife downloadable cross stitch patterns
Indulge in the beauty of British wildlife with our exquisite set of four cross stitch patterns. Each design has been intricately crafted to showcase the charm of the badger, fox and deer families, or the grace of the grey heron.
Adding an extra special touch, every pattern features a section that overlaps the straight edge.
Get ready to immerse yourself in the world of nature while you relax with your stitching project.
Celtic cross stitch patterns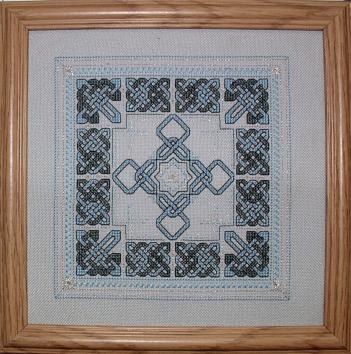 A series of four Celtic cross stitch patterns featuring the four elements - air, earth, fire and water.
Suitable for the more experienced cross stitcher as they make use of fractional stitches and are best worked on evenweave fabric. 
Cross stitch dragons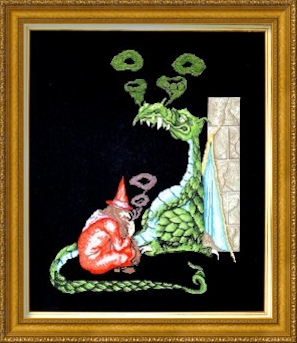 The addition of blending filaments make these cute dragon designs shimmer. 
Choose from Old Smokey sitting with his friend the Wizard, or Magic Moments which features a young dragon couple.
Both designs are fairly large projects and include stitches worked with a single strand (for example Old Smokey's smoke rings) making them suitable for the more experienced stitcher.
Prefer cross stitch kits?
If you prefer to buy a kit with everything included to stitch the design in one pack, order direct from my manufacturer's site www.letsgetstitching.co.uk.
If you don't see what you want just yet you can call Sherry on 07526 136968 or 01566 781012. Alternatively, use her Contact page to e-mail her.
The kits include the chart so there is no need to order the downloadable cross stitch patterns separately.
There is a choice of fabric - Aida 14 or 28 count evenweave in the kits. They also include all floss, along with any speciality or metallic threads used and a needle.
Keep in Touch with Stitchin'Times Newsletter