Downloadable cross stitch patterns
by Carol Leather (X-Calibre Designs)
Carol's downloadable cross stitch patterns allow you to get stitching straight away. You can click on the links below or on the thumbnail pictures to go to the product pages. 
Lacemakers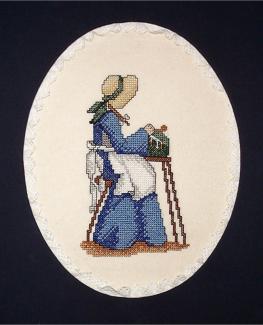 Baby cross stitch patterns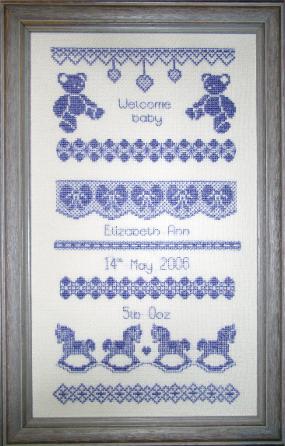 Stitch a gift for a new baby in cross stitch or blackwork.
The sampler includes an alphabet so that you can personalize it with the baby's details. 
Also included is a cute rocking horse worked in cross stitch and blackwork. 
British wildlife downloadable cross stitch patterns
A set of four downloadable cross stitch patterns featuring British wildlife. Each design has a section that overlaps the straight edge to add an extra special touch.
Choose from the badger, fox and deer families or the grey heron.
Celtic cross stitch patterns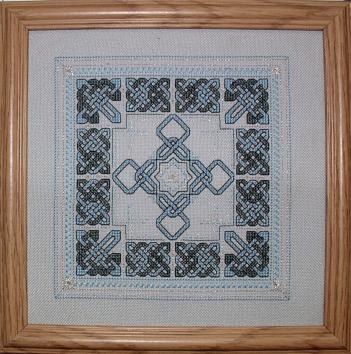 A series of four Celtic cross stitch patterns featuring the four elements - air, earth, fire and water. Suitable for the more experienced cross stitcher as they make use of fractional stitches and are best worked on evenweave fabric. 
Cross stitch dragons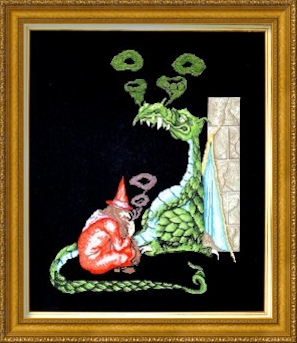 The addition of blending filaments make these cute dragon designs shimmer. 
Choose from Old Smokey sitting with his friend the Wizard, or Magic Moments which features a young dragon couple.
Both designs are fairly large projects and include stitches worked with a single strand (for example Old Smokey's smoke rings) making them suitable for the more experienced stitcher.
Prefer cross stitch kits?
If you prefer to buy a kit with everything included to stitch the design in one pack, these can be ordered from my manufacturer. While their site is being revamped you can order by phone on the following numbers... 07526 136968 or 01566 781012.
The kits include the chart so there is no need to order the downloadable cross stitch patterns separately. There is a choice of fabric - Aida 14 or 28 count evenweave in the kits. They also include all floss, along with any speciality or metallic threads used and a needle.