Downloadable cross stitch patterns you'll love

Are you stuck for a project?
These downloadable cross stitch patterns will enable you to create wonderful pictures that you and your loved ones will cherish forever. Check out these attractive designs and start stitching straight away.
Cross stitching is a timeless hobby that allows you to relax and enjoy creating something  - without needing to be an artist. Before you know it, you'll be amazing your family and friends with your cross stitching skills.
No previous experience needed!
I don't use complicated fractional stitches in my cross stitch patterns, preferring to design with whole crosses only.
I like to make the patterns easy to read with grid lines you can see, but which do not overpower the readability. Carefully picked symbols represent the value of the colour you will use - dark symbols for dark colours and vice versa. 
Even beginners should be able to stitch up their first cross stitch pattern with ease.
Your only trouble will be choosing which pattern to stitch next! Clicking on the links below will take you to pages with full descriptions so you can choose your first one. 
Lacemakers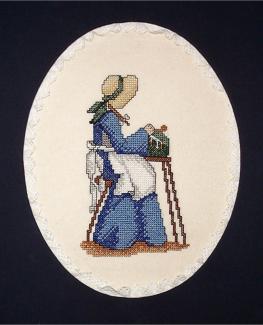 Baby cross stitch patterns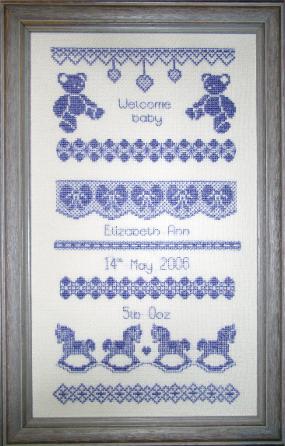 Stitch a gift for a new baby in cross stitch or blackwork.
The sampler includes an alphabet so that you can personalize it with the baby's details. 
Also included is a cute rocking horse worked in cross stitch and blackwork. 
British wildlife downloadable cross stitch patterns
A set of four downloadable cross stitch patterns featuring British wildlife. Each design has a section that overlaps the straight edge to add an extra special touch.
Choose from the badger, fox and deer families or the grey heron.
Celtic cross stitch patterns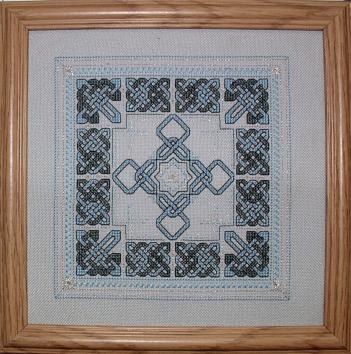 A series of four Celtic cross stitch patterns featuring the four elements - air, earth, fire and water.
Suitable for the more experienced cross stitcher as they make use of fractional stitches and are best worked on evenweave fabric. 
Cross stitch dragons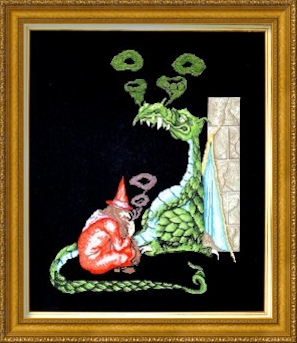 The addition of blending filaments make these cute dragon designs shimmer. 
Choose from Old Smokey sitting with his friend the Wizard, or Magic Moments which features a young dragon couple.
Both designs are fairly large projects and include stitches worked with a single strand (for example Old Smokey's smoke rings) making them suitable for the more experienced stitcher.
Prefer cross stitch kits?
If you prefer to buy a kit with everything included to stitch the design in one pack, order direct from my manufacturer's site www.letsgetstitching.co.uk.
If you don't see what you want just yet you can call Sherry on 07526 136968 or 01566 781012. Alternatively, use her Contact page to e-mail her.
The kits include the chart so there is no need to order the downloadable cross stitch patterns separately.
There is a choice of fabric - Aida 14 or 28 count evenweave in the kits. They also include all floss, along with any speciality or metallic threads used and a needle.
Keep in Touch with Stitchin'Times Newsletter