Testimonials from customers
Designing needlework patterns is fun, but it is even nicer when people who have stitched them write in to show me what they have done, and/or have lovely comments about my designs and this Web site. 
I wanted to share some of them with you here.
From a subscriber
Hi Carol - I love your updated site.  I've enjoyed receiving your email posts for many years now, and the updated website is just beautiful.  Easy on the eyes to look through, organized, informative and very inspirational.  It is always nice to feel the "connection" with someone, and feel this website had that in mind.
Keep up the great work, and I look forward to visiting your site much more often.
Cathy
Blackwork designs
Kim's Chessboard
Kim Hudson, of Birmingham, UK, sent in this photo of her completed chess board, and tells the story of how it came to be, below.
A few years ago I was waiting in a very long queue to visit the first Outdoor Show at the NEC in Birmingham. We had been delayed entering due to set-up problems, so I dragged my (then) boyfriend to the Hobby and Craft show to kill some time just for a mooch.
My Dad had carved me a chess set - which I have displayed in a cabinet, but I hadn't found a chess board that it fit so when I walked into the hall with all the beautiful cross stitch displays I was immediately drawn to the X-Calibre stand with a wonderful black and gold blackwork chess board on display.
I was (still am) a bit of a novice and had only previously completed two cross stitch works of art - both dream catchers which still adorn my bedroom walls, so I was a little concerned about how much more complicated blackwork would be. I needn't have worried. Carol was so enthusiastic and helped me choose the size of Aida to make sure the chess set would fit.
Stretched across my frame it became more of an item of furniture in my front room as I slowly completed it. Boyfriends came and went - Dad had a cardiac arrest but thankfully survived it - and he was recently well chuffed when he saw the finished framed masterpiece. I personalized one square with the family names and am now waiting to play my first game of chess with Dad, using the board.
Hope you like the picture and thank you Carol.
---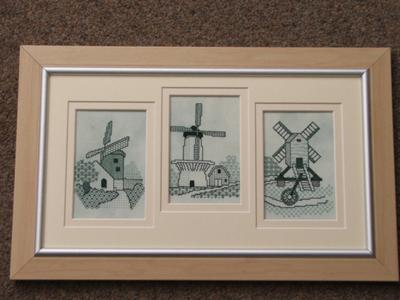 Erika's windmills
Our school secretary was due to retire, and her favourite holiday destination was Holland, so I decided to stitch the three blackwork Dutch Windmills as a trio, but matched the colours to her living room, which is mainly greens. Needless to say, she loved the stitching, and has pride of place in her living room.
---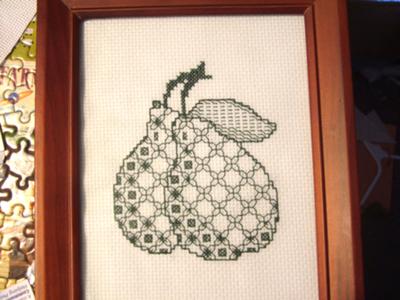 Katya's blackwork pears
I have been addicted to cross-stitch for over twelve years now, and have stitched many projects using this technique. But I always wanted to learn something new - different stitches and methods, especially Blackwork.
I browsed to Carol's website about a year ago and found her stitching lessons very helpful. I immediately signed up for her Newsletter and started visiting the website regularly.
When I started the Blackwork Pears project from your website - about two weeks ago - the first thing I understood was that the stitching process was actually very easy. The difficult part was keeping track of the lines and the number of stitches during the outlining process.
I think I actually made one mistake, but I was able to adjust the stitching to it.
Thank you very much for your lessons and your pattern, Carol! I so enjoyed stitching it! Next time I will get one of your bigger projects.
---
Diane's Black Knight
This is a picture of my first black work project, a Black Knight purchased as a kit from a stall at a craft fayre in Cardiff in 2000!  Yes, it has taken 9 years but I have not been working on it all that time, honest!!
I bought a lovely blackwork instruction book from X-Calibre which explained the basics and also bought the Anchor black work book to assist.
I was a little daunted to start with but the instructions on the kit were very good and although progress was slow due to my lack of experience it was very enjoyable.
There is an accompanying medieval lady to go with my knight and I have bought this kit also and will be starting her soon - have a couple of hardanger and cross stitch pieces to finish first (which I put to one side to finish my knight!!)
Think the frame really sets it off - go to a local framer called House of Frames who have provided a professional finish I think.
My black knight now takes pride of place on my wall and I am still spending much time just looking at him and his magnificent horse and feeling just a little pleased with myself - thank  you Carol for giving me so much pleasure.
---
Keep in Touch with Stitchin'Times Newsletter