What's New on Carol's Needlework Blog Today!
I know you don't want to miss out on any updates I make to the site! As pages are added, or added TO, they will be listed here first.
Check this page each time you visit, and never miss a thing!
You can also sign up for my feed by clicking on the RSS link at the top of the What's New Block. You can find this at the bottom of all the other pages on the site.
Oh! And don't forget to sign up for my newsletter. You can find the sign up box over on the left if you are on a desktop computer or down the bottom of the page if you are on a mobile phone.
Thanks for popping by, I hope you enjoy your stay.
Jan 21, 2019
Choosing hand embroidery stitches for lines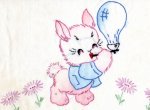 Struggling to chose hand embroidery stitches for the lines in a design? Here are some ideas for you
Continue reading "Choosing hand embroidery stitches for lines"
Jan 21, 19 08:04 AM

Contact Carol at https://www.needlework-tips-and-techniques.com

Jan 21, 19 07:48 AM

Struggling to chose hand embroidery stitches for the lines in a design? Here are some ideas for you

Jan 21, 19 07:39 AM

The history of Redwork Embroidery and the techniques involved in this easy form of needlework