What's New on Carol's Needlework Blog Today!
I know you don't want to miss out on any updates I make to the site! As pages are added, or added TO, they will be listed here first.
Check this page each time you visit, and never miss a thing!
You can also sign up for my feed by clicking on the RSS link at the top of the What's New Block. You can find this at the bottom of all the other pages on the site.
Oh! And don't forget to sign up for my newsletter. You can find the sign up box over on the left if you are on a desktop computer or down the bottom of the page if you are on a mobile phone.
Thanks for popping by, I hope you enjoy your stay.
Feb 04, 2020
Baby cross stitch patterns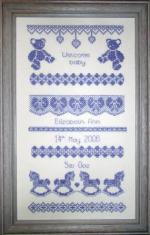 What better way to celebrate a new addition to the family than by choosing from the baby cross stitch patterns available. This band sampler can be adapted into a new baby card as well.