About me and my love of needlework
I guess that title sums me up pretty well. My complete life revolves around needlework. Of course I have to fit in the boring stuff like sleeping, eating, looking after the house and family, working -  ah well actually I've got that one sussed. After all, I love my job!
This page will let you in to my life as a designer and webmaster. 

At my Grandmother's knee
Let me start way, way back (yes I'm getting on a bit, I was 62 in July) when I was a youngster and watched my grandmother creating pretty tablecloths with colourful stitching on them which then graced her dinner table. Eventually she uttered those magic words, "Do you want to try?"
My first stitches were awful, truly awful! But did she undo them? No! They stayed in her work, sticking out like a sore thumb, but boy was I proud to see them there amongst her perfect stitches.
She patiently taught me how to make the stitches neater and one day gave me a prettily wrapped parcel containing my very own printed tablecloth to stitch, along with a bundle of coloured embroidery threads. I was off and running and have never looked back.
School days
Fast forward to my school days. My needlework teacher, Miss Abrahams, kept trying to persuade me to make myself some clothes.
But embroidery was my passion.
For nearly three years I won every battle, and my mum's collection of embroidered tray-cloths grew and grew. But eventually she got her own way and insisted I make a red poplin skirt. Grudgingly, I used the hated sewing machine and put my skirt together.
Did I ever wear it? No, it didn't even make it home!
Then came the point where we had to choose the subjects we would continue with into the fourth year of school. Of course I chose needlework, didn't I?
No way! I wanted rid of Miss Abrahams and instead picked cooking.
I didn't give up my embroidery though.
I can still remember seeing my friend, Julie, stitching a blackwork frog with touches of gold thread in amongst the black. It was beautiful and I knew that one day I would do stitching like that! Little did I know then but it would take another 20 years before I actually tried it.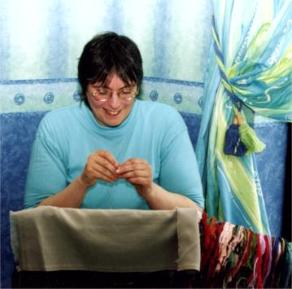 Counted Cross Stitch - A new hobby
Looking back on my journey, it's hard to believe how far I've come. From those early days of dabbling in sewing and creating baby clothes for my own children, to stumbling upon the world of counted cross stitch, it's been an incredible ride.
I remember the day I walked into a craft shop, not knowing what I was looking for but hoping to find something to fill my evenings. Little did I know that I was about to discover my true passion. Counted embroidery captured my heart from the very first stitch.
I spent hours, days, and nights immersed in my newfound hobby. I stitched everything from pictures and cards to bellpulls and cushions. I even created beautiful Christmas decorations that became cherished heirlooms. But it was when I stitched a birth sampler for my daughter that something truly special happened.
As I sat there, needle in hand, I realized that I couldn't find a pattern that resembled her beloved Blue Dutch bunny, Danny. And so, with determination and a dash of creativity, I decided to design it myself.
It wasn't easy. Countless hours were spent sketching, planning, and experimenting with different colours and arrangements. But with each stitch, I could see Danny's essence coming to life on the fabric. And when I finally completed the last stitch, I couldn't help but feel a sense of accomplishment and joy.
Freelancer
It started with a simple rabbit design, a project that seemed so insignificant at the time. Little did I know that it would pave the way for countless other opportunities and accomplishments.
Before I knew it, I found myself working as a freelance designer for prestigious British needlework magazines such as Needlecraft, Cross Stitcher, Classic Stitches, and Quick & Easy. It was a dream come true to see my designs published, and I couldn't help but feel a surge of excitement and pride every time a new issue hit the shops.
But it didn't stop there. The magazines recognized something in me, something beyond just my designs. They saw the passion and expertise I brought to the table and asked me to write a monthly article for one of their publications.
"Diary of a Country Stitcher" became a beloved series that ran for just over a year. Each article was accompanied by one of my small cross stitch designs, a bond between words and art.
Those were truly magical times, times that shaped me both personally and professionally. The experience of writing those articles not only honed my skills as a designer but also taught me the importance of finding my voice as a writer.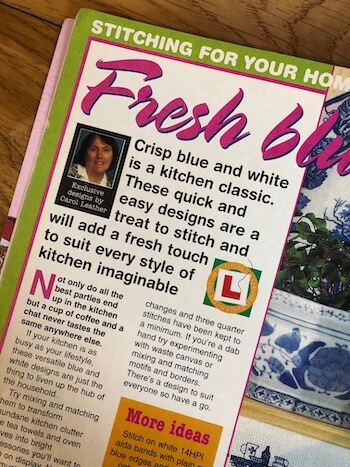 Enter the computer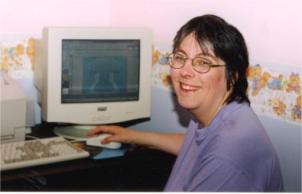 It was about this time that my husband introduced me to computers and cross stitch design software. 
Little did we know, that moment would set me on a path of discovery and fulfillment.
With my newfound passion, I began designing cross stitch kits and offering them for sale at local craft events. It was a labour of love, fueled by my unwavering enthusiasm for this art form. But as fate would have it, my past experiences in the world of magazines would come back to play a significant role in my success.
Drawing from my background, I decided to advertise my kits in the very same magazines I had once designed for. It was a leap of faith, but one that proved to be transformative. Before long, I started receiving phone calls from eager shop owners, inquiring if I sold to the trade. This unexpected demand prompted me to quickly pivot and expand my business model to include wholesale distribution.
And then, the moment of pure delight arrived. I received an order from Rita, the owner of the shop where it had all begun. It was a full-circle moment that filled my heart with joy and gratitude. To think that my humble venture had grown to the point where I was supplying not only individual customers, but also retail shops, was truly remarkable.
Time for a website
The next step began when I was asked if I had a website.
At that time, I didn't even know where to begin. But fueled by a desire to share my creations with the world, I mustered up the courage to invest in web creation software.
I vividly remember those late nights, sitting at my computer, teaching myself the intricacies of web design. It was a slow and arduous process, but one that I embraced wholeheartedly. Little by little, I crafted a website that reflected my unique style and showcased my range of designs.
To say that the website immediately catapulted me to success would be a stretch. In fact, for a while, it felt like my website was just another virtual storefront lost in the vast expanse of cyberspace. But I refused to be discouraged. I knew that building an online presence takes time and patience.
So, I began to integrate my website into my marketing efforts. I included the web address in my advertisements and even on the packaging of my kits. Slowly but surely, stitchers and craft enthusiasts started visiting my website and discovering the unique products and resources I had to offer.
An email changed my life!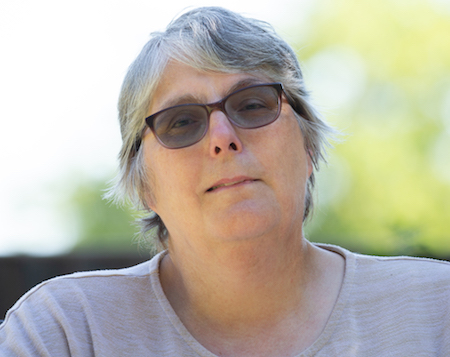 The autumn of 2006 was a turning point for me, a moment when I was at a crossroads and unsure of which path to take. I had just left my full-time employment due to health reasons, and there I was, sitting at home in our quaint little village, yearning for a way to turn my passion for stitching into a full-time occupation.
But as much as I dreamed and wished for it, I didn't truly believe that it could happen. Like many people, I saw my aspirations as mere fantasies, far removed from reality. That was until I received an email that would change everything.
The name Ken Evoy rang a bell. I remembered purchasing an ebook from him in the past, finding it incredibly valuable. So, when I saw his name in my inbox, curiosity got the better of me, and I eagerly opened the email. Little did I know that it would introduce me to a system called SBI, a system that held the promise of helping me build a successful website.
At that time, I already had a website, but I wouldn't exactly call it successful. It was more of a labor of love, a place where I shared my thoughts and projects with a small circle of stitchers.
Skeptical of promises and offers, there was a glimmer of hope, a desire to find something that would truly work.
When I stumbled upon Ken's site, I couldn't help but feel a mixture of excitement and caution. It seemed like just another sales pitch, but there was something different about it. The case studies of ordinary people achieving extraordinary success piqued my curiosity and made me wonder if I could be one of them.
For two weeks, I found myself returning to Ken's site, devouring the stories of individuals who had taken the plunge and found their own version of success. It was inspiring to see how they had transformed their lives by embracing a different approach, by thinking beyond the conventional methods they had tried before.
As I delved deeper into their stories, I realized that success wasn't about simply selling a product or a service. It was about connecting with others, understanding their needs, and providing a solution that resonated with them.
I learned that building a successful site required more than just pushing my kits; it demanded a deeper understanding of the target audience and their pain points.
I stumbled upon a video tour on Ken's site. It was a serendipitous moment, one that sparked a newfound excitement and determination within me. 
I remember watching the video, captivated by the step-by-step guide on creating a website. It all made sense, and I couldn't help but feel a surge of hope and possibility. So, without hesitation, I took a leap of faith and invested in SBI. Looking back, it was a pivotal moment that set me on a path of growth and fulfillment.
I'll admit, I had tried and failed before. The sting of past disappointments lingered, casting a shadow of doubt over my aspirations. But this time, armed with the Action Guide and fueled by a newfound determination, I resolved to follow it to the letter. The 30-day money-back guarantee sat there as a safety net, a reminder that I had nothing to lose and everything to gain.
Success!
In the early days, doubts and skepticism surrounded me. Even my closest confidant, my husband, had his reservations. I remember vividly the days when he would come home, asking about the progress I had made.
"How much have you made today?" he would inquire, his tone laced with a hint of doubt. It was disheartening, to say the least.
But I never let those moments deter me. Instead, I was determined to prove not only to others but also to myself, that success was within reach. I poured countless hours into my website, meticulously crafting its design, writing compelling content, and optimizing every aspect for maximum impact.
And then, the tide started to turn. Slowly but surely, I began receiving encouraging emails from visitors to the site. People were not only engaging with the content but also making purchases, transforming my passion into a sustainable source of income. It was a surreal feeling,
It was working!
I invested in a second SBI site, brimming with confidence and believing I had it all figured out.
However, my overconfidence led me to neglect the importance of revisiting the Action Guide. As a result, my second site lacked structure and direction, leaving it stagnant and going nowhere fast. It was a humbling experience, but one that taught me a valuable lesson about the importance of continuous learning and not taking anything for granted.
Three months later, after some much-needed self-reflection, I decided to seek guidance from a seasoned SBI'er in the forums. Their expertise and willingness to help gave me the clarity I needed to take my site in a totally new direction. It was a turning point that made all the difference between failure and success.
I am proud to say that site number two eventually started generating income as well. This journey has not only taught me the value of perseverance and adaptability but also the power of seeking guidance and learning from those who have walked a similar path before.
So where am I now?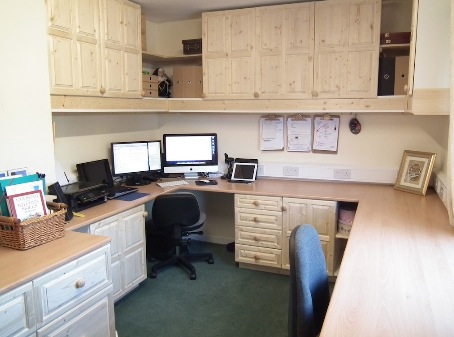 Looking back, I remember the early days when I was just starting out in this industry. It wasn't always easy, and there were moments when I questioned whether I was on the right path. But I persisted, propelled by a deep love for what I do and a determination to make a difference.
Throughout the years, I've had the privilege of working on some truly remarkable projects. From collaborating with renowned artists to being featured in prestigious publications, it has been a journey filled with incredible experiences and opportunities for growth. Each project has taught me something new, pushing the boundaries of my creativity and honing my skills.
But what truly brings me joy is the impact I've had on others. It's a wonderful feeling to know that the designs I create and the stories I share have touched the lives of fellow stitchers. Hearing their heartfelt stories and seeing the difference I've made is a constant reminder of why I do what I do.
Take, for example, the man who rang me to say "Thank you for saving my life!"
On this occasion he really meant it! He explained his wife had died six months earlier, just after she had started stitching my largest cross stitch design, Mary. Her name was also Mary.
This gentleman was so depressed and lonely that he contemplated ending it all. He had no desire to continue living alone.
However, he made a bargain with himself that he would finish stitching the embroidery his wife had started and then decide whether to carry on. He had done some cross stitch before, but not one as large as this.
In his darkest moments, he found solace in the rhythmic motion of the needle and thread. As he stitched, he stitched together the broken pieces of his heart. Each intricate detail, each different coloured thread, became a symbol of hope and renewal. And when he finally completed that cross stitch design, he not only finished a work of art, but he also found a renewed sense of purpose.
When he reached out to express his gratitude, his words carried a weight that transcended the mere act of creating. "Thank you for saving my life," he said, and in those six simple words, I felt the immense power and responsibility that comes from inspiring others.
Every time I receive a heartfelt message from someone expressing their gratitude for the help my sites have provided, it reaffirms the joy and purpose I find in my work. It's moments like these that make me realize just how fortunate I am.
Life is truly good. I have the freedom to wake up when I please, to work the hours that suit me best, and to take holidays or days off whenever I feel like it. The daily grind of commuting is a thing of the past, and I relish in every minute of my work.
But here's the thing – I'm not alone in this incredible lifestyle. There are hundreds, if not thousands, of other SBI owners who have achieved the same level of success and fulfillment. In fact, many of them are earning far more than I am.
This community of like-minded individuals has shown me that the possibilities are endless when you combine passion, hard work, and the right tools. 
Is it time for you to make a difference?
When I first started out, I had a vision and a passion to pursue. I poured my heart and soul into my work, never losing sight of my goals. There were days when the road seemed long and arduous, but I persevered, driven on by the belief that my dreams were worth fighting for.
Along the way, I encountered challenges and obstacles that tested my resolve. But with each setback, I grew stronger and more determined. I sought guidance from mentors and sought out resources that would help me navigate the unknown. And slowly but surely, I began to see progress.
One of the key turning points in my journey was discovering Solo Build It!. This platform provided me with the tools and support I needed to bring my vision to life. With its comprehensive suite of features and step-by-step guidance, I was able to build a thriving online presence that exceeded my wildest expectations.
But it wasn't just the technical aspects that made Solo Build It such a valuable resource for me. It was the community of like-minded individuals that truly set Solo Build It apart. I would love you to join us if you have a passion to share.
Keep in Touch with Stitchin'Times Newsletter