About me and my love of needlework
I guess that title sums me up pretty well. My complete life revolves around needlework. Of course I have to fit in the boring stuff like sleeping, eating, looking after the house and family, working -  ah well actually I've got that one sussed. After all, I love my job!
This page will let you in to my life as a designer and webmaster.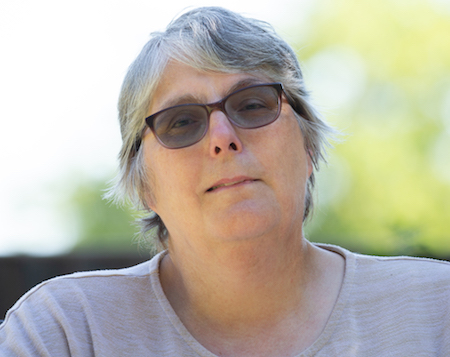 At my Grandmother's knee
Let me start way, way back (yes I'm getting on a bit, I was 58 in July) when I was a youngster and watched my grandmother creating pretty tablecloths with colourful stitching on them which then graced her dinner table. Eventually she uttered those magic words, "Do you want to try?"
My first stitches were awful, truly awful! But did she undo them? No! They stayed in her work, sticking out like a sore thumb, but boy was I proud to see them there amongst her perfect stitches.
She patiently taught me how to make the stitches neater and one day gave me a prettily wrapped parcel containing my very own printed tablecloth to stitch, along with a bundle of coloured embroidery threads. I was off and running and have never looked back.
School days
Fast forward to my school days. My needlework teacher, Miss Abrahams, kept trying to persuade me to make myself some clothes.
But embroidery was my passion.
For nearly three years I won every battle, and my mum's collection of embroidered tray-cloths grew and grew. But eventually she got her own way and insisted I make a red poplin skirt. Grudgingly, I used the hated sewing machine and put my skirt together.
Did I ever wear it? No, it didn't even make it home!
Then came the point where we had to choose the subjects we would continue with into the fourth year of school. Of course I chose needlework, didn't I?
No way! I wanted rid of Miss Abrahams and instead picked cooking.
I didn't give up my embroidery though.
I can still remember seeing my friend, Julie, stitching a blackwork frog with touches of gold thread in amongst the black. It was beautiful and I knew that one day I would do stitching like that! Little did I know then but it would take another 20 years before I actually tried it.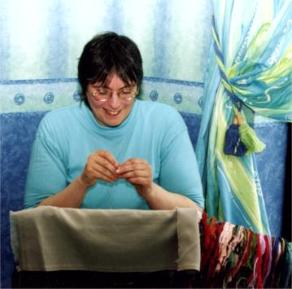 Counted Cross Stitch - A new hobby
Years passed, and I got married and had two children. I even got out the sewing machine and made my daughter some baby clothes! With a toddler around, there was little time for embroidery and I put my passion on hold.
Until one day I noticed a craft shop and popped in to see if they had something I could do in the evenings. It was at this point that I found counted cross stitch.
I went home with my first project in hand and completed it that evening. Rita, the shop owner, was surprised to see me back the next day for more.
I was addicted! 
I stitched pictures, cards, bellpulls, cushions, Christmas decorations and much, much more. Then I stitched my daughter a birth sampler, (yes I know, by this time she was at school!).
I wanted to include all her favourite things which had to, of course, include Danny. No not a boyfriend, but her pet rabbit. But could I find a pattern that looked anything like her Blue Dutch bunny? No.
I tried designing it myself.
Freelancer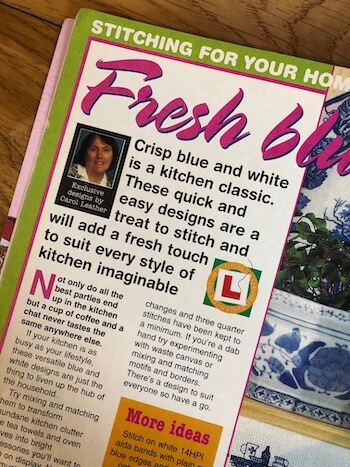 So enter a new phase in my life. That little rabbit led to many other designs and eventually to becoming a freelance designer for several British needlework magazines including, Needlecraft, Cross Stitcher, Classic Stitches, and Quick & Easy.
Not long after they asked me to write a monthly article for one of these publications, "Diary of a Country Stitcher", which ran for just over a year. One of my small cross stitch designs accompanied each article.
Enter the computer
It was about this time that my husband introduced me to computers and cross stitch design software. There was no stopping me now!
I designed my cross stitch kits and offered them for sale at local craft events. Then I started advertising in the same magazines that I used to design for.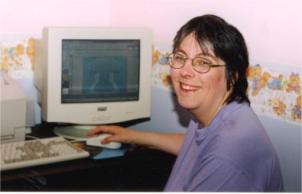 Soon I had shops phoning me, asking if I sold to the trade. My business had taken off. Imagine my delight when I ended up selling my kits to Rita, for sale in the shop where it had all begun.

Time for a website
People asked me if I had a website.
I begged and borrowed the money off my husband to buy web creation software and taught myself to write a website.
Did it make me my fortune? No way. Although it looked pretty, it just sat there in cyberspace not getting any visitors.
I added the web address to my adverts and my kits, and gradually stitchers went to look at it. What was there for them? My range of designs just waiting to be purchased. But just because they visited didn't mean they bought. We all hate being sold to don't we?
An email changed my life!
OK, we are nearly up to the present time now. So where was I?
In the early autumn of 2006 I had just left my full-time employment because of ill health and was sitting at home in our little village wishing that I could make stitching into my full-time occupation.
But was I doing anything about achieving that goal? No, like many people I dreamed but didn't believe it could actually happen.
Until I received an email from Ken Evoy.
The name rang a bell. Oh yes, I had bought an ebook from him in the past. I remembered finding it useful, so I read his email. It told me about a system called SBI, which promised to help me to build a successful website. I already had one of those and I wouldn't call it successful!
I carried on reading, secretly hoping that perhaps Ken had something to say that would help me turn the tables and make my site work.
Of course he was trying to sell me something. A something that would work, he said. Did he think I was born yesterday?
But I still carried on reading. It sounded as though it could really work, and I got more and more interested. But I would not make a spur-of-the-moment decision. After all, I had tried this before.
For the next two weeks I kept going back to Ken's site and reading the amazing case studies of other, ordinary people that had tried it and succeeded. If they could do it so could I. I already knew what the site would be about, but learned that just trying to sell my kits wasn't the answer to success.
I watched the video tour that showed how I should create a site and it all made sense.
So I bit the bullet and made the investment in SBI back in October 2006.
Looking back it was when my life changed. I know, you've read THAT before! But seriously, I actually wanted to get up each morning, wanted to get to work on my site, and amazingly it all started to work in the way I had imagined it would.
Having tried and failed before, I was determined to follow the Action Guide to the letter, and with a 30 day money back guarantee sitting there waiting for me to use it if necessary, I started this very site www.needlework-tips-and-techniques.com half expecting to fail yet again.
In fact I had so little confidence in its success that I didn't even tell the family what I was doing.
Success!
Ever heard the story about the little boy crying wolf?

Well, after my last attempt at a website hubby would not believe that I could make it work. He would come home each night and ask, "How much have you made today?" Explaining that it took time, sounded like an excuse, even to my ears!
But as the months went by, I got encouraging emails from the growing number of visitors to the site. Then I started making sales.
It was working!
Buoyed by my success, I invested in a second SBI site and set to work. Of course I thought I knew it all by now, and neglected to reread the action guide, resulting in a site that didn't have structure and wasn't going anywhere.
Three months later I had a re-think and with the help of an experienced SBI'er from the forums took the new site in a totally new direction. That made the difference between failure and success, and site number two made money too.
So where am I now?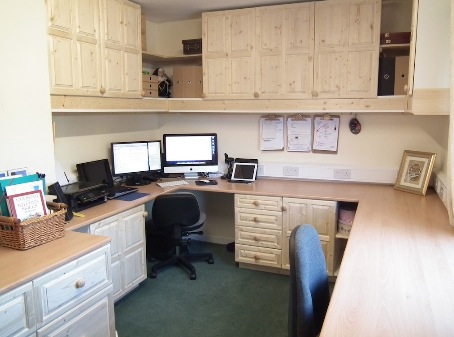 Well, I now earn more than I ever did before. I am working in my custom-built office (in what was the dining room). In fact, my husband is talking about retiring now! I now drive a Mercedes-Benz rather than an old banger. But that isn't the best bit.
I work from home, designing things that other people enjoy stitching, and writing about what I love to share with other stitchers. It gives me pleasure when I create my designs and then I receive wonderful stories telling me I am making a difference to other stitcher's lives.
Take, for example, the man who rang me to say "Thank you for saving my life!"
On this occasion he really meant it! He explained his wife had died six months earlier, just after she had stitched my largest cross stitch design, Mary. Her name was also Mary.
This gentleman was so depressed and lonely that he contemplated ending it all. He had no desire to continue living alone.
However, he made a bargain with himself that he would finish stitching the embroidery his wife had started and then decide whether to carry on. He had done some cross stitch before, but not one as large as this.
By the time he had finished the project his outlook on life had changed and by ringing me he had taken the first step on the road to recovery.
"Thank you for saving my life" he told me. Six brief words, but they meant the world to me.
To know that I had made a difference to someone's life while doing what I enjoyed was a wonderful feeling. A feeling that is repeated every time someone writes and says how much my sites have helped them.
Life is good.
I can get up when I like in the morning, work what hours I wish, take holidays or days off whenever I want too, I don't have the hassle of commuting, and I enjoy every minute of it!
Of course I am not unusual. Hundreds, if not thousands, of other SBI owners have achieved the same lifestyle. Many of them are earning much more than me.
Is it time for you to make a difference?
Time to share your passion, whatever that may be? All it takes is a little determination and some hard work. Then when things are up and running smoothly, it could be your turn to enjoy your just rewards.
There are many ways to live your dream, perhaps Solo Build It! can help you live yours?