The best way to stitch a French knot
What is your least favourite stitch? A French knot is perhaps at the top of most people's list!
You will find French knots in needlepoint, surface embroidery and counted thread work. They are often used for eyes, noses and flowers. Massed together the french knot stitch can also be used to represent fur (as I did for the cat on the wall in the photograph) or hair.
Scroll down the page to watch a video on French Knots.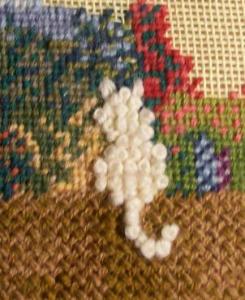 Top tips for perfect French knots
Only wrap the thread around the needle once or twice.
Use a thicker thread for bigger knots.
Use a hoop or frame to hold the fabric so both hands are free to work the stitch.
Try not to use the same hole when you enter and exit the fabric.
Let's stitch a French knot!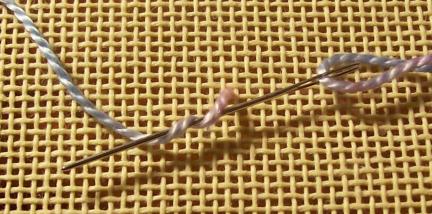 Bring the needle through to the right side of your work where you want to make your knot. Hold the thread near to the fabric/canvas and wrap it around the needle twice.
Pull the thread firmly so that the loops tuck up snug around the needle.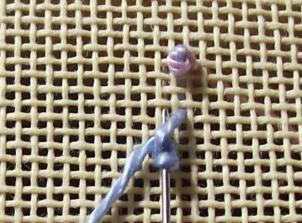 Re-insert the needle one canvas or fabric thread away and . . .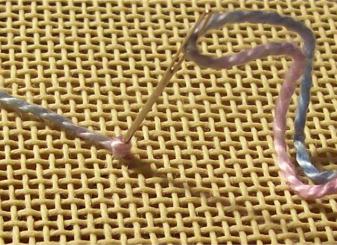 . . . keeping tension on the wrapped thread, gently pull the needle through to the back of the work. The knot should stay close to the fabric and keep nice and tight.
French knots can be used in canvas work (or needlepoint), counted cross stitch projects and also surface (or free style) embroidery. I used them for the center of my flower on the thread painting page.
Watch the video
You may find it easier to watch the video of me completing some French Knots, below.
Alternatives to the French knot stitch
If you decide that you really do not like working french knots you could always substitute seed beads instead! Check my page on attaching beads.
There are also other knotted stitches that you may find easier such as the colonial knot.
---
Home Page

-

Basic Embroidery Stitches

-

French Knots
---
Sep 21, 19 05:48 AM

Simple blackwork Christmas designs to download and stitch for cards, coasters or decorations. Choose from star, bell, robin or blackwork angel patterns

Sep 21, 19 05:32 AM

Learn how to do blackwork embroidery? Find instructions, patterns and ideas for this, and lots of other types of needlework

Sep 16, 19 04:14 PM

A guide to the basic embroidery stitches used in my free online needlework lessons. This is building into a comprehensive guide to hand embroidery stitches