A selection of hardanger patterns
from Carol Leather (X-Calibre Designs)
Whether you have been stitching hardanger patterns for years or have just completed my learn hardanger free course of lessons, this selection of designs will delight and perhaps surprise you.
I chart my designs so that each graph line represents one fabric thread making them easy to follow. The hardanger owl comes complete with full step by step instructions so that even a beginner can tackle it.
Hardanger Owl
Design Size 84 x 84 stitches
(3.8 inches square on 22 count hardanger fabric)
Although geometric by nature there is nothing to say that the kloster blocks in hardanger embroidery cannot be arranged to make a picture! This little hardanger owl is always a hit at the workshops I teach locally and is simple to stitch.
The diagrams and instructions will show you how to work the kloster blocks, doves eyes, needleweaving, eyelets, cable stitch, buttonholed eyes and fishbone stitch (for his beak).
Downloadable pattern £2.50

Hardanger Christmas Star
Wish Upon a Star
Design size: 76 x 180 stitches (3.5 x 8.2" on 22 count fabric)
What would your wish be? No, don't tell me or it won't come true!
Whether you frame it or make it into a bellpull this hardanger pattern is sure to delight.
Instructions are included for satin stitch and kloster blocks, cutting and needleweaving, four sided stitch and a buttonholed wheel. I also include tips on how to make the project into a hardanger bellpull.
Downloadable pattern £2.50

Daisy Chains
Design size: 4.8 x 8.7 inches
(on 28 count)
Kloster blocks form daisy chains inside a four sided stitch border on this design. Surface embroidery is used for the motifs, along with eyelets. Needleweaving and square filets decorate the openwork areas.
This versatile hardanger pattern can be used as a small table runner, it can be framed or finished as a bellpull.
The model in the photograph was stitched in Oliver Twists Hardanger Hanks on 32 count linen.
Downloadable pattern £2.50

Hardanger Mat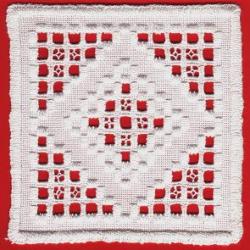 Design size: 92 x 92 stitches (4.2" square on 22 count fabric)