An introduction to Needlepoint
There is more to needlepoint than printed canvases and half cross stitch, but this is the introduction that many of us remember, I am sure.
I know I do. My first pieces had many beginner mistakes - like not working on a frame and ending up with a skewed piece of work.  But with practice and a little curiosity I moved on to more interesting projects and achieved better results. 
I learned that the term tapestry was really describing something else entirely - and that it was woven not stitched.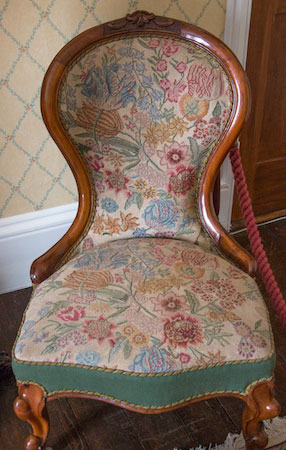 In the 1970s I played with bargello patterns, also known as florentine work, a form of needlepoint that is making a comeback. 

I visited stately homes throughout the UK and marvelled over the exquisite items that had been stitched in the past, such as the chair photographed at Arlington Court. 
I experimented with textured fibers and stitches. I tried out different canvas types and sizes, from tiny silk gauze, stiff plastic canvas, up to 3 stitches to the inch rug canvas. 
I came to understand that needlepoint encompassed a vast array of possibilities! I would love to share that experience with you through the pages of this site. 
If you are eager to jump straight in, why not try these two free patterns straight away.
Free patterns
For something a little bigger check out my Textures to Dye For range of needlepoint patterns. 
What supplies will you need?
Enjoyed those freebies? If you are interested in taking it further, let's look at what you will need. Maybe one day you will then be ready to take on a monumental task such as the panels I photograhed at Wallington House in Northumberland shown below!
The Lady Julia Panels in the Needlework Room at Wallington House
Canvas - in different mesh sizes
Tapestry needles - which are blunt with a big eye
Fibers of various types (including rayon)
Frame to hold the project taut while you work
Scissors - large for cutting canvas and small for snipping fiber ends
Laying tool - for helping you achieve smooth stitches (optional)
Simple needlepoint stitches
Gobelin stitch - simple to work, with many variations
Leaf stitch - A fancy textured stitch
Rice stitch - also known as crossed corners
Rhodes - large and bumpy
Scotch stitch - a square stitch which can vary in size
Tent stitch and its variations - continental and basketweave
Velvet stitch - which makes wonderful fur
What can you use it for?
Needlepoint creates attractive, hardwearing, useful items, that can become family heirlooms. Here is a quick list of some of uses it can be put to...
Bags

Bellpulls

Belts

Book covers

Church kneelers

Cushions (pillows)

Chair covers




Dog collars

Doll house carpets

Door stops

Firescreens

Ornaments

Pincushions

Rugs
Needlepoint Kits
Do you have a question about Needlepoint?
If you can't find the answer to a question about needlepoint then why not ask it here? Other visitors to the site might be able to help you.

Or perhaps you have a tip you wish to pass on. This section is for you to interact with other needlepointers, create you own page and help others.
What Other Visitors Have Said
Click below to see contributions from other visitors to this page...

Keep in Touch with Stitchin'Times Newsletter