Coral Knot Stitch
Coral Knot stitch, unlike the French Knot, is worked in rows rather than individual stitches. These can be single rows or placed side by side to fill an area, making it a versatile addition to your stitch library.
It is textured so makes a nice contrast to the smoother stitches, such as satin, in a design. In the acorn I used it for the cup and stalk, while working the nut itself in chain stitch.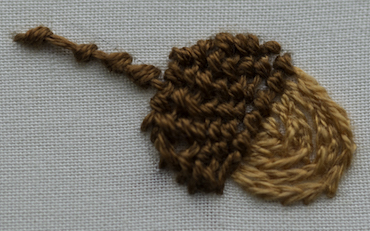 Coral knots used for acorn cup and stalk
Working Coral Knot stitch
I like to use a single, non-stranded thread for this stitch, such as a pearl cotton number 8 or 12. In the photos below I am using a number 8 so that you can see it more easily.
I have photographed the fabric in an embroidery hoop, but you may find it easier to work without one (known as working in the hand) so that you can scoop up the fabric on the needle for each stitch. But do be careful not to pull your stitches too tightly or you could pucker the fabric due to the tension.
I advise you to practice on a sampler (or scrap piece of material) until you have worked out how to use your thumb to hold the working thread in place at the beginning of each stitch.
Working a row of coral knot stitch
This stich is worked from right to left which may feel a little odd at first. For practice purposes tie a knot in the end of your thread and bring the needle through from the back at the beginning of your line. 
Insert the needle down into the fabric just above your marked line and bring it back up almost immeditely below, but don't pull it through just yet!
The working thread needs to come across the needle and then tuck underneath it, as shown in the first photo.
As you pull the needle through keep a slight tension on the thread until the knot settles in place.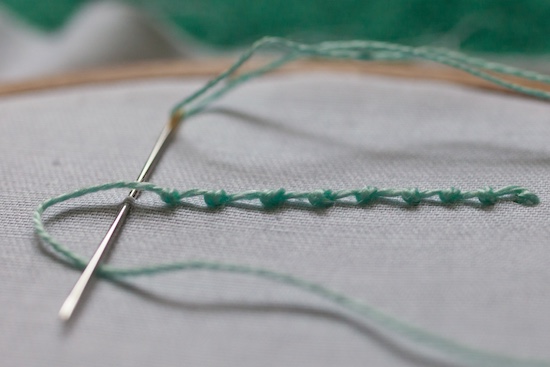 Coal knots seen from the side
Then take another stitch a little further along the line. The distance you leave between each knot is up to you. The first row in the photos is worked with a gap in between the stitches.
In the second row the knots are worked more closely giving a denser appearance.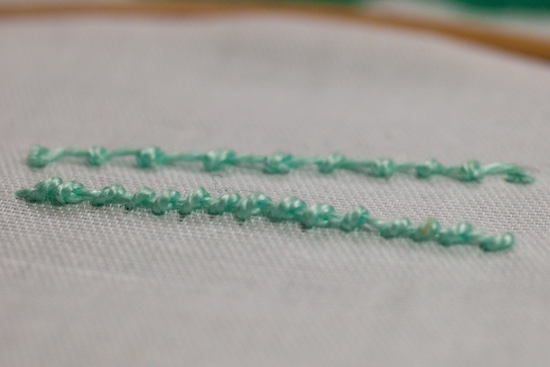 Knots worked close together
Coral Knot stitch can be worked in closely spaced rows as a filling stitch.
You have the option of positioning each knot directly above the one in the previous row, alternating them or just placing them randomly. Each will give a different effect so pick the way that seems to work best with the item being embroidered. In the photo below I alternated the knots, while in the acorn cup at the top of the page I stacked them one above the other.
Coral knot stitch worked as a filling
Variations
You could use a hand-dyed thread when filling an area with this stitch to give a more random, natural effect for organic motifs.
You could also introduce a shaded effect by using a different toned thread for each row.
Talking of rows, who says they must be straight? You could try working in a spiral either from the center out of vice versa as the turquoise figure of eight in the photograph below.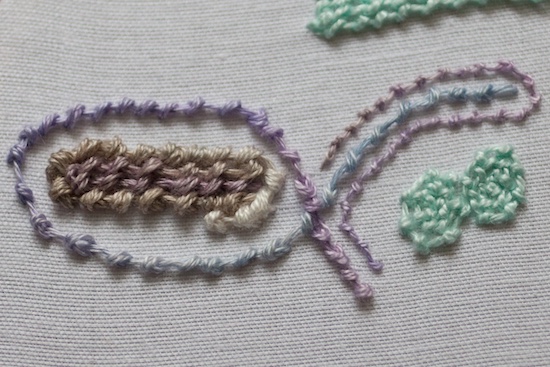 Coral knot sampler
How many strands?
The photograph also shows my experiments with the thickness of thread used for this knot stitch. I played with Bravo! a needlepoint fibre from Rainbow Gallery for these.
First I tried using all four strands for the central chunky oval shaped block of stitches. Next I combined just two strands in the needle for the curved line surrounding the chunky block. To finish, I threaded just a single strand and outlined part of the previous curve. The effects produced are quite different. One strand is a rough equivalent of number 12 Pearl cotton.
You can also vary the amount of fabric picked up on the needle to give a tiny "bead" or a wider knot. You might like to try slanting the needle instead of keeping it straight up and down to give more of a diagnoal knot stitch.
Uses of Coral Knot stitch
This stitch is ideal if you want a slightly raised line stitch for curved stems or outlines. And how about circular rows in the center of a flower?
Why not try it when stitching a sheep, as it can represent their woollly fleeces extremely well lif each stitch is placed randomly within the rows, not lined up carefully.
Talking of animals it makes lovely tails for creatures such as rabbits or squirrels. 
If you have other ideas of ways to use this stitch wny not share them in the comments below?
Jul 11, 18 10:35 AM

Blackwork for Beginners - learn this fascinating needlework technique with Carol Leather's book

Jul 07, 18 02:40 PM

Can you do embroidery and cross stitch on the same type of fabric? If so, which fabric is best if you want to incorporate cross stitch with some embroidery

Jun 26, 18 07:28 AM

I started s project on 22 count hardanger fabric using number 8 perle cotton thread and after doing 1 side I feel I should use number 5 perle cotton.