Join me in the world of hand embroidery

Hey there! Welcome to our cozy little corner of the internet, where all things needlework and hand embroidery come to life. I'm so glad you're here!
I'm Carol Leather, and I'm truly passionate about sharing my love and knowledge of embroidery with you.
This website is truly a labor of love. With over 50 years of experience under my belt, I've poured my heart into creating content that will inspire your creativity and provide a warm, welcoming community for all embroidery enthusiasts, whether you're a beginner or consider yourself an expert.
Sit a while with me
Now, let's dig into what this website has to offer you. I've got a treasure trove of resources waiting for you, perfect for anyone interested in needlework and hand embroidery.
Whether you're looking for simple cross stitch patterns or intricate freestyle designs, I've got it all. The goal is to help you develop your skills and create beautiful and unique embroidery projects that truly reflect your creativity.
But it's not just about the techniques. I also want to foster a vibrant community around the love of embroidery.
That's why I've introduced interactive features like comment sections, where you can share your projects, seek advice, ask questions, connect with fellow enthusiasts, or simply admire the beautiful works of others.
It's all about coming together and supporting each other on this embroidery journey.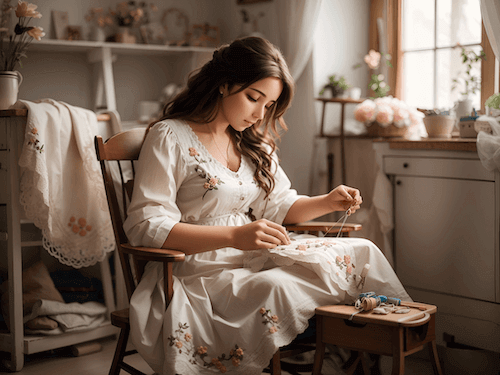 Explore embroidery techniques

Now, if you're ready to take your embroidery skills to the next level, I've got you covered too. The guides cover various types of embroidery, including hardanger, needlepoint, blackwork, whitework, and stumpwork.
And if you've got a soft spot for crazy quilts, well, you've landed in the right place.
Oh, and let's not forget about all you cross-stitch devotees out there. We've got a wide variety of patterns that cater to all skill levels. Whether you're looking for simple designs or larger pieces that will keep your needles busy for hours, I've got patterns that will satisfy your needlework cravings.
Now, if you're hungry for even more knowledge, I also offer downloadable ebooks like the one all about blackwork embroidery. These valuable resources provide instructions, tips, and patterns that will deepen your knowledge about the craft and serve as perfect companions on your journey, and even if you decide to start your own embroidery business.
Embroidery truly is an art form that allows you to express yourself. With each stitch, you're creating something unique and personal. So I encourage you to explore different styles and techniques - you might just surprise yourself with your brilliant creativity.
Whether you're drawn to the structured beauty of counted embroidery or the freedom of freestyle embroidery, there's a place for you in our community.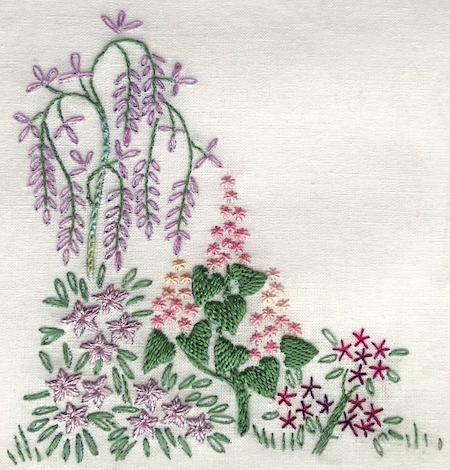 Ready to design your own patterns?
And hey, if you're feeling extra adventurous, I even provide guidelines for designing your own patterns. So go ahead and let your imagination run wild - make your embroidery projects truly your own.
Embroidery requires precision, creativity, and patience. It's a joy to see your creation come alive one stitch at a time.
So whether you're a seasoned embroidery enthusiast or someone looking to ignite a new passion, the site offers resources for all. And hey, even if you enjoy hobbies like felting, quilting, or painting, you'll find inspiration here too.
Let's do this together
But more than just resources, I'm building a community of embroidery enthusiasts. When you join our site, you're not just accessing information - you're joining a league of crafters who share your love for this mesmerizing craft.
Embroidery is a journey that requires consistent practice. But with every stitch, you'll bring your vibrant visions to life. So whether you're here to learn, shop, or find inspiration, I hope you find joy in every thread, stitch, and pattern. Welcome to the wonderful world of hand embroidery.
I hope this introduction has given you a warm and fuzzy feeling, just like wrapping yourself in a cozy blanket on a chilly day. As I was writing, I imagined us sitting in a charming coffee shop, sipping our favorite beverages, and having a heartfelt conversation about our shared love for embroidery.
Something missing?
Now, before we part ways, I want to encourage you to let me know if there's anything you feel is missing from the site. Your feedback is incredibly valuable to me, as I want to make sure I'm providing the best possible experience for you. So if you have any ideas, suggestions, or even just a feeling that something is missing, please don't hesitate to reach out.
Embroidery is such a personal journey, and I want to ensure that this content truly resonates with you. I want you to feel like you're among friends, surrounded by like-minded individuals who share your passion for this beautiful art form.
As you go forth on your stitching adventures, remember that you're not alone. I'm here for you every step of the way. Whether you're a seasoned pro or just starting out, I want to be there to support and inspire you. Together, we can make this journey even more delightful and fulfilling.
Now, grab your needle, thread, and hoop, and let's continue exploring the wonderful world of hand embroidery. I can't wait to see the magic you create with every stitch. So, welcome to our little community, and let's enjoy this embroidery journey together!
Coffee (and strawberries) on me!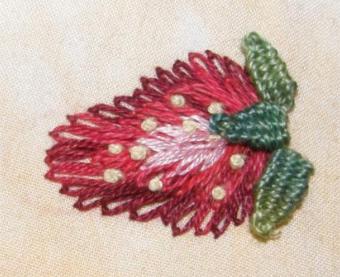 Click to stitch this strawberry
I mentioned techniques, and have added a brief introduction to some of them below. Click through and see what awaits you!
What sets blackwork apart is its striking use of contrasting colours, typically black thread on a light background, to create intricate geometric patterns. 
But don't be fooled by its seemingly complex appearance. 
I'll break it all down for you step-by-step. You'll learn how to create beautiful fill patterns, intricate outlines, and even experiment with shading and texture. 
One of the fantastic aspects of cross stitch is that it requires no prior drawing skills.
The pattern or chart acts as your guide, providing you with a roadmap to create your masterpiece. Simply follow the symbols and colours on the chart, and watch as your creation comes to life one stitch at a time.
Hardanger is an amazing technique that lets you create jaw-dropping geometric patterns using satin stitches, cutwork, and needle weaving. The end result? A masterpiece that will make heads turn!
Looking for something durable as well as beautiful? The world of needlepoint is waiting for you to dive in and create something truly extraordinary. Whether you pick a painted canvas or experiment with texture, the possibilities are endless.
Intimidated by the vast array of complicated patterns?
Redwork could be just what you are looking for. The simplicity of using just one colour makes it a great choice for beginners, as it eliminates confusion and allows you to focus on mastering the basic stitches.
Forget about straight lines and perfect symmetry – crazy quilting is all about embracing the irregularity and letting your imagination run wild!
One of the things that makes crazy quilting special is the exquisite stitches used to cover the seams and decorate the patches. Every piece tells a unique story, reflecting your personality and artistic flair.
Get ready to take your embroidery skills to the next level with stumpwork! This incredible technique allows you to bring your designs to life by adding raised elements using wire, padding, and embroidery stitches.
Imagine creating beautiful flowers, intricate insects, adorable animals, and even tiny figures that will leave everyone in awe of your talent.
Extras!
Keep in touch via Stitchin'Time
If you're eager to stay up-to-date on all of my latest tutorials and articles, be sure to sign up for Stitchin'Time.
By subscribing, you'll be among the first to know about new pages, products, and additions as soon as they're released. Plus, you'll receive exclusive bonuses like behind-the-scenes access to ideas I am working on and the opportunity to provide feedback on what you love (or what I might have missed).
And don't worry - signing up is completely free and your personal information will never be shared with anyone else.
So why wait? Join my community today and never miss a beat!