Your Ultimate Guide to Becoming an Embroiderer

As you are visiting my site I am guessing you are someone who appreciates the art of needlework as much as I do?
Even if you have never picked up a needle and thread before, I hope to encourage you to try it as you may find embroidery becomes a lifelong hobby.
If you are already hooked, maybe I can introduce you to some techniques you have yet to attempt.
Whether you're a beginner or have been embroidering for years, there's always something new to learn and explore.
Exploring the World of Embroidery
You'll be amazed at how many different things you can create with a needle, thread, and imagination.
You can embroider on just about anything - clothes, home decor items, and accessories.
Adding a stitched motif or letter allows you to personalize your belongings or create a one-off gift that your friends or family will love. Stitching something by hand for them shows how much you care.
You have the choice of whether to pick a traditional design and method, or to choose something more modern. It's your decision.
Maybe you prefer delicate florals, realistic animals or bold geometric patterns. Your style is unique and if you can't find something that is just right, change it so it reflects your personality.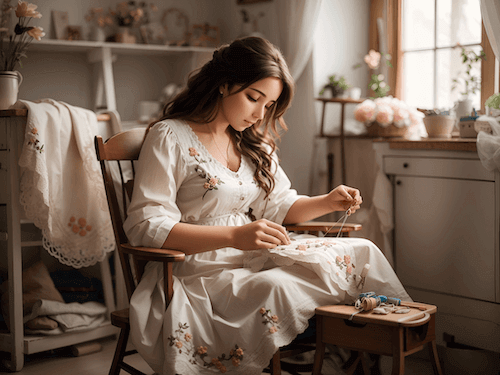 Did you know embroidery can relive stress?
It's true!
You benefit twice. Not only do you create beautiful objects. But stitching them can make you feel better.
Enter a peaceful state of mind where time seems to stand still as you focus on the rhythmic movement of the needle and thread.
Embroidery gives you a chance to slow down, disconnect from screens, and reconnect with the tactile and tangible.
Having something to show for the time you have spent, provides a sense of accomplishment.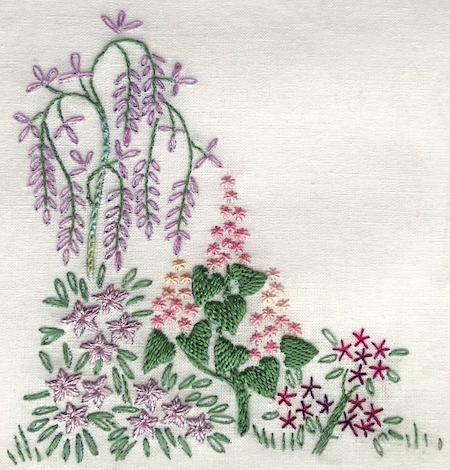 Ready to try embroidery?
But wondering where to begin?
Welcome to needlework-tips-and-techniques.com, your ultimate resource for all things needlework!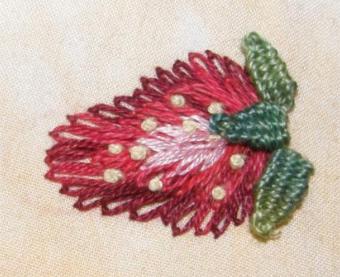 Click to stitch this strawberry
I'll help you gather the materials and equipment that you will need, and show you how to use them.

I'll introduce you to the basic embroidery stitches (along with more advanced ones as you master the simple ones).
I offer free easy to follow tutorials to get you started, complete with photos, illustrations and sometimes videos. I understand that some people prefer to learn by reading while others need to see how to do something.
But I don't just stop at teaching you the basics.
Designing your own patterns
The chances are that you won't always find exactly the pattern you are looking for. But don't panic!
When you stumble upon something that's almost what you want, a few tweaks may be all that's necessary. A different stitch here, a change of colour there.
Before long you will feel confident enough to start designing your own patterns.
You will enjoy the feeling that you created something from scratch, knowing that no-one else will have ever stitched it before.
But don't stop there!
Try another form of embroidery, gain experience and master new skills.
Play with new threads and fabrics, new colour schemes or add beads and sequins to embellish your work.
Discover your favourites, put aside those that don't speak to you. Develop a unique style that is your's alone.
More experienced?
But wait, experienced embroiderers, don't think this is just for beginners!

Check out what stage you have currently reached, from novice to expert. 
Enjoy the journey don't rush to reach the destination.
Along the way you might like to try the techniques shown below.
Whether you prefer freestyle embroidery or meticulously following a chart, there's something for everyone.
You never know, you might stumble upon a stitching technique that ignites a fiery passion within you!
Check the different styles and techniques below to see what catches your eye.
What sets blackwork apart is its striking use of contrasting colours, typically black thread on a light background, to create intricate geometric patterns. 
But don't be fooled by its seemingly complex appearance. 
I'll break it all down for you step-by-step. You'll learn how to create beautiful fill patterns, intricate outlines, and even experiment with shading and texture. 
One of the fantastic aspects of cross stitch is that it requires no prior drawing skills.
The pattern or chart acts as your guide, providing you with a roadmap to create your masterpiece. Simply follow the symbols and colours on the chart, and watch as your creation comes to life one stitch at a time.
Hardanger is an amazing technique that lets you create jaw-dropping geometric patterns using satin stitches, cutwork, and needle weaving. The end result? A masterpiece that will make heads turn!
Looking for something durable as well as beautiful? The world of needlepoint is waiting for you to dive in and create something truly extraordinary. Whether you pick a painted canvas or experiment with texture, the possibilities are endless.
Intimidated by the vast array of complicated patterns?
Redwork could be just what you are looking for. The simplicity of using just one colour makes it a great choice for beginners, as it eliminates confusion and allows you to focus on mastering the basic stitches.
Forget about straight lines and perfect symmetry – crazy quilting is all about embracing the irregularity and letting your imagination run wild!
One of the things that makes crazy quilting special is the exquisite stitches used to cover the seams and decorate the patches. Every piece tells a unique story, reflecting your personality and artistic flair.
Get ready to take your embroidery skills to the next level with stumpwork! This incredible technique allows you to bring your designs to life by adding raised elements using wire, padding, and embroidery stitches.
Imagine creating beautiful flowers, intricate insects, adorable animals, and even tiny figures that will leave everyone in awe of your talent.
Learn through video and written tutorials
Now, I know you might be keen to get started, and I totally get it! That's why I've also put together a list of tutorials that will walk you through the basics step-by-step.

I've also got some short videos that will help you improve your stitching and provide a solid foundation for more advanced techniques.
Extras!
Keep in touch via Stitchin'Time
If you're eager to stay up-to-date on all of my latest tutorials and articles, be sure to sign up for Stitchin'Time.
By subscribing, you'll be among the first to know about new pages, products, and additions as soon as they're released. Plus, you'll receive exclusive bonuses like behind-the-scenes access to ideas I am working on and the opportunity to provide feedback on what you love (or what I might have missed).
And don't worry - signing up is completely free and your personal information will never be shared with anyone else.
So why wait? Join my community today and never miss a beat!