Ready to stitch?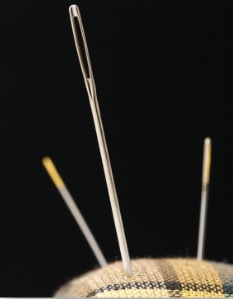 I am so excited to help you learn needlework!
Whether it's the first time or a lifelong hobby, my tutorials will guide your hand in simple steps. You can also find inspiration for projects on these pages.
I've designed a fun collection of free patterns that you can stitch up as gifts too.
What equipment will I need?
If you're a novice embroiderer, reading up on the equipment can help. You may want to start by learning about threads and hoops before moving onto needles, fabrics or even laying tools.
If at any time during your journey as an stitcher these items seem too complicated for what seems like such simple craftsmanship take heart because everything will become much more straightforward once you get going.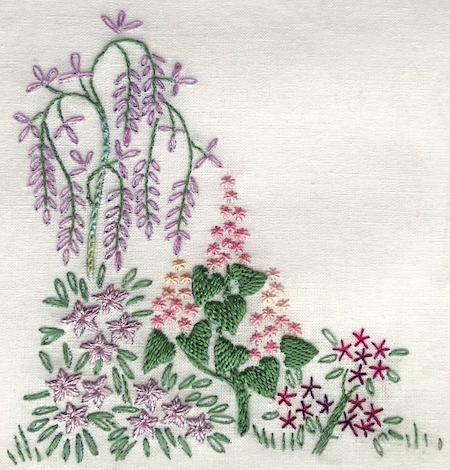 Videos and tutorials
Watch my short videos to help you master a multitude of different stitches.

Want to jump right in and try your hand at a project? Check the free tutorial list.
Learn new stitches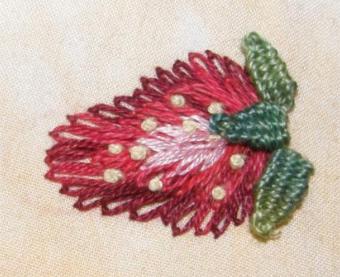 The stitch index will provide you with a wide variety of stitches to choose from along with instructions on how they can be used in your needlework projects.
Use this resource as just one starting point, but don't forget there are ideas within every page that will help you create something special with needle and thread!

Downloadable patterns
If you already have some experience, browse the patterns in my shop. These are available in the following techniques...
I offer patterns you can either frame or make into bellpulls, needlecases, pincushions, pillows or even into a chessboard. You can use them to decorate your own home or give them as gifts. 
Developing your skills and knowledge begins with simple steps. 
Discover your favorite form of embroidery by experimenting with several different types before settling on one.
What techniques are covered?
We can split all embroidery techniques into two main categories - freestyle or counted thread. You will find both on the site. 
So let's look at the difference between these two styles by answering the following question...
How does the design get onto the fabric?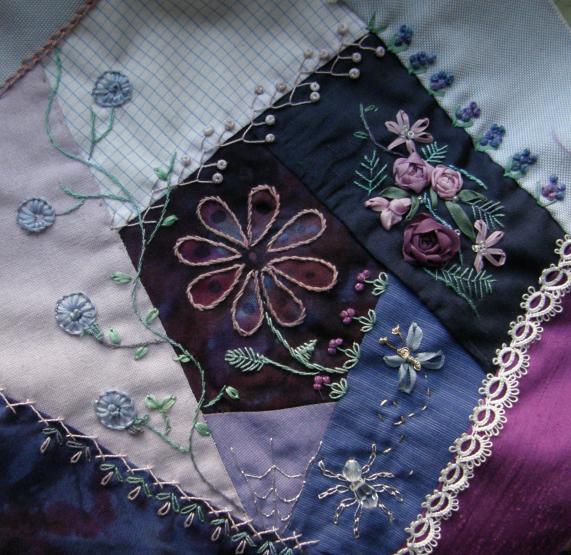 How do you know where to place your stitches? 
You have two main options here...
You can transfer your pattern onto the fabric using a variety of methods 
You can follow a pattern plotted out on graph paper (counted thread)
Which method you prefer is a personal thing, so let's look at the advantages of both.
Transferred designs
Printed outlines are actual size. There is no guesswork involved. You can place a transfer on a pocket and know it will fit at a glance.
The outline defines the size of each element, such as a leaf or eye, so you know the finished piece will be in proportion.

Many patterns presented in this manner also have an instruction sheet telling you which stitch to work in which area.  

You don't have to stick to the instruction sheet every time. You are at liberty to be more creative and choose your own stitches to fill each area, and you will find plenty of ideas for doing this on the site. 
One creative way to practice surface embroidery stitches is to decorate the seams and patches in crazy quilting projects. 
Counted thread techniques
But what if you buy a kit and the fabric is blank? Where on earth do you start?

You work these designs from charts plotted on graph paper. You can even learn how to design your own charts on the computer. 
For some counted thread techniques, such as Hardanger or blackwork, you will read the lines on the graph as fabric threads. It is then obvious how many threads to work each stitch over.

In a counted cross stitch pattern each square will represent a stitch that contains a symbol telling you which colour of thread to use.  
You can change the size of a design by choosing a fabric with a different number of threads per inch (or cm).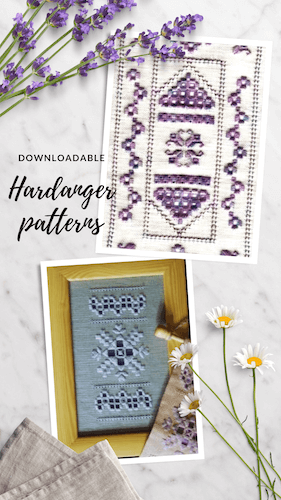 Click on the photo to check out my Hardanger patterns
Extras!
Once you have completed your project there are ideas for finishing techniques. 
If you are interested in the history of embroidery we also have you covered. 
Looking for a job in the sewing sector? 
I am sure you have questions you would like answered? Perhaps you would like to contact Carol directly or learn more about her personal stitching story.
Ready to stitch?
Clicking on the links below will take you to the main hub page for each needlework technique. There you will find further links for more detailed information and projects you can try yourself. 
Keep in touch via my occasional newsletter
Scroll below to see reader's comments
Return to top of page