Try a free Assisi pattern
This free Assisi pattern will give you a chance to try a wonderful embroidery technique from the Italian village of Assisi.
The original pieces of assisi work, or Punto d'Assisi, were created back in the 13th Century for the churches.
Near the end of the 19th Century village women revived the craft to help them increase the family income.
In fact, a Convent started a school in 1902 to teach the technique to the local girls, and this started a whole industry!

Besides the embroidery, Assisi is famous for St Francis, the patron saint of animals. The photograph below shows his statue.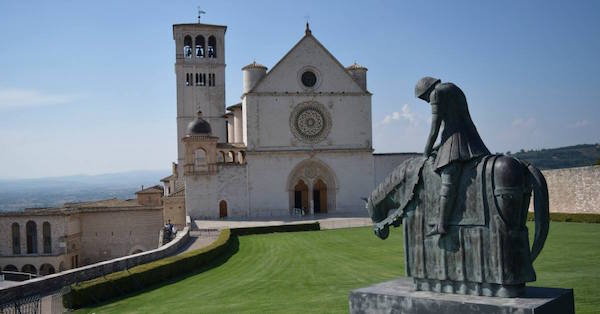 A bronze statue of St Francis in the main Basilica of Assisi. He is depicted as a soldier, realizing his destiny lay in more peaceful ways. - Photo by Cath Andrews
What is Assisi work?
You need to think in reverse here. You will actually stitch the area around the design, leaving the subject empty. You then outline the subject in either double running stitch or backstitch. 
Cross stitch is the stitch most commonly used, but other options include... 
Montenegrin
Italian 2-sided cross stitch
Sometimes they used a four-sided stitch pulled work background to give a net like effect.
Traditionally you would work these designs in red or blue with black outlines. In the 19th Century they introduced other colours such as green or gold. Subjects included mystical beasts, mermaids, nymphs, complex scenes of people and floral motifs, such as my rose design below.
If you like Assisi work you may be interested in checking out my needle-case designs where I blended the idea of assisi work with blackwork and came up with three animal designs.
What will I need to stitch the free Assisi pattern?
How do I do it?
It is best to start this free Assisi pattern from the centre of your fabric to make sure the design will fit onto the fabric. Your preference will dictate whether you stitch the outlines first in double running stitch (Holbein stitch) or the cross stitched background. There are benefits to each method.
Outlines first - this is easier for counting
Cross stitch first - working the double running stitch after the cross stitch gives a neater finish 
How do I do Long Armed Cross Stitch?
The diagram (below) shows how to work your free Assisi pattern using this stitch. Start with a normal cross stitch following the numbers 1-4. Then continue by making the longer stitches as shown. Make sure that the shorter arm always crosses in the same direction. Stitches 7-8 and 9-10 repeat along the row. I like to finish with a normal cross stitch as shown by the darker blue line.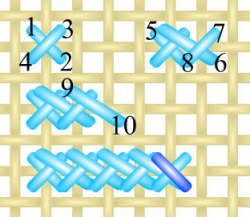 Where can I find more information?
A classic book on the subject is Assisi Embroideries by Therese de Dillmont copies of which are sometimes available from Amazon. Another rare but wonderful book is Assisi Work &Italian Hemstitching by Camela Testa, which was written about 1927.
A more modern book (1979) is Assisi Embroidery: Technique and 42 Charted Designs from the Dover Needlework Series. This is often available, secondhand, from Amazon.
I'll leave you with more photographs of the village of Assisi, taken by my friend Cath Andrews. Thank you for allowing me to show your pictures, Cath.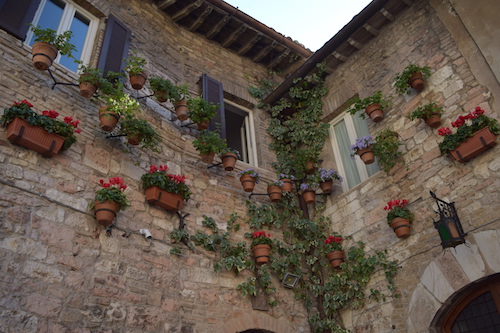 You will find more free patterns here. Enjoy!
---
Keep in Touch with Stitchin'Times Newsletter