Blackwork Embroidery Patterns
---
---
Since I began creating blackwork embroidery patterns in 1994, my collection has expanded to over 50 designs. I've organized them into categories below to help you find what you're looking for.
If you haven't tried blackwork before, you will find full instructions for the technique in my beginner's ebook and the blackwork section of this site.
Take your time to look at the patterns and choose the one that is perfect for you.
After payment, you will receive an e-mail straight away with download links for your patterns. Happy stitching!
Blackwork Beginners
Choose from a cute little owl,
a rocking horse or a rabbit each with beginner's coloured guidelines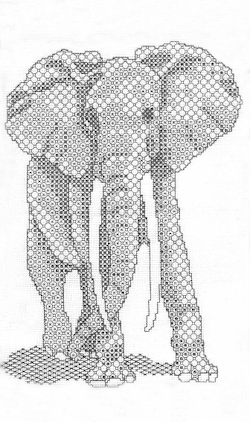 Blackwork Animals
Portraits of an African Elephant,
Rhino,  Barnacle Goose, Red Rooster and an Oriental Dragon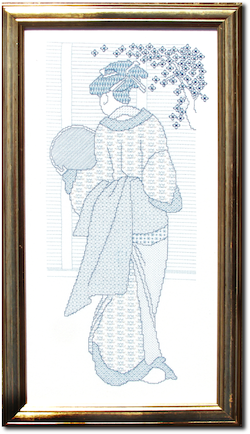 Oriental Ladies
Two Elegant Japanese ladies in coloured blackwork - include metallic threads and beads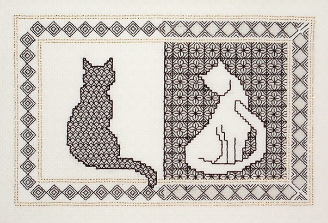 Blackwork Assisi Style
These cats, dogs and swans
replicate the Assisi work technique but with a twist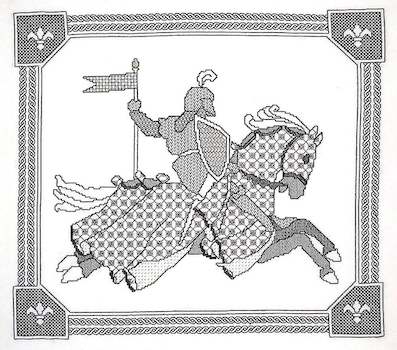 Medieval Designs
A knight and his lady, Gwendoline, are an ideal introduction to larger blackwork patterns - include metallic thread and beads
Samplers and Pillows
Charts ranging from a large chessboard
to a small pincushion and pillows in traditional black or colour
Lacemakers
Two blackwork designs and two cross stitch on the theme of crafts people
The Lacemaker is an all time best seller
Fleur De Lis

3 styles of Fleur de Lis
stitched in purple and gold 
The Mischiefs
Mischief the cat and his antics in the sewing room, store and garden will amuse you - a mix of blackwork and cross stitch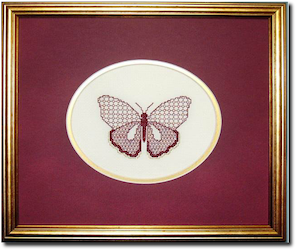 Weekenders Range
Small butterfly, snail, tortoise, flower and
Clarice Cliff style landscape designs that are quick and easy to stitch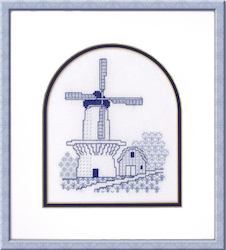 Windmills
 Three traditional windmills stitched
in blue and silver - quick and easy to stitch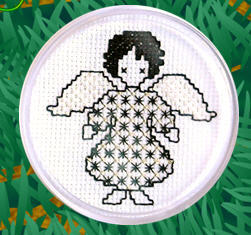 Christmas Designs
A set of four coasters and a
pretty blackwork star are all easy to stitch for the holiday season
Downloadable charts or full kits available
Satisfy your desire to create beautiful blackwork embroidery with Carol Leather's patterns. You can buy them by clicking on the categories above and then using the Paypal buttons, or in a kit from her manufacturer's website, LetsGetStitching.co.uk