Embroidery Floss: Tips and Tricks for Stunning Stitching
Embroidery floss is a 6-stranded cotton embroidery thread, with a brilliant sheen.  Supplied in a skein, it is available in a wide range of colors.
To use it effectively, there are some basic techniques to master. For example, you won't use all six strands at once. 
Instead, you will separate each strand and thread the number of strands you want to use into your needle. This number will depend on the fabric you are using (more on that in a moment).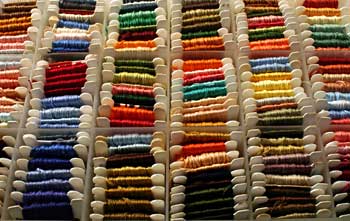 Therefore, the first thing you will need to learn is how to separate each strand. It is easy to get in a tangle when doing this if you don't know how. I recorded a quick video to show you the simplest method. Try it, as it will save you a lot of frustration.
How many strands of embroidery floss to use
The following table shows how many strands to use for cross stitch on different fabrics. If you are doing a different type of embroidery you may need to use more or less, as well as a different needle. 
Pick a needle that will comfortably hold the number of strands you want to use. You can learn more about needle sizes here.
Fabric count

11

14

16

18

28 (over 2 threads)

32 (over 2 threads)

36 (over 2 threads)

Number of strands

3

2 or 3

3

1 or 2

2

1 or 2

1
Is it worth economizing?
Before you start stitching, I know you're wondering if the best quality floss is really necessary? Couldn't you grab some cheap cotton thread and use that instead? 
My advice is to go for a well-known brand, such as DMC, Anchor, Madeira and Susan Bates. 
Don't skimp on thread quality when working on a needlework project. The time and effort you put into your embroidery projects make it worthwhile to invest in high-quality thread, rather than trying to save money by using lower-quality options. 
Each company will use its own colour numbering system. You can look up a color from one thread manufacturer on a conversion chart to find the closest shade from a different company's selection. 
Designers normally stick to one brand. They may choose from a different range if their preferred brand lacks a particular shade. 
Can you embroider with sewing thread?
Sewing thread on a spool or reel is meant to be used with a sewing machine for dressmaking purposes. It is generally thinner than embroidery floss. 
However, this can be used if you have a specific need for a very fine thread. Again, the well-known brands are best. Try to avoid polyester or nylon threads, and stick to cotton such as those in the Gutterman range. They are less likely to break.
Securing your embroidery floss
One of the most common questions I am meekly asked at classes is, "Can I start with a knot?".
It is best to avoid knots if possible. They can cause an unsightly bump on the back of your work, and of course knots can come undone!
So how can you secure that loose end?
Enter the loop method!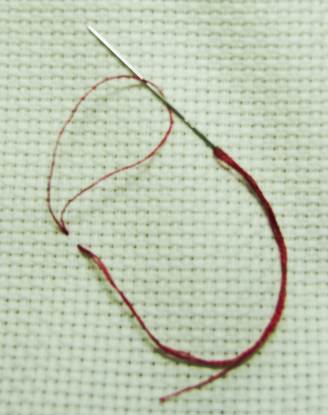 This is an easy, neat way of starting if your pattern calls for two strands of floss. Begin by cutting a length of floss twice as long as you normally stitch with. Fold it in half, with the two cut ends together. Thread these through the eye of the needle until the ends are one third as long as the looped end. 

Pull the needle through the fabric, but leave a loop of thread at the back. Take the needle to the back and slip it through the waiting loop. Then carefully tighten up that first stitch. No knot needed!
However, it does have its drawbacks. If you miscount, undoing your work is tricky.
If you are worried about this happening, again start with a longer than usual piece of thread. Start in the centre and push the needle through the fabric. But leave about half the length laying on the surface for use later. 
Begin stitching with the first half leaving the "tail" tucked out of the way. When you get to the first end, you can then re-thread the tail and work on from there. A pair of magnets, either side of your fabric, is a good idea to hold the tail.
Starting with a waste Knot
There is a method of starting with a knot that is quite acceptable. 
Start by tying a large knot at the end of your floss. Push the needle down from the front of your work. On the route, your stitches will be travelling. As you begin, work over that thread that is laying at the back of the fabric to secure it. When you reach the knot trim it off.
Starting with an away waste knot
If you are concerned about perhaps causing a mess on the back by working over the thread tail, then you can use an away waste knot. 
In this case, park it off to one side where you won't accidentally work over it. Once your thread is secure, snip off the knot and carefully weave it through the stitches on the back.
I use this method for a lot of my hardanger or pulled work.
Fastening off your embroidery floss
The neatest way of fastening off is to weave the loose end under half a dozen stitches on the back of the work and then cut it off close to the stitching.
What Other Visitors Have Asked
Click below to see contributions from other visitors to this page...

Keep in Touch with Stitchin'Times Newsletter