Using Embroidery floss - the basics
Embroidery floss comes in all the colors of the rainbow, and more besides, but there are certain basic techniques we need to master when using it, such as...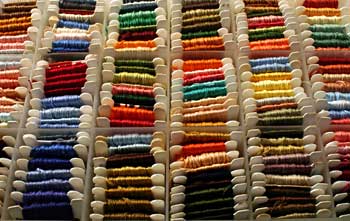 You likely have many more questions about embroidery floss and other fibres. At the end of this page is a form you can use to ask those questions. Either myself, or other visitors to the site, will try to answer them for you. But let's start with the most important facts about using these threads for your hand embroidery and counted thread embroidery projects.
Is it worth economizing?
When you consider the hours you will spend on a needlework project, then you will see why it is important to use excellent quality hand embroidery thread. Economizing with cheap embroidery floss is not a good idea.
There are many reputable floss manufacturers such as DMC, Anchor, Madeira and Susan Bates. Each company will use its own numbering system and most counted cross stitch patterns will list the colors needed using one, or perhaps more, of these brands.
You can use an embroidery thread conversion chart to find the nearest equivalent in another manufacturer's shade card, but it is best not to mix different brands in one project, unless the designer stipulates this. Keep in mind that commercial patterns will be unlikely to list colour numbers from any cheap embroidery thread supplier.
Can you embroider with sewing thread?
General sewing thread normally comes on a spool or reel rather than a skein. This is designed to sit on top of your sewing machine for dressmaking uses. Although it comes in a few different thicknesses, they tend to be thinner than a single strand of embroidery floss.
They are not marketed for hand embroidery, although can be used if you require a very fine thread for a particular purpose. I have used some cotton Guttermann threads for miniature crochet and they were strong enough. However, the cheaper sewing threads have snapped on me many a time, so I wouldn't recommend them. 
Not all reels of sewing thread are made from cotton. Many are polyester based which would not be suitable for hand embroidery.
Separating one strand of floss
The embroidery thread thickness can confuse a beginner. Six stranded cotton embroidery floss needs to be separated before use. It is rare to use all 6 strands together in the needle at once and you would hardly ever use all 6 strands doubled.
So let's start with a simple technique for taking one strand out of the skein without getting in a tangle. This one technique can save you much frustration.
At my classes I have seen people use their hands, teeth, elbows and other body parts to do this, and they can't believe how easy it can be when you know how. The following video shows a simple way that can save time and frustration. If you need to use two strands, just repeat!
How many strands of embroidery floss to use
When threading floss into your embroidery needle the number of strands to use will depend on the various fabric counts available, and the effect you are trying to achieve. The following table will help when cross stitching on Aida or evenweave fabrics.
Fabric count

11

14

16

18

28 (over 2 threads)

32 (over 2 threads)

36 (over 2 threads)

Number of strands

3

2 or 3

3

1 or 2

2

1 or 2

1
If you are working on finer fabrics, such as 40 count silk gauze, then use just one strand, a fine needle, and only stitch the first leg of the cross stitch, in effect working in petit point.

If you are embroidering the seams on a crazy quilt block you may wish to use more strands to make basic stitches more prominent. As you will be working through multiple layers of fabric picking a crewel needle is sensible. Pearl cotton is an alternative to floss for such seams. 
How to secure your embroidery floss when starting
One of the most common questions I am asked at classes is "Can I start with a knot?".
It is best to avoid knots if possible. Firstly they can cause an unsightly bump on the back of your work, and secondly knots can come undone!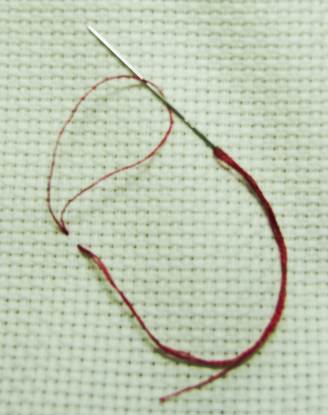 So how can we secure that loose end?
There is an easy, neat way of starting a piece of floss if you need to use 2 strands, called the loop method.
However, there is a drawback to it.
Be sure you can count accurately before you use it! It makes a secure starting point, but one that is difficult to undo.
I always suggest new students leave the loose ends free for a while until they are sure they have placed their stitches in the correct position. If they make a mistake, and the error is near the beginning of the piece of floss (as my mistakes usually are), it may be easier to unpick a few stitches from the start rather than taking the yarn all the way back from the current position.
Start by stripping one strand from the six stranded cotton. Cut it twice the length you would normally stitch with. I find around 28-30" is a suitable length.
Bring both ends together, folding the length of thread in half. Thread these ends through your needle, leaving a loop at the other end.
Push the needle through the fabric from the back, leaving the loop hanging loose. Take the needle to the back of the fabric and pass it through the loop before pulling tight. There you are, a neat, secure starting point. The photo shows the reverse side of the work.
The second method of starting is again to cut 2 lengths of embroidery floss twice the normal length you would sew with. Do not fold them in half this time.
Pick your starting point and pull only half of the thread through the fabric. Leave the other half for later.
I find it helps to pop this end into a spare needle and bring it through the fabric at the edge of the work and "park" it there for the time being. This keeps it out of the way so it doesn't get tangled on the back. You can wrap the excess thread around the needle to keep it taut or I like to pop a magnetic needle holder on the embroidery stand.
With your first needle, work your stitches until you run out of cotton. Then return to the other needle and continue stitching. This method reduces the number of fastening on operations you need to do, which keeps the reverse of the work neater.
Starting with a waste Knot
As I mentioned before, on occasions it is OK to start with a knot.
After knotting the end, push the needle through the fabric from the FRONT of the work, leaving the knot sitting on the surface a few inches away in the direction that you will be stitching.
Bring the needle back through to the front in the correct position to stitch and work over the first few stitches over the end of the thread.
After a few stitches you will snip off the knot, leaving the end neatly secured.
Starting with an away waste knot
Similar to the method above, for an away waste knot you bring the needle to the front of the work away from the direction of stitching.
When the knot is later cut off, you will need to thread the needle with this end, and fasten it into the back of the stitches.
You will often use this technique in hardanger or pulled work where you don't want to risk the end showing underneath open areas of the design.
Fastening off your embroidery floss
The neatest way of fastening off is to weave the loose end under half a dozen stitches on the back of the work and then cut it off close to the stitching.
Ask a question about threads and fibres
There is a vast array of threads available to stitch with nowadays. If you have any questions on how to use them, please use the form below.
What Other Visitors Have Asked
Click below to see contributions from other visitors to this page...

Keep in Touch with Stitchin'Times Newsletter