Attaching beads so they won't come undone!

The following method of attaching beads to your cross stitch project is simple and secure.

You can use seed beads to replace French knots in a design. They can also represent real jewelry, such as I have done in my 1920's blackwork lady, Pearl, who sports a shimmering bead earring, (shown right) or Coral, who is wearing a pearl necklace.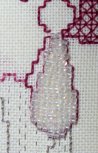 Fig 1 - a beaded earring
What equipment do you need when attaching beads?
The most common size of bead used to embellish cross stitch or blackwork is a number 11.0 seed bead. Along with the beads you will also need...

Other pieces of equipment can prove useful as well, such as...
These prevent the beads rolling around and getting lost. If you have neither of these, then you could use a piece of corrugated cardboard with the "ribs" exposed.

For storing your beads, you could use old photographic film containers (if you still have any) or a specialised storage container. When using the opaque film canisters, I like to tape a sample bead to the top of the pot, so I can see what it contains at a glance.
Attaching beads with cross stitches
Please note, to make the photography below easier to share with you, I have used a tapestry needle and a large bead.
Bring the threaded needle up through the hole which will become the bottom left of the cross stitch. Pass the needle through the bead and take it through the fabric again at the top right as shown in the photograph.

Fig 2 - Step 1
Bring the needle up again in the bottom right as shown in Fig 3.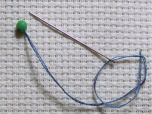 Fig 3 - Step 2
Twist the bead slightly so you can push the needle through the centre hole again. Take the needle back down in the top right hole of the fabric. Fig 4 shows the work at this stage.

Fig 4 - Step 3
The last photograph in the sequence shows the finished result, which is a firmly attached bead.

Fig 5 - The bead is attached
More ideas for using beads
Even if a cross stitch design doesn't include beads on the chart, there is no reason you cannot adapt the pattern to include them. My blackwork Japanese lady has cherry blossoms in the background, which each have a seed bead in the center, as shown right.
Other ways to use them include ...
little eyes for small designs
a teddy bears nose
the centre of flowers
Baubles on a little Christmas tree
Keep in Touch with Stitchin'Times Newsletter