Choosing embroidery fabric
for counted thread projects
Choosing embroidery fabric for counted thread techniques can be confusing if you are new to the craft.
Aida cloth, evenweave and linen are all common fabrics but what's the difference? It's easy to get lost in terminology when searching online shops. Let me help unravel the mystery.
The photo below, shows, from left to right, Aida 14 count, Linda evenweave and a natural coloured 36 count linen.

What does "thread count" mean?
Hang on, 14 count, what is that all about?  
Counted thread embroidery is worked on fabric with an equal number of both horizontal and vertical threads per inch. The "count" of a fabric is determined by this figure. Fabrics with 14 to 36 threads per inch are most commonly used today. The higher the count, the smaller the stitches will be. The smaller the stitches are, the smaller the design will end up.
This knowledge can prove useful if you have a pattern you wish to stitch, but discover it would turn out slightly too large if stitched on the recommended fabric. For example, if your design is 140 stitches wide it will measure 10 inches on 14 count, or 8.75 inches if you swap to an 18 count fabric.
Don't want to do the calculations yourself? Use this free handy cross stitch calculator to do it for you! 
The video below will explain the differences between different counts in an easy to understand way. 
Aida cloth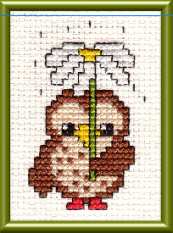 Owl stitched on Aida 14
Aida is a fabric made of cotton threads woven in a block formation. Aida is perfect if you are new to stitching because the solid blocks of fabric threads have well-defined holes in each corner, making it easy to see where the needle goes.

However, you may not like the fact that the blocks will be visible in your finished embroidery projects. As you gain experience you might like to move on to using plain weave fabrics.
Another drawback to Aida is that it can be difficult to pierce the centre of a block if your design includes fractional stitches. Doing so, can also potentially damage your embroidery floss.
Before we move on I am obliged to mention that I have used affiliate links further down this page. Although they will not cost you extra if you order from them, the site will benefit by a commission from each sale.
Aida is available in 11, 14, 16, 18 and 22 thread counts. The most popular of these is 14 count and 2 strands of embroidery floss are generally used when working on this size.
I find 18 is getting just a little too difficult to see for comfortable stitching now the years are catching up with me. Time for a little magnification!
Hardanger fabric
Hardanger fabric, or Oslo, is also a 100% cotton block weave. It has 22 threads to the inch, which lay in pairs. The holes are less obvious than in Aida.
As well as being used for Hardanger embroidery this material can be used for other counted thread techniques. If necessary it is possible to split the double thread to stitch an area of more detail. 
Linen fabric
Hardanger worked on 32 count linen
If I can afford it I love to use pure linen - durable, single thread hand embroidery fabrics woven from flax.
Due to the nature of the fibre, fabrics made from linen can have bumps or "slubs" which make them more tricky to work on. Some linens are quite loosely woven, which can mean that any embroidery floss carried across the back of the work is visible from the front. Linen embroidery fabrics come in a number of different thread counts. 
Some well known linens are:
Linen can also be used for surface embroidery, where the more threads there are in the ground fabric the better. 
Other evenweave fabrics
Lugana 25 count
Lugana is an evenly woven cotton blend fabric composed of 52% cotton and 48% viscose. It comes in different thread counts and stitches are normally worked over two threads.
If you haven't tried this yet, check this page for instructions on how to stitch on evenweaves and linen.
Lugana is available on Amazon in an assortment of colours.
Jobelan 28 count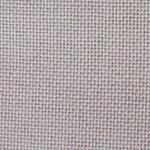 Jobelan is made from 51% cotton and 49% modal. It comes in either a 28 or 32 thread count evenweave, with a slight sheen that is ideal for stitching table linens or cushions (pillows). Being a cotton blend, it hangs well and is easy to wash.
Annabelle 28 count fabric
If you like the look of linen with its uneven slubs you may also enjoy stitching on Annabelle. It is made from 100% cotton with thick and thin threads which give it the linen-like effect.
Want another option?
How about if you want to stitch a counted thread embroidery pattern on a garment that is not made of an evenweave material? Well there is a way around that! You can use what is known as waste canvas.
This is a grid of threads that you baste onto the garment where you want to stitch a  motif. You then work through both the waste canvas and the garment fabric. When the design is complete you wet the canvas and then pull out the threads with tweezers, leaving the design sitting on the garment.
If you fancy learning more, and seeing photos of the process, be sure to check out my waste canvas page.
Still confused about embroidery fabric?
This is the place to ask your questions about what fabric to use? How to take care of it? How to stitch on it, etc.


Can you help answer other people's questions?
Click below to see what other visitors to this page have asked...

Keep in Touch with Stitchin'Times Newsletter