Blackwork Embroidery Kits
Blackwork embroidery kits and patterns
I designed the Weekenders range of blackwork embroidery kits for stitchers with limited time. Small enough to complete in a weekend, but not necessarily just for beginners, they are the ideal way to increase your blackwork skills.
The PayPal buttons below enable you to download the patterns straight to your computer. If you do not get brought back to the site to download the chart after making your payment, then please do e-mail me and I will provide the link you need.
If you would like to order the complete blackwork embroidery kits (with threads and fabric) you can do so from my manufacturer.
Red Butterfly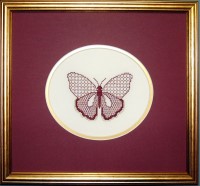 Design size: 4.25 x 3 inches
Rich burgundy and gold make this spectacular blackwork butterfly really stand out.
The top wings use a light fill, the bottom a heavier one. Then stitch the solid areas in cross stitch using two strands of floss.
Mounted with a burgundy matt and a gold frame to pick up the sparkly thread, it will catch the eye when hanging on your wall.
Downloadable Chart £2.25

On a warm summer's morning and you'll find me out in the meadows with my camera capturing the beauty of butterflies. I love watching them flit about, seemingly unaware that I'm there, so engrossed in their own little world.
Unusually, this Red Butterfly is not based on one of my wildlife photos but was conjured from my imagination. I wanted to create a generic butterfly that could be stitched in any colour.
The art of blackwork is both technically simple and visually engaging making it the perfect technique for beginners and expert stitchers alike. This small project will introduce you to this exciting form of counted thread embroidery. 
Red Roofed Cottage


Living in a rural English village is a dream come true for me, with woods, fields, and sheep as far as the eye can see. There are barns and farmhouses tucked among the trees. The crops form a patchwork quilt of colours and textures, just begging to be recorded by my artistic eye.
On a walk, I spotted a cottage with a red roof and Clarice Cliff, a ceramic artist of the early 20th Century came to mind. She used blocks of bright colour to decorate pottery in semi naturalistic form.  I decided to try to emulate her style but in blackwork embroidery instead of glazes. I let loose with the colours and just had fun designing this simple little piece for you to stitch. I hope it captures the mood of the summer landscape that inspired me. 
It is an ideal project to use up your leftover floss as anything goes. Make it unique by changing up the colours to suit your own decor. 
Blackwork Snail


Finding cute or regal animals depicted in blackwork is not difficult, but the small creatures are just as important to the natural world. I wanted to concentrate on something more unusual, so picked a snail with its coiled shell for my mini sampler.
Using the idea of a stencil I exploded the shell into separate segments and filled each one with a different blackwork pattern. To continue the stencil theme I outlined the body and tail, but left the shapes void of stitches for contrast. 
I stayed with the traditional black on white for mine, but why not go wild and play with some other colours when stitching your own version? You could even add a touch of silver or gold metallic thread to recreate those tell tale snail trails they leave behind. 

Blackwork Tommy Tortoise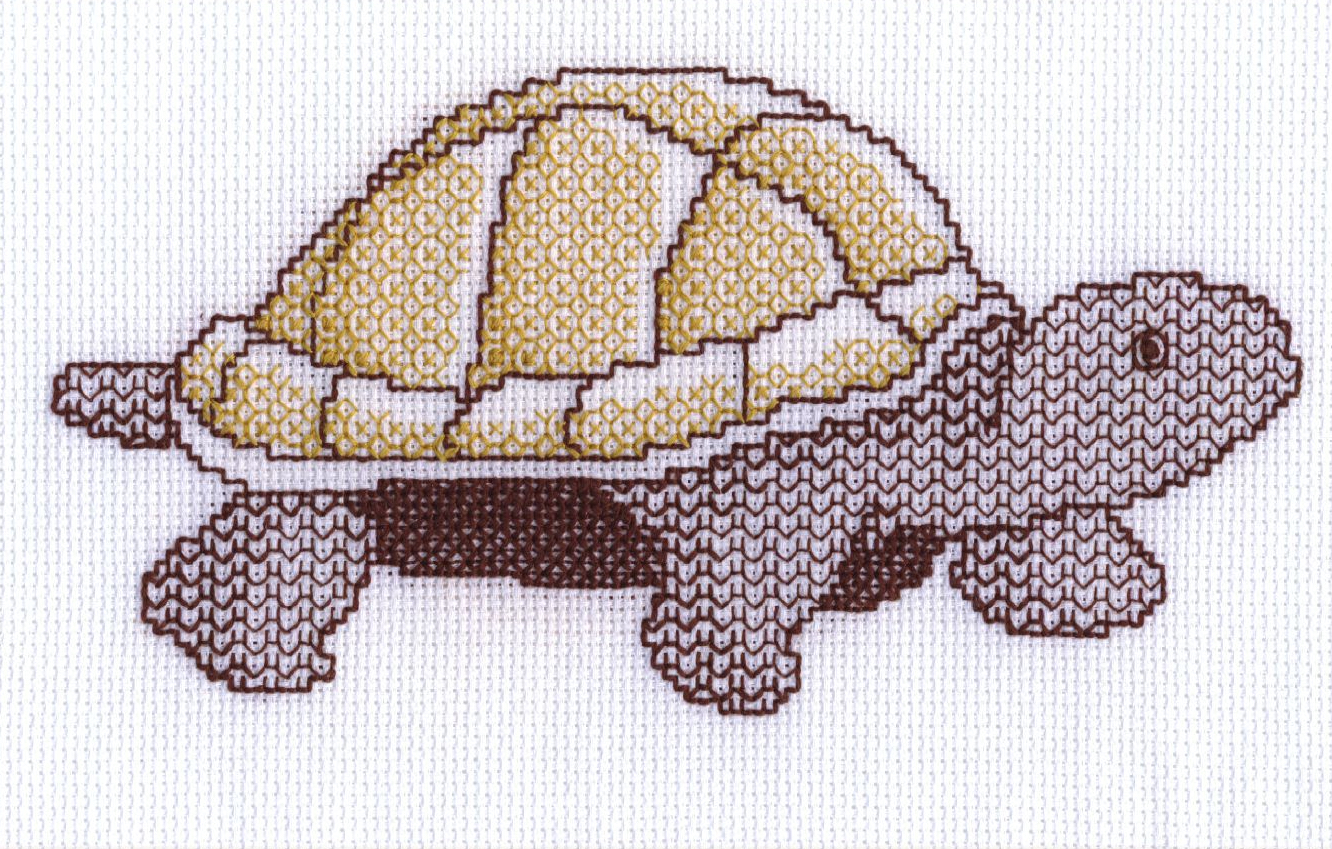 Design size: 8 x 4 inches
Downloadable Chart £2.25
Can you see the highlights on this tortoise's glossy shell? Just leave those areas with no stitches - it couldn't be easier. 
Increasing the number of stitches in the blackwork fill pattern as you reach the shadowed areas, gives depth to this blackwork embroidery kit of a tortoise. Work his legs and the bottom of the shell in two different fills, to give a delightful contrast to the design.

Erica, from Cumbria, UK, stitched this design and wrote in...
"I bought this to do for my mum, as she had always wanted another tortoise after ours died when I was a young girl.
She kept buying pottery ones until her fireplace was full of them. Dad commented that she could have bought a real one with all the money she had spent on the pottery ones!
I did this for her, because of her love of tortoises and my love of blackwork. It was really quick and easy to do. The chart was very easy to follow, and I kept it a secret from her until she received it for her birthday.
It now has pride of place in her hallway, and she even has two real tortoises now as well."
Calla Lily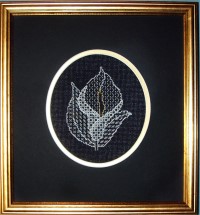 Design size: 3.5 x 4.5 inches
Who says blackwork has to be black on white? The opposite colourway looks really effective in this little calla lily design.
Use thicker thread and more stitches to create the areas that look brighter. Work fewer stitches and allow the black fabric to show through to contrast. 
Downloadable Chart £2.25

The calla lily is a symbol of purity, innocence, and rebirth. It's no wonder this elegant flower has been a favourite of artists and designers for centuries.

This blackwork calla lily design captures the essence of this beautiful flower in a striking and unique way. The white thread on black fabric creates a bold contrast that draws the eye and highlights the intricate details of the design.
The blackwork technique used in this pattern adds depth and texture to the petals, creating a lifelike, stunning, and timeless effect. Whether you're an experienced stitcher or just starting out, this pattern is sure to be a joy to work on and a beautiful addition to your collection.
Keep in Touch with Stitchin'Times Newsletter
Blackwork Embroidery Kits