Blackwork embroidery kits and patterns
I designed the Weekenders range of blackwork embroidery kits for stitchers with limited time. Small enough to complete in a weekend, but not necessarily just for beginners, they are the ideal way to increase your blackwork skills.
The PayPal buttons below enable you to download the patterns straight to your computer. If you do not get brought back to the site to download the chart after making your payment then please do e-mail me and I will provide the link you need.
If you would like to order the complete blackwork embroidery kits (with threads and fabric) you can do so from my manufacturer.
Red Butterfly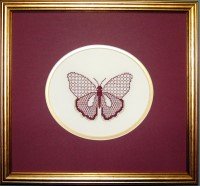 Design size: 4.25 x 3 inches
Rich burgundy and gold make this spectacular blackwork butterfly really stand out.
The top wings use a light fill, the bottom a heavier one, and the solid areas are stitched in cross stitch using two strands of floss.
Mounted with a burgundy matt and a gold frame to pick up the sparkly thread it is sure to catch the eye when hanging on your wall.
Downloadable Chart £2.25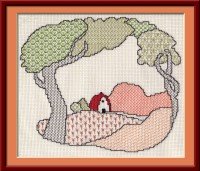 Design size: 8 x 7 inches
A landscape in the style of Clarice Cliff, worked in coloured blackwork with a little cross stitch for the roof of the cottage.
Each blackwork fill is surrounded by an outline and I like to get those outlines in place first then, once the pattern itself is established, I can put my chart to one side and enjoy the rhythm of the stitching.
Downloadable Chart £3.25

Blackwork Snail
Design size: 6 x 3 inches

Blackwork Tommy Tortoise
Design size: 8 x 4 inches
Downloadable Chart £2.25
Can you see the highlights on this tortoise's glossy shell? These are created by not stitching in those areas.
Increasing the number of stitches in the blackwork fill pattern as you reach the shadowed areas, gives depth to this blackwork embroidery kit of a tortoise. His legs and the bottom of the shell are worked in two different fills, giving a nice contrast to the design.

Erica, from Cumbria, UK, stitched this design and wrote in...
"I bought this to do for my mum, as she had always wanted another tortoise after ours died when I was a young girl.
She kept buying pottery ones until her fire place was full of them. Dad commented that she could have bought a real one with all the money she had spent on the pottery ones!
I did this for her, because of her love of tortoises and my love of blackwork. It was really quick and easy to do, the chart was very easy to follow, and I managed to keep it a secret from her until she received it for her birthday.
It now has pride of place in her hallway, and she even has two real tortoises now as well."
Calla Lily
---
---