Blackwork Flower Patterns
Blackwork flower patterns
Blackwork flower patterns have been popular almost as long as the technique itself, whether representing flowers in a border or band, or as an actual floral study, such as those featured here.
They are more than just designs; they are pieces of art that tell stories. Each of my patterns, whether it's a rose, a fuchsia, or a water lily, has a unique tale, a piece of history, or an emotion attached to it.
The simplest of these designs is the bellpull at the bottom of the page. The others use shading techniques, which you can try out with my free pansy pattern. Or grab yourself a copy of my blackwork ebook.
The measurements given are for 14 count fabric.
The Blackwork Fuchsia


I was in trouble! "What are you doing!" my mother exclaimed as she stormed out into her cottage garden.
"I was making fairies out of the flowers," I explained, picking up a bloom. "They look just like tiny people, but they had too many legs." My mother looked closer, hands on her hips, before sitting down to inspect my handiwork. When she smiled, I knew she had forgiven me.
When designing this blackwork fuchsia pattern, I had to force myself to add all the stamens and not leave it at two! 
Whether you see the fuchsia flowers as fairies or ballerinas (like my niece), you can add as many 'legs' as you like. This will make the finished picture unique. What a perfect gift for a budding garden enthusiast.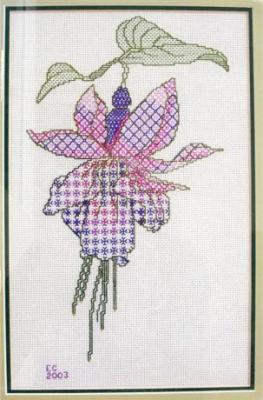 Stitched by M E Cattrall, from Lancashire, UK

Blackwork Rose


"A rose by any other name would smell as sweet," wrote Shakespeare in Romeo and Juliet. 
I am not sure if my new boyfriend was au fait with the Bard, but he gave me a single red rosebud. It symbolized love at first sight. How romantic was that? Our wedding was over 40 years ago, but I have never forgotten his gesture. 
My single blackwork rose pattern signifies what we both know: that he's still my true love even after all these decades together.
If you give your love a bouquet of roses, it is a sign to let them know how much you appreciate them. However, real roses don't last forever.
Stitched with love, your everlasting blackwork rose will deliver your feelings without words, using the language of flowers.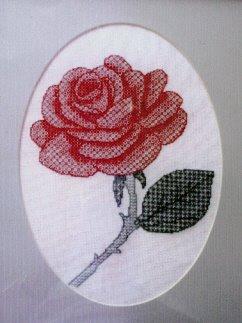 Enid's rose stitched in red and green

Blackwork Water lily


Whenever I see a lily pond, it instantly takes me back to lazy summers in my grandparent's garden. If I visited at the right time, there was a beautiful display of fragrant white water lilies and blue dragonflies to delight me, just like looking at a Monet painting brought to life. 
Talk about a perfect setting for a quiet afternoon's stitching: but all too soon the buzzing of lawnmowers and strimmers brings us back to the present day.
Don't let them distract you! Enjoy stitching this intricate lily, and remember to inhale the scent of the lilies next time you walk by a pond. 

Blackwork Irises


In Greek mythology, the Goddess Iris is the Messenger of the Gods. Moving at supersonic speed across the sky, she produces a colourful display in her wake - which is why she is also known as the Goddess of the Rainbow. 
Her namesake flower likewise displays a variety of colours, each with a special meaning: imperial purple symbolising wisdom, bright yellow representing passion, blue standing for hope and faith, and white for purity.
While Monet and Van Gogh tried to capture Iris's rainbows of color in paint, I have recreated the flower's beauty using intricate-looking, but simple to stitch, blackwork fill patterns. 
With a rainbow of threads at your disposal, which colours will you use to stitch your blackwork flower patterns?

---
Blue and silver version

The last of my blackwork flower patterns for now: Elizabeth's Rose Bellpull


Reaching your 90th birthday is definitely a reason for celebration! When her Majesty the Queen Mother reached this milestone, a pretty pink rose was named after her. 
When she passed away in 2002, my personal tribute to her was to design a blackwork piece with roses as the theme. The richly embroidered bell pulls I had seen in Victorian houses were my inspiration.
Since the Queen Mother's rose has glossy, dark green leaves, I tried to show this by making half of each leaf dark and the other light as if the sunlight was reflecting off them. This gives you the opportunity to work many fill patterns in this sampler, providing visual interest and a sense of accomplishment as you complete each one. 
Keep in Touch with Stitchin'Times Newsletter
Blackwork Flower Patterns