Blackwork flower patterns
Blackwork flower patterns have been popular almost as long as the technique itself, whether representing flowers in a border or band, or as an actual floral study, such as those featured here.
The simplest of these designs is the bellpull at the bottom of the page. The others use shading techniques, which you can try out with my free pansy pattern. Or grab yourself a copy of my blackwork ebook.
The measurements given are for 14 count fabric.


Blackwork Rose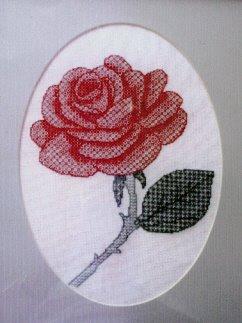 Enid stitched her rose in traditional red and green embroidery floss colors. What a beautiful job she did of it too!

The Blackwork Fuchsia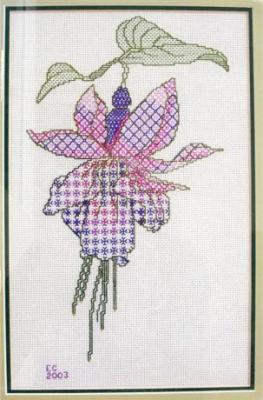 Shown left, is the version that M E Cattrall, from Lancashire, UK, stitched using randomly dyed thread for the flower and plain DMC floss for the leaf. 
Didn't she do a lovely job?

Blackwork Waterlily

Blackwork Irises

Elizabeth's Rose Bellpull

Designed as a tribute to Queen Elizabeth, the Queen Mother, this sampler is simple to stitch.
It uses red and dark green threads, and two variations on each fill pattern for the leaves, to give a light and dark side.
You will learn a large variety of fill patterns by completing this beautiful design.
Downloadable Chart £3.75

Keep in Touch with Stitchin'Times Newsletter