More cross stitch card making ideas
A while ago I asked for more card making ideas from you, the visitor to my site.
Wow! What a creative lot you are. Below Rachel shares her method of making a card, and further down the page you will see many more ideas from Lorraine.
 Rachel would like to share her method of finishing a cross stitch card. I love it!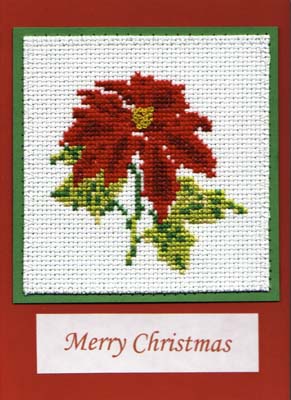 What will I need?
A cross stitch piece - preferably on Aida
Iron on interfacing
Card stock
A sewing machine that does zigzag stitching
Machine thread (complimentary colour)
Embellishments of your choice
How do I make it?
Rachel explains:
Take your cross stitched piece (I used a poinsettia freebie off the internet) and back it with iron on interfacing.
Then trim the fabric to within 1 Aida block of the design on all four sides.
Take a piece of card stock and cut it 3/8th to 1/2 inch bigger all round than your fabric piece.
Using your sewing machine, and a thread that matches (or compliments) a colour in your design, zigzag stitch your fabric to the card stock.
Next trim the edges of the card to make a "mat" around the piece.
Then attach your matted cross stitch to a ready made card or a piece of card stock folded in half. You could use rubber cement or double sided tape.
You can either print a greeting onto the card before you attach the cross stitch piece, or attach (or rubber stamp) a greeting and embellish your creation.
Rachel got her card making ideas from a sewing exhibition she visited.
She adapted what she saw as they stitched the cross stitched piece directly to the greetings card. This meant that the back of the stitching was visible inside the card, which she felt would need "wallpapering over" to tidy it up.
Lorraine's card making ideas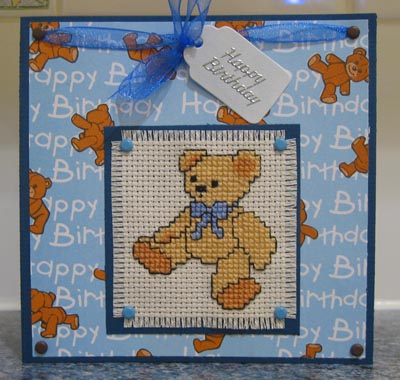 She used a similar technique to Rachel, above, for her teddy card - fraying the fabric and attaching it first to a dark blue mount, and then onto a birthday paper. Brads and a ribbon with tag complete the hand made card.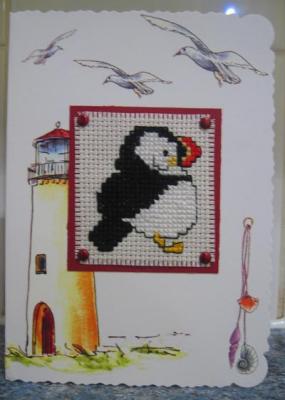 Lorraine stamped images onto the deckle edged card, and then attached her puffin in a similar manner as before.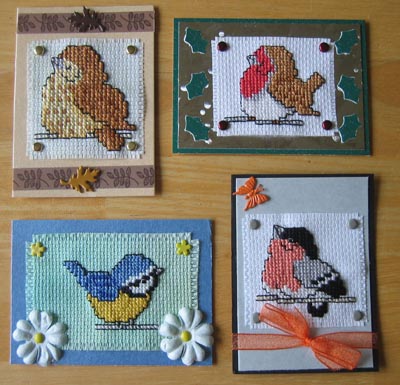 The cards, above and below, all elaborate on the same theme. Different kinds of brads are used in the corners of each cross stitched piece and embellishments such as ribbons, leaves or flags are added. I love the tape with the tyre tread pattern on it used for the pick-up truck below.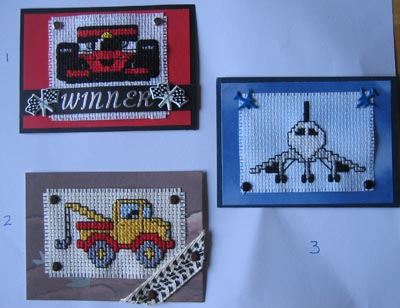 I would like to thank Rachel and Lorraine for adding to our card making ideas, and also offer an invitation to you. If you have any tips or techniques you would like to share and fancy your own spot on the website why not get in touch. I'd love to hear from you.
If you are looking for free cross stitch patterns to use for cards why not start with this cute bunny with a heart, great for homemade valentines cards.