Blackwork embroidery shading techniques
Some of my downloadable blackwork embroidery designs, for instance, the animals and flowers, use shading techniques to give them more depth.
This free lesson will teach you two methods of doing this...
adding extra stitches to a blackwork fill pattern
using more strands of floss
If you haven't tried blackwork before, you might find my Blackwork for Beginners ebook helpful, to teach you the basics.
Start by downloading the pattern for this pair of pears. It is in PDF format so you will need Adobe Reader on your computer to read it. This is a free download from here if you do not already have it. (The link will open in a new window so that you do not lose this page.)

Design size
This design measures 3.3 x 3.9 inches when worked on 14 count Aida. The stitch count is 46 x 54.
You will need
8 x 7 inch piece of Aida 14 (or evenweave if you prefer)
DMC 470 stranded embroidery floss (or colour of your choice)
Stitching the Outline
Blackwork embroidery is easiest if you work the outlines first, using 2 strands of floss, in either a backstitch or double running stitch.
If you are confident with your counting, you can start your thread with the loop method otherwise I suggest leaving a tail.
This way you can undo your work from the beginning if you make a mistake and don't notice it until over halfway round the outline. I've been there, done that!
The stem of your pears
We work the stem of the pear in cross stitch using two strands. If you have not done cross stitch before, you might find my beginners tutorial helpful.
Working the fill pattern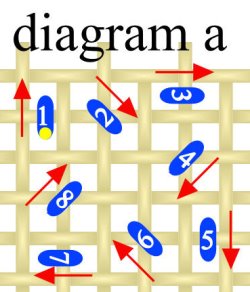 You could work the blackwork pattern in backstitch or, as I will show you, in double running stitch. I suggest using 1 strand of embroidery floss to give a delicate appearance.
We will treat each "flower" on its own and then move on to the next in a diagonal row. Diagram A, shows the first "journey" around the flower, working every other running stitch. For the moment, ignore the centre of the flower. When you meet up again at the top, your stitching will match the completed flowers in the photograph, above right.
Next, go back around the flower, filling in the missing stitches. This time pop in the horizontal and vertical stitches that meet in the centre of the flower, as in Diagram B, left.
When you complete each flower, move on to the next in that diagonal row. Use the outlines to carry the thread from one row to the next. You can weave under the outline stitches for a short distance without it becoming too obvious on the back of the work.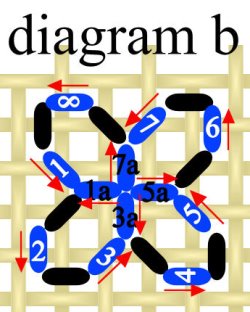 Shaded blackwork areas
To add shadow and depth to the design, shade some areas by adding extra stitches to the blackwork embroidery using two strands. Tackle these in two stages. Some flowers have extra stitches in their centers. Work these at the same time as the flowers as shown below.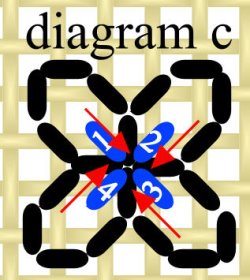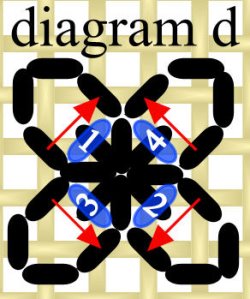 Finally, we have the "squares" in between our flowers in places.
Follow the chart carefully and stitch some completely and others only partly. 
To stitch these you can either make four cross stitches and box them in with back or double running stitch or work them entirely in double running stitch.
Congratulations on finishing your first piece of shaded blackwork embroidery.
You can see this pattern in use for the dress of my medieval lady, Gwendoline.
Keep in Touch with Stitchin'Times Newsletter