Free Cross Stitch Patterns to Make
in Under an Hour
I have collated all my free cross stitch patterns for beginners onto this page for you. 
New to counted cross stitch? Here's a helpful tutorial on how to get started.
If you want to put your finished cross stitch project into an aperture card, click on this link for instructions.
You can print and use these patterns as often as you like. You can even sell your cross stitching at the local bazaar or craft fair, especially if you are raising money for charity, in sensible numbers.
However, please do not abuse my copyright by copying or selling my charts. This is my gift to you, please use it fairly.
If you want to make your free cross stitch patterns bigger or smaller, you can use this handy cross stitch calculator to work out what fabric count will give you the size you require.
Free Cross Stitch Patterns - Elephant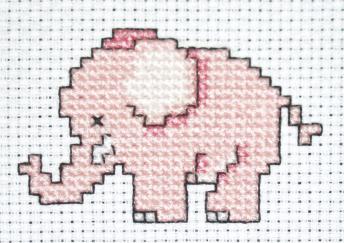 Let's start this page of printable free cross stitch patterns with a cute little elephant. He is small and easy to stitch so will take you just an hour to complete. 
I stitched mine in pink, but you could use more natural colours if you prefer.
He would make a wonderful card for precious new babies or if you have forgotten somebody's birthday. Just add "Sorry I forgot" underneath. Of course, real elephants never forget (or so the story goes).
A row of little elephants, tail to trunk, would look great as a border along a pair of curtains or even stitched using waste canvas on a child's clothing or bed-linen.
In the color key below the free pattern I have given the finished size when stitched on three different fabric counts.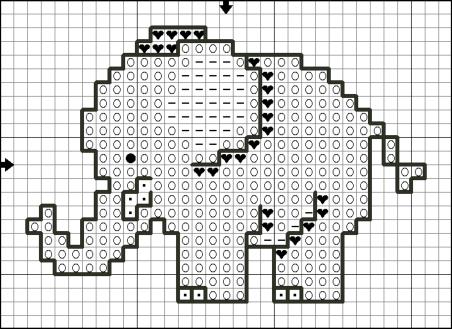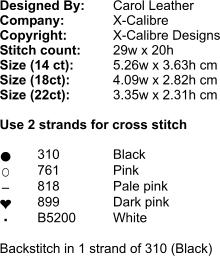 Free Cross Stitch Patterns - Christmas Wreath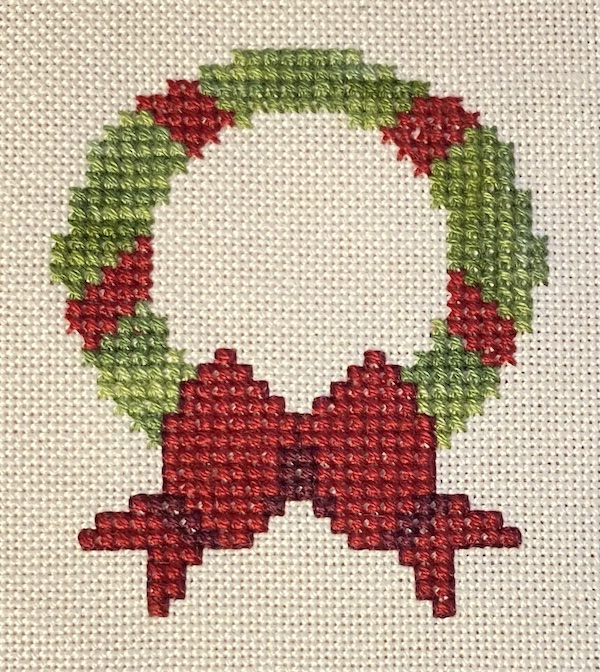 How excited are you about the Christmas season this year? Are you still frantically searching for the perfect Christmas card or mini gift to give to a loved one? Don't worry, I've got you covered with this simple free cross stitch pattern.
This quick to stitch Christmas wreath makes use of leftover embroidery floss, so it's perfect if you have a few strands remaining from other projects. To save the hassle of changing thread colours, I used a variegated floss for the main wreath, but you can pick just a single green if you wish. Add two shades of red for the bow, and a darker colour for the backstitch outline, grab a small square of Aida or evenweave fabric, a needle, some sharp scissors, and get stitching!
The design is 30 x 35 stitches and the stitched area will measure a little over 2 x 2.5 inches (5.44 x 6.25 cm) when finished. 
I have kept it simple, but if you want to fancy things up, why not add some beads or crystals to your wreath? Or choose a metallic thread and deck your wreath with a sparkly gold ribbon!
Free Cross Stitch Patterns - Turkey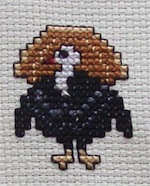 This little fellow would make lovely place cards for the festive meal table if stitched on perforated paper. Alternatively, you could pop him into a Christmas card, or hang him from the tree as an ornament.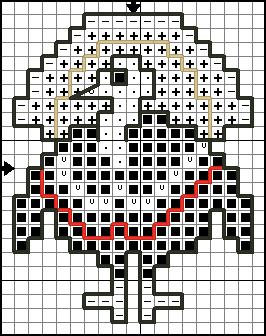 Free Cross Stitch Patterns - Bunny with heart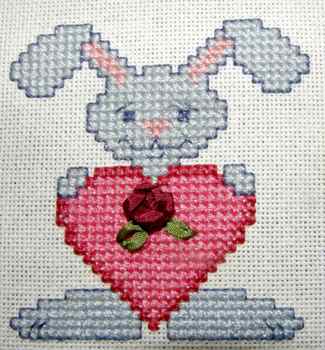 Instead of popping to the local shop and buying the same valentines day greetings cards as hundreds of other people, why not take the time to create something yourself, that really says "I love you!"
This free cross stitch heart pattern is super simple to stitch. You will have it finished in an evening. 
You can even add a touch of silk ribbon embroidery, to make it extra special. I used some scraps of 4mm silk ribbon to stitch four colonial knots surrounded by loose stem stitches, to create the rose. Then I added two green lazy daisy stitches for the leaves.
I stitched my bunny in pale blue with a two tone pink heart. 
You may prefer a little brown rabbit and a bright red heart. Feel free to change things to suit yourself.
This little fella is 36 stitches tall by 36 stitches wide. That will make the design measure 2.5 inches square when stitched on 14 count Aida (or 28 count evenweave over two fabric threads). If the aperture of your card is smaller, then try stitching him on 18 count instead.
I used two strands of floss for the cross stitches and a single strand for the backstitch. I chose slightly darker shades of blue and deep pink for the outlining as I felt black would be too harsh. I used the blue around the bunnies paws, as they would be in front of the heart.
You can outline the eyes and nose if you wish. I preferred to leave them, as I like the effect of the crosses for the eyes, almost as though they are sewn onto a treasured toy rabbit.
If you require help with mounting your rabbit into an aperture card my handmade greetings card page will give you all the details.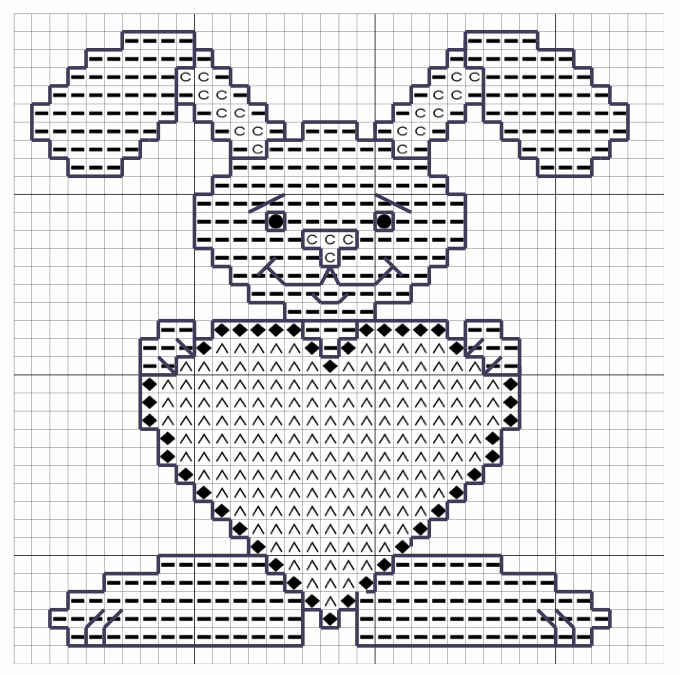 Keep in Touch with Stitchin'Times Newsletter