Fractional stitches
add detail to your cross stitch
Are you wondering what fractional stitches are and why you would want to stitch them?
Perhaps you have come across something similar to the diagram, right, when working a cross stitch design and are confused as to how to work it?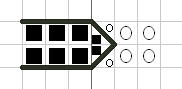 Many stitchers shy away from designs that include fractional stitches, believing them to be complicated and difficult. 

However, they do enable the designer to produce a more detailed design and actually are not that difficult to work, especially if you are using an evenweave fabric rather than an Aida.
Half Cross Stitch
The simplest fractional stitch is the half cross stitch. Just as it sounds, this is the first leg of a cross stitch. It is sometimes used to depict sky or water or something semi transparent.
I use it in my Old Smokey dragon design to represent the smoke rings that the dragon and wizard are blowing, as shown in the close up detail photograph, right.
This stitch is also commonly used in needlepoint where it is known as tent stitch.
Half cross stitch can be worked on Aida, evenweave or canvas, easily.

Quarter stitches
Quarter stitches are easier to work on evenweave rather than Aida.
In the diagram below, the tiny pink stitches are quarter stitches.
On Aida fabric you will need to push your needle down in the centre of the Aida block (a crewel needle makes this easier), whereas on evenweave you can use the centre hole.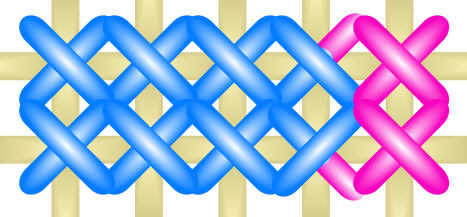 The chart may show small symbols as in the diagram at the top of this page. These tiny symbols represent both quarter and three quarter stitches.
How do you tell the difference?
Well you need to take a look at the design itself. Perhaps, for example, you have a blue shape on a pink background. The background colour is normally the one which you would use for the quarter stitches.
Three Quarter stitches
Right so what do we do with the other symbol?
This can be stitched as another quarter stitch with a backstitch line separating the two, but more commonly we would use a three quarter stitch for this symbol.
Again work the quarter stitch in the required corner, then add a half stitch on top. Some people like to do the half stitch first and then "tie it down" with the quarter stitch. Neither method is incorrect - it just depends on the effect you are trying to create.
By using the color of the foreground object for the three quarter stitch it makes the tiny quarter stitch less significant and "pushes it" into the background. In turn this helps to make the foreground object look more "in focus".
But what if it isn't easy to tell which object is further forward?
In this instance you can use three quarter stitches for both tiny symbols as shown in the diagram below.

To keep them distinct you may prefer to work the stitches in the opposite order; the half stitch first then use the quarter stitch to "tie" it down. Again a backstitch can be worked between the two stitches to separate the areas clearly.
Hopefully this little article has helped to demystify the various fractional stitches for you. If you have any questions, however, please use the form on the Contact page to get in touch.
Nov 20, 17 07:45 AM

Arlington Court's needlework collection is extensive. Enjoy these photos of my favorite pieces on display.

Oct 19, 17 05:04 AM

The first page in our cross stitch section. Links to freebies, lessons, beginner kits, advanced techniques like stitching on evenweave and working fractional stitches and more

Oct 10, 17 10:50 AM

Let me help you learn how to embroider, with step by steps and free designs to start you off.