An introduction to Redwork Embroidery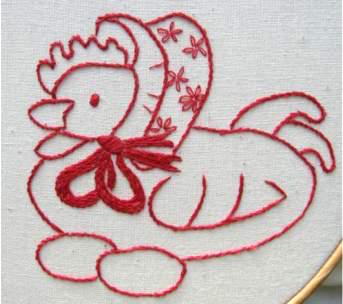 Try my free redwork embroidery pattern
The History of Redwork Embroidery
Redwork (or red work) embroidery is a simple technique, worked in red floss.  
Back in the 1800s when it was first popular, turkey red thread was made with the only dye that was colorfast, hence its popularity for this stitch work.

Different colors came into use as the dying process improved. Similar work carried out in colorfast blue thread is known as bluework or blue redwork.
After the extravagant use of decorative embroidery on crazy patchwork, the late Victorian stitcher began to use redwork to stitch useful household items. These included...
dish or tea towels
coverlets
hairdressing capes (worn around the shoulders while ladies had their hair cut) 
splashers (a type of hanging towel, positioned behind the washstand that helped prevent splashes on the wall), 
pillow covers or shams
chair cushions
sofa pillows
dresser scarves
laundry bags
cloths to cover sideboards 
toys
and later, redwork quilts.
The Basic Technique
Because the design is outlined, with minimal filled areas, redwork is quick and easy to complete. The main stitches used include stem stitch, split, satin and French knots.
Outline stitching often goes by the name Kensington Stitch because students at the Royal School of Needlework, in Kensington, London, stitched Redwork in the late 19th Century.

Worked on basic white muslin (known as calico in the UK) using just one color embroidery floss; the cost of this needlework was within reach of everyday people. 

Because of the simple stitches used, redwork is suitable for young children. But it can take skill to get good results, and therefore provides an adequate challenge to adults.
I have designed a free redwork embroidery pattern for you to stitch as an introduction to the craft.
Traditional Redwork Embroidery Patterns
Popular in the early 1900s, "Penny Squares" (preprinted squares), were embroidered, then sewn together to form pillow shams or quilts.
These squares often featured redwork designs such as Sunbonnet Sue, a young girl wearing a bonnet that covered her face. A little boy, known as either Overall Sam or Overall Bill, was a companion design. American state birds, flowers, animals and nursery rhyme characters were other popular themes used to decorate a redwork piece.
The idealized children illustrated by the London artist Kate Greenaway (1846-1901), were also popular with redwork stitchers. Wearing sunbonnets, mob caps and smocked dresses they resemble the costumes worn in Regency times, even though each character existed only in Kate's imagination.
Many original redwork patterns incorporated lettering, such as the phrases "Good morning", "Good Night" and "Sweet Dreams".

Magazine publishers gave away patterns suitable for stitchers to embroider with red thread. 
Redwork Today
Many modern-day needleworkers still like to stitch redwork quilt blocks, keeping to authentic hand-drawn, naïve patterns of animals, birds, flowers, fruit, vegetables and people. I added a redwork strawberry to a block featuring a strawberry patterned fabric. Click here to find out how I put it together. 
One of my favourite redwork pattern books is Nature's Beauty in Redwork
by Debra Feece. Inside you will find beautiful floral bouquets, bird portraits, and my favourite, some wonderful pond scenes.
Today, many patterns are available online, and sources of ideas for embroidery can be found in children's coloring books.

Keep in Touch with Stitchin'Times Newsletter