Redwork Embroidery: A Time-Honored Art Form That's Still Popular Today
The History of Redwork Embroidery
Redwork embroidery, popular due to its simplicity and affordability, was a form of needlework that originated in the late 1800s.
The name "redwork" comes from the fact that it was traditionally stitched using Turkey red thread, made from the roots of the madder plant native to Asia and Europe. The roots are harvested, dried, and ground into a fine powder. The powder is mixed with water and boiled with the thread to create a deep, rich red color.
Back then, people used turkey red thread because it was the only colorfast dye.
Although many different thread types are available now, some people still use turkey red thread for its historical significance and unique qualities.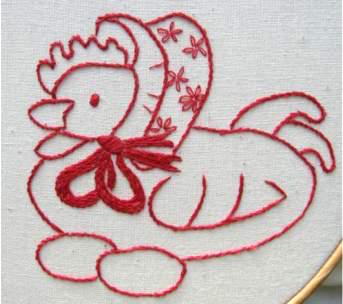 Try my free redwork embroidery pattern
How was redwork used back then?
After the extravagant use of decorative embroidery motifs on crazy patchwork, the late Victorian stitcher began to embroider redwork to stitch household items. These included...
dish or tea towels
coverlets
pillow covers or shams
chair cushions
sofa pillows
dresser scarves
laundry bags
cloths to cover sideboards 
toys
and later, redwork quilts.
The Basic Technique
Redwork embroidery is quick and easy to complete, making it perfect for beginners or those who want to create something beautiful but don't have much time.
The main stitches used in redwork embroidery include stem stitch, split stitch, satin stitch, and French knots. Stem stitch is used for outlining the design, while split stitch is used for filling small areas. Satin stitch is used for larger areas, and French knots add texture and dimension to the design.
The simplicity of the hand embroidery pattern and the use of only one color make redwork embroidery a classic and timeless art form that will never go out of style.
With a little practice and patience, you can create beautiful pieces that will be treasured for years.
The embroidery is typically worked on basic white muslin, a type of cotton fabric that is affordable and easy to find. This makes redwork accessible to everyone, regardless of their budget. 
It's a great way to develop creativity and hand-eye coordination skills. However, even though the stitches are simple, it can take skill to get good results, and that's why redwork provides a challenge.
I have designed a free redwork embroidery pattern for you to stitch as an introduction to the craft.
Traditional Redwork Embroidery Patterns
During the early 1900s, a trend known as "Penny Squares" swept through the world of embroidery.
These preprinted squares featured intricate designs that were then embroidered by hand. Once completed, the squares were sewn together to create stunning pillow shams or quilts. This technique was incredibly popular during this period and remains a beloved tradition among embroidery enthusiasts today.
These squares often featured Sunbonnet Sue, a beloved and enduring design depicting a charming young girl with a bonnet that adorably covers her face.
This iconic image is often paired with a little boy who goes by the names Overall Sam or Overall Bill. These designs have captured the hearts of quilters for generations and continue to be popular choices for those looking to create a timeless and nostalgic piece. This type of embroidery often features charming illustrations of children.
Among the most popular sources of inspiration for these designs are the works of Kate Greenaway, a talented artist from London.
Her depictions of children wearing sunbonnets, mob caps, and smocked dresses are idealized and whimsical, evoking the fashion of Regency times. Despite being purely imaginary characters, Kate's illustrations have captured the hearts of redwork stitchers for generations. Today, her artwork remains a beloved source of inspiration for artists and crafters alike, a testament to its timeless appeal.
Redwork embroidery is also known for its charming use of lettering in many of the original patterns.
These phrases, such as "Good morning," "Good Night," and "Sweet Dreams," add a personal touch to the finished piece and make it feel even more special. The lettering is often done in a simple, elegant script that complements the rest of the design.
Getting Started with Redwork Embroidery
Choosing a pattern
If you're searching for inspiration for your next redwork project, don't overlook the pages of a child's coloring book.
These books often feature simple, outlined drawings perfect for this embroidery technique. However, it's vital to remember copyright laws if you plan to sell your finished piece. With a bit of creativity and respect for intellectual property, you can use these coloring book pages as a jumping-off point for your own unique and charming redwork designs.
Frequently, you may come across collections of designs that revolve around a shared concept, like the 12 months of the year.

Nevertheless, I advise that you start with a solitary pattern initially. A vast assortment can be somewhat daunting for a novice. Attain the contentment of finishing a piece without being concerned about the remaining ones that are waiting for you to start them.
The ideal fabrics
Many patterns are available online, which you can trace or iron onto muslin or calico fabric.
Muslin is a plain weave cotton fabric that is perfect for embroidery. While calico is a slightly heavier cotton fabric that is great for creating more durable pieces. Once you have your pattern and fabric, you can start stitching away!
Stitches for redwork
The outline of your design will usually be stitched in either outline or stem stitch. These look remarkably alike and differ only in the position you hold the working thread. Keep the thread above your stitching line for outline stitch, and below for stem if working from left to right along your line.
The resulting lines of stitches will appear ropelike: however, stem and outline will twist in opposite directions.
If you are left-handed (and work from right to left) the thread position will reverse, so it will be held below your stitching line for outline, and above for stem.
Contrast is created in redwork by solidly filling some smaller areas with stitches. Depending on the size of these, the stitches normally used are either split stitch or satin stitch. 
Smaller dots or details can be added using French knots or detached chain stitches (or lazy daisy stitch). 
Dealing with Bleeding Threads
Using low-quality threads can create a nightmare for your embroidery project.
The dye from these threads can bleed onto your fabric, ruining all the hard work you've put in for hours. This is particularly problematic with red threads. So, make sure you invest in high-quality threads to avoid any potential disasters!
However, keep in mind that creating colourfast threads is not cheap and that cost will be passed along to the stitcher.
Redwork Today
Many modern-day needleworkers still like to stitch redwork quilt blocks, keeping to authentic hand-drawn, naïve patterns of animals, birds, flowers, fruit, vegetables and people.
I added a redwork strawberry to a block featuring a strawberry patterned fabric. Click here to find out how I put it together. 
One of my favourite redwork pattern books is Nature's Beauty in Redwork
by Debra Feece. Inside you will find beautiful floral bouquets, bird portraits, and my favourite, some wonderful pond scenes.
Keep in Touch with Stitchin'Times Newsletter