Oriental blackwork designs
Welcome to the world of oriental blackwork designs, where elegance and grace reign supreme! Allow yourself to be transported to a realm of exquisite beauty and intricate artistry. The collection by Carol Leather of X-Calibre Designs is truly a masterpiece, showcasing stunning Japanese lady designs that will captivate your imagination.
Each design is a true work of art, meticulously crafted to showcase the beauty of the feminine form. With intricate geometric patterns, these designs are a testament to the power and allure of blackwork embroidery. And here's the best part - they are easier to stitch than they may first appear!
Prepare to be dazzled by the symphony of blackwork embroidery, metallic threads, and seed beads that make up this collection. The metallic threads add a touch of glamour and sophistication, shimmering and shining as they bring depth and dimension to the designs. And the seed beads? They are like tiny jewels, sprinkling each stitch with a touch of sparkle and luxury.
If you're passionate about creating works of art with your needle and thread, these oriental blackwork designs are just for you. They will challenge and inspire you, allowing you to hone your blackwork skills and push the boundaries of your creativity. With each stitch, you'll feel a sense of accomplishment and pride as you bring these stunning designs to life.
Indulge yourself and add these oriental blackwork designs to your cherished stash. Embrace the beauty and elegance of Oriental design, and let your imagination run wild as you explore the possibilities. These designs will tempt you, inspire you, and leave you in awe of their intricate details and stunning beauty.
If you're new to the world of blackwork, don't worry! The Blackwork for Beginners ebook will guide you through the basics, such as Holbein stitch, so you never feel lost.
Turquoise Japanese lady blackwork
Design Details
Design size: 20 x 9 inches
Downloadable chart: £5.00
Dressed in a pretty kimono, fan and turquoise obi this oriental blackwork Japanese lady design has the perfect wardrobe for the cherry blossom season.
Whether you  choose to stitch her in 3 shades of cotton embroidery floss or exotic silk thread, a hint of silver sets her off to perfection.
Contrast is provided by using a widely spaced pattern depicting water lilies in her kimono, compared to more dense blackwork patterns in her obi (or belt) and around the hem. Her hair is worked in pattern darning, a form of running stitch, over 1 fabric thread.
A turquoise seed bead is added to the center of each flower for added charm. 

Keiko - Geisha girl in red and gold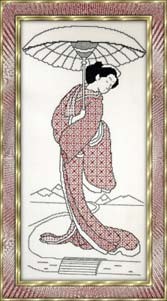 Design details
Design size: 19.25 x 9.5 inches
Downloadable chart: £5.00
Imagine being transported back in time to a Japan teeming with a rich and vibrant culture. Picture yourself walking through the streets, surrounded by the sights and sounds of a bygone era.
This blackwork geisha, with her intricate details and mesmerizing beauty, serves as a gateway to this enchanting world.
Allow yourself to be captivated by the delicate image of a geisha girl, standing gracefully under a paper parasol, with majestic mountains as her backdrop.
The combination of red and gold, intricately woven together, creates elegance and allure. The cross-stitching of the geisha's hair and the accents, left void, add a sense of depth and presence to the piece.

Keep in Touch with Stitchin'Times Newsletter