Windmill blackwork needlework designs
I do not stitch all blackwork needlework in black! You will find many coloured blackwork designs here at needlework tips and techniques, including these pretty little windmills.
Quick and easy to stitch you can frame them or mount them in greetings cards when finished.
The buttons beside each picture allow you to order the chart and download it straight to your computer.
If you are new to blackwork you might like to get yourself a copy of my blackwork for beginners ebook.

Windmill 1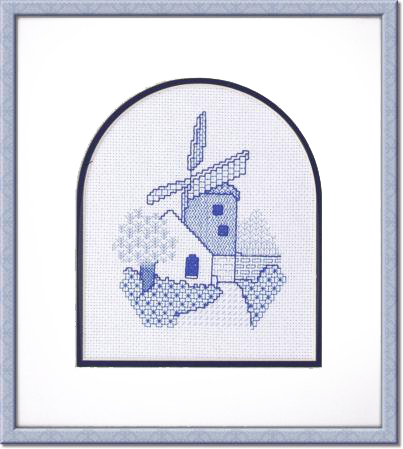 Let's start with a cylindrical Tower Mill, made from brick. The farmer would turn the cap on top of these mills to position the sails into the wind.
A delight to stitch with 9 different fill patterns and a little cross stitch. I picked blackwork patterns that resemble trees, flower beds, brick walls etc. and stitched them in three shades of blue DMC embroidery floss.
Design size: 4.4 x 5.3" inches

Downloadable chart £2.25


Windmill 2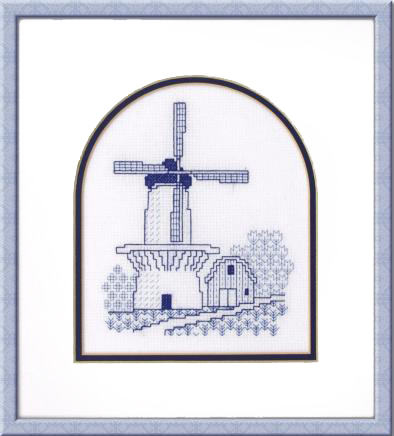 Our next blackwork design is a Smock mill, named after the garment farmers used to wear. Made from wooden planks in a hexagonal or octagonal form, again just the cap turns into the wind leaving the rest of the building stationary. A typically English windmill, you often found this type in the county of Kent. This design uses 7 blackwork patterns.
Design size: 4.8 x 5.6 inches

Downloadable chart £2.25

Windmill 3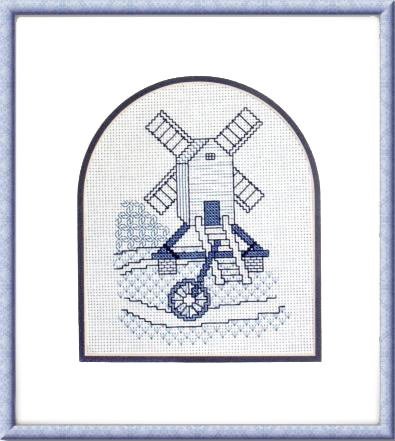 Last, we have an open trestle Post mill, where the whole windmill turned around a vertical post. Again English, these were, and still are, found in Kent and Cambridgeshire. The easiest of the three, this blackwork needlework design only uses 3 blackwork fills and some cross stitch.
Design size: 4.2 x 5.6 inches

Downloadable chart £2.25

Erica from Cumbria, England, stitched all three windmills and mounted them very cleverly in one frame. Thanks for sharing your finished project, Erica, I love to see how people have interpreted and stitched my designs. I especially like how you have mounted the centre windmill higher than the others.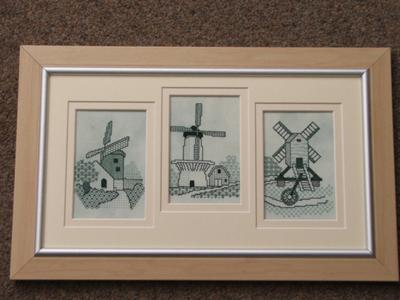 Keep in Touch with Stitchin'Times Newsletter