Blackwork and cross stitch lace-makers
Some designs work well in both blackwork and cross stitch, as the lace-makers on this page show. 
If you haven't tried blackwork before, you might find my beginners blackwork e-book helpful to teach you the basics. 

The Lacemaker
I originally designed the cross stitch lace-maker for the National Christmas Lace-makers' Fair, held in Birmingham each year. I arrived on day one with boxes of kits and returned home with none!
I took even more with me for day two, and not only did all those fly off the stand as well, but I took orders for more. 
Whole cross stitches make her easy to work and being relatively small, she is a wonderful project for a beginner to the craft. 
Blackwork Lace-maker
The cross stitch lace-maker proved so popular that my customers soon asked me to create a blackwork version of the same design.
A quick project, she is ideal as a gift for a lace making friend or a lovely addition to your own craft room wall. I have also seen her stitched on the front of a sweatshirt with the help of waste canvas.
Mainly worked in black stranded cotton/floss her hat and apron have gold embellishments. The design also uses gold for the thread on the bobbins and the bow in her hair. 
Blackwork Stitcher
The stitcher is another blackwork and cross stitch design, this time facing in the other direction, which makes a lovely partner to the design above. We have replaced the bobbin lace pillow with a stand and hooped fabric. This time she is sitting on a chair instead of a stool.
We highlight her patterned dress with gold metallic stars, while we work the rest of the pattern in black stranded cotton/floss.
The stand, hoop and chair comprise whole cross stitches. 
Mary - a lace-maker in sepia (1885)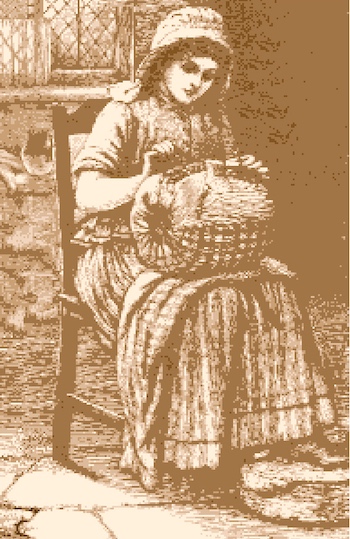 I based Mary, the lace-maker, on a print of an 1885 original. The Honiton Lace Shop in Devon, UK kindly permitted me to convert it into a cross stitch design. 
The result is a large project with an even larger impact! The chart comes on 12 A4 pages plus a key. Please keep in mind that the downloadable cross stitch chart is a large file at just over 26mb.
We stitch her in 8 shades of brown and cream DMC thread, with not a single backstitch! You won't need to use fractional stitches in this design.
Design size: 13.85 inches x 21.33 inches (35.2cm x 54.2cm)

Downloadable Chart - £6.99