Tips for stitching blackwork fill patterns
Blackwork fill patterns give the impression that they are complex and difficult to stitch. In fact, if you approach them in the right way, they can actually be simple.
But, as with other needlework techniques, it is easier if someone shows you how to do it, rather than if you jump in and getting in a muddle. I can't be there with you in person to help you, but hope to guide you through the pages of this website.

The journey
Studying the pattern before you even thread your needle is well worthwhile. After all, you wouldn't get in your car and start driving until you knew where you were going, would you?
Stitching a blackwork pattern in double running stitch is a bit like taking a journey. The aim is to get from point A to point B, and back again, maybe taking a side road or two occasionally, but never ending up stuck in a blind alley.
You can't work all fill patterns in this manner...for some you may need to use back stitch. But when you can, it is possible to end up with a piece of work that looks as good on the back as it does on the front.
When faced with a new pattern, try to work out where the vertical, horizontal and diagonal lines go. See if there are any isolated stitches which you can work at the same time as the rest of the pattern. A little planning goes a long way to making blackwork simple and relaxing to stitch.
I will take you through a few distinct patterns here on the site so you can see how to stitch them.
So are you ready to have a go?
The following two patterns are simple to stitch ...
Compensating stitches

Sometimes you reach the outline of a shape and cannot complete a whole repeat of the fill pattern. Don't worry. Just stitch as far as you can and then return along the row.
The part patterns use what we call compensating stitches. You can see them inside the outlines of the little owl design above.
It is best to start stitching across the widest or longest part of a design so you can get into a rhythm before reaching an outline that disrupts the pattern.
I frequently leave these compensating stitches until later, preferring to continue the pattern sequence without interruption.
TIP: Where your fill pattern touches the outline, carefully maneuver the point of the needle around to enable you to keep the pattern inside where it belongs. If you inadvertently bring the needle up on the outside, it may pull the outline out of shape.
Blackwork pattern and tone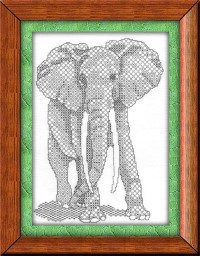 As most blackwork is monochromatic, tonal contrast is essential. Using the right tones can make or break a design.
You could compare blackwork with a pen and ink drawing, where you build up tones with lines and cross-hatching.
You may even solidly ink in the darkest areas of a drawing; an effect that you can  imitate in a blackwork design by using cross stitch. Leaving the lightest areas empty by comparison, can create contrast. I have done this for the tusks on my blackwork elephant pattern.
If your stitches are closer together, a pattern will appear darker than one where you leave spaces in between them.
You need to use some patterns in a large area to show off the full effect, whilst others would take a long time to stitch if used for anything other than a small section of a design.
Choosing a suitable blackwork fill
It is also a good idea to use fill patterns that are in keeping with the subject being stitched. For example, a pattern that looks like leaves would look as strange on a fish as scales would on a tree!
Good blackwork designs take this into account, and even if you are not aware of it, the patterns do not look out of place.
I hope these tips will help you when working blackwork fill patterns.
Keep in Touch with Stitchin'Times Newsletter