Blackwork Designs featuring
Mischief the cat
A very popular series of blackwork designs that also feature silhouetted cross stitch characters. Mischief the cat gets into trouble, both upstairs where mistress is doing her embroidery, and downstairs in the cook's domain.
Simple to stitch, using just a few blackwork fill patterns and areas of cross stitch in just one colour, these projects won't take you long to complete.
If you are new to blackwork you might like to get yourself a copy of my blackwork for beginners ebook.
If you love cats, don't miss this pretty cat needle case worked in a combination of blackwork and Assisi work.

Mischief in the making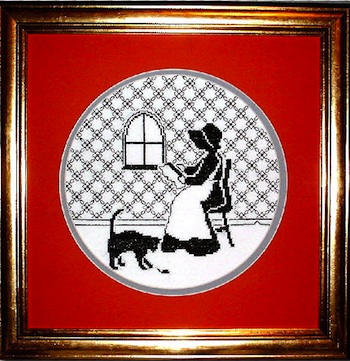 This young lady, engrossed in her stitching, has not noticed the mouse by her feet. But Mischief has and is about to pounce!
Use just one blackwork pattern for the wallpaper in this design. Then create the rest of the picture with black cross stitch, letting the white fabric play an important part. Quick to stitch, but so effective.
Design size: 9 x 8.25 inches
Downloadable chart £2.50

Mischief in Store
In this design, Mischief has gone downstairs to pester Cook in the kitchen.  I imagine she will freak out if she notices the mouse in the pantry cupboard! Will Mischief catch it, or will the mouse make it back to its hole in safety?
We use blackwork patterns for the wall tiles, the cupboard doors, and the rag rug underfoot.
Design size: 7.6 x 6.4 inches

Downloadable chart £2.50

Mischief in the Air
Keep in Touch with Stitchin'Times Newsletter