Blackwork figures by Carol Leather
These blackwork figures will whisk you off to revel in the nostalgic beauty and intrigue of days gone by.
Watch the fashions of the time appear on your fabric, and, if you are anything like me, imagine, just for a moment, that you have a figure like theirs!
If you haven't tackled blackwork before, you might like to download my Blackwork for Beginners ebook.
Pearl - 1920s lady


When you think of the Roaring Twenties, cloche hats and drop-waisted dresses decorated with beads and tassels probably spring to mind. However, the decade was also marked by the introduction of exquisite evening wear. 
At the end of each workday, women would don their Haute couture evening gowns and headscarves, then head out for an evening at the theatre, a concert or a cocktail party. 
Wouldn't you love to have the slim, elegant figure needed to carry off Pearl's dress in this blackwork design? Although I hate to think of the constrictive undergarments that flattened those womanly curves! 
Instead, you can enjoy stitching this design, then frame and hang it on your wall to admire without enduring the discomfort. 
Coral - 1930s lady


Is Coral heading for the Savoy Theatre? Or is she "In the Mood" to experiment with the Lambeth Walk or Palais Glide at the dance hall? Although the novelty of the time is television, I definitely don't think she is staying indoors, even to watch Wimbledon for the very first time!
Loosely based on an image of a "dance frock" on the front of a Weldon's Home Dressmaker pattern of the time, Coral is wearing a pleated skirt that accentuates her slender waist. Her sleeveless top, a rope of pearls and a stylish beribboned hat complete her outfit perfectly, while her coy smile hides her nervousness.
There is no need to be nervous while stitching this blackwork pattern. All you do is follow the base fill pattern and then place additional stitches in the shaded areas to add depth to your work.
Jasper


As one decade made way for the next, the 1920s gentleman found the fashion for evening wear was changing. The tuxedo, vest, and satin striped trousers were all the rage. However, my blackwork fellow, Jasper, is not quite ready to convert from his cravat to a bow tie. 
Listening to the jazz music on the gramophone, he has his eye on a young lady. He notices she is smiling and blushes a bit as he realizes her smile is for him. Encouraged, he hastens to make his approach, asking, "Would you like to join me in the Charleston?"
After I designed Pearl, many stitchers asked me to create a companion piece. The tiny touch of plum in his cravat and vest links the designs, although you could keep to the traditional black and white if you prefer. 
Sophie - 1950s bride


In October 1959, the last day of a glorious Indian summer, my mum and her sister shared their special day by having a double wedding ceremony. The congregation had decorated the church with fruits and flowers in readiness for the Harvest Festival service that was to take place the next day. 
Although both ladies wore demure white lace dresses, I changed the colour according to the old rhyme that states you should have something blue with you on your wedding day. If you want to stitch your bride in white, you could use a blue fabric.
I added a touch of colour to her bouquet, even though in reality it contained cream and white chrysanthemums grown by my grandfather. 
When stitching your blackwork bride, note her accessories so you can create a unique piece of needlework.
Georgina - Regency lady


Georgina relaxes before high tea, her thoughts on finding a gentleman "in possession of a good fortune" who wants a wife. In Jane Austen's novel, that was the most important purpose in a lady's life back in 1813: to find a husband. 
While she waits for that opportunity, she will continue her singing and dance lessons, and enjoy reading, painting, sewing and visiting friends (in the company of a chaperone, of course). 
Perhaps while you stitch her country styled chemise dress and ornate chaise longe, you can imagine yourself in her shoes, as your mind drifts to Mr Darcy. Although you might not have the luxury of spending all day stitching, this Regency lady won't take long to complete with simple blackwork patterns in shades of blue.
Swan Lake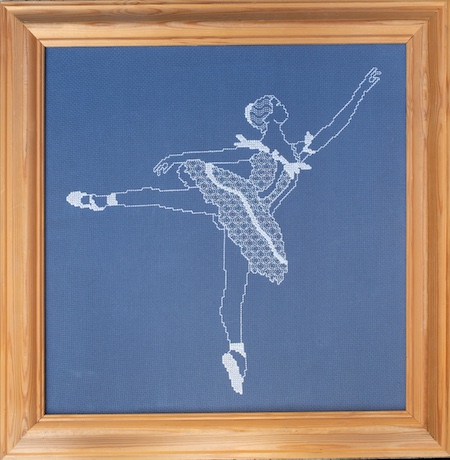 Another blue and white design, but this time in reverse. Solid areas of cross stitch combine with delicate blackwork patterns to create this beautiful ballerina. 
The dress is a combination of white thread and blending filament to give a subtle glitter to the costume. 
Design size: 11.7 x 12 inches
Downloadable chart £3.50
As darkness falls, Prince Siegfried aims his crossbow at a flock of swans when he observes one of them turning into the most beautiful woman he has ever seen. Entranced, our hero approaches, scaring her at first, but his advances win her over and they dance together.  
Placed under a spell, Odette, Queen of the Swans, can only take her human body at night. When dawn breaks, they must part, as she changes back into her enchanted form. Later, tricked by the evil villain, he accidentally swears his love for an imposter, thinking her to be Odette. With Odette destined to remain a swan, the couple plunge to their death, setting their spirits free to be together forever. 
You can rewrite this love story by stitching Odette as the beautiful woman Siegfried fell in love with. With her pristine white costume contrasting with a darker fabric, she would make a wonderful gift for any budding ballerina. 
Marina - blackwork mermaid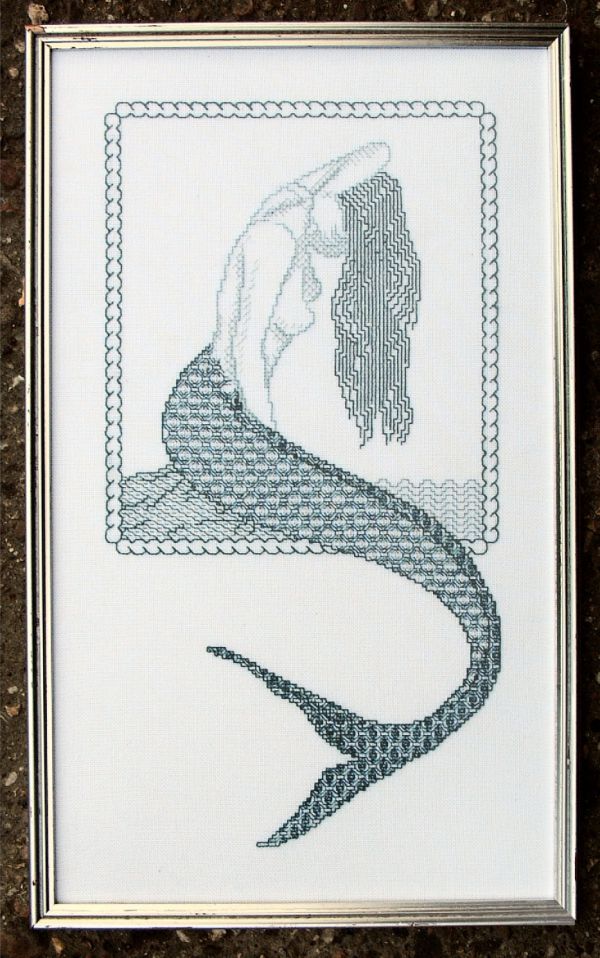 Although it looks intricate, this fantasy blackwork mermaid's tail is easier to stitch than it may appear.
You can stitch the base pattern across the complete tail and then add further stitches to build up the shadow effect.
Downloadable Chart £4.50
Design size: 14.4 x 7.6 inches
36.5 x 19.3cm (approx)


Do you think of mermaids as being beautiful creatures, half woman and half fish? Or are you of the opinion that a drunken sailor glimpsed a manatee or dugong under the sea and somehow mistook it for a mermaid? In the sailor's defence, perhaps he hadn't put his glasses on that day! 
Whatever their origin, mermaids appear throughout art and folklore, a tradition I am happy to continue. 
I named my blackwork mermaid Marina, after Hans Christian Andersen's fairytale undersea princess, and sat her on a rock looking out over the ocean. I surrounded her with a seashell border and allowed her tail to curve and break free of the frame. Will you stitch yours in aqua tones with a touch of silver sparkle like me, or do you have your own colour scheme in mind? 
Keep in Touch with Stitchin'Times Newsletter