Blackwork figures from the 1920's to 1950's
These blackwork figures will whisk you off to revel in the nostalgic beauty and intrigue of this most romantic and turbulent period.
Watch the fashions of the time appear on your fabric, and, if you are anything like me imagine, just for a moment, that you have a figure like theirs!
If you haven't tackled blackwork before you might like to download my Blackwork for Beginners ebook.
Pearl - art deco lady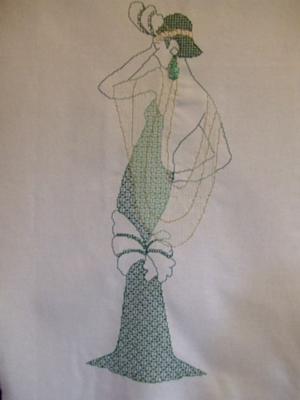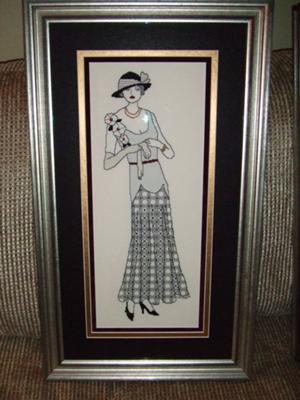 Jane Wells, from Tollesbury, Essex, UK, stitched Pearl in green and gold. She kindly sent in this photo of her finished work before it was framed.
Trudy Cummins, from Tampa, FL worked Coral (below) in black and gold with accents of red in the flowers, lips, belt and hat.
Coral - 1930s lady
Jasper
Our fourth blackwork figure design from the art deco period is Jasper. Standing proudly beside his prize gramophone he waits patiently for either of our ladies to notice him.
Worked in black, grey and plum with pearl beads on his waistcoat he would make an ideal partner for Pearl or Coral.
Design size: 18.5 x 8 inches

Downloadable Chart £5.00

Sophie - 1950s bride
---
---
Nov 20, 19 04:00 AM

4 sided stitch, worked diagonally, completes the last band of our whitework sampler

Nov 20, 19 03:48 AM

Blackwork for Beginners - learn this fascinating needlework technique with Carol Leather's book

Nov 20, 19 03:33 AM

This ebook gives an insider guide to becoming a cross stitch designer and starting your own business