Blackwork figures by Carol Leather
These blackwork figures will whisk you off to revel in the nostalgic beauty and intrigue of this most romantic and turbulent period.
Watch the fashions of the time appear on your fabric, and, if you are anything like me imagine, just for a moment, that you have a figure like theirs!
If you haven't tackled blackwork before you might like to download my Blackwork for Beginners ebook.
Pearl - art deco lady
Coral - 1930s lady
Jasper
Our fourth blackwork figure design from the art deco period is Jasper. Standing proudly beside his prize gramophone he waits patiently for either of our ladies to notice him.
Worked in black, grey and plum with pearl beads on his waistcoat he would make an ideal partner for Pearl or Coral.
Design size: 18.5 x 8 inches

Downloadable Chart £5.00

Sophie - 1950s bride
Georgina Edwardian lady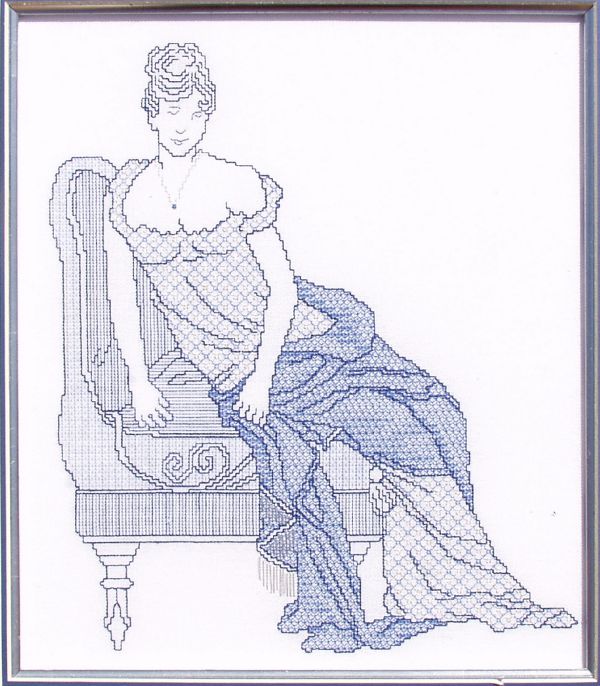 Stitched in two shades of blue with the addition of some silver highlights this elegant lady reclines on her chaise longue. 
The furniture is very simple to stitch, and her dress also uses an easy blackwork fill pattern, first worked in blue and then in silver. 
Some shading is added to the darker blue fabric to give it depth.
Design size: approx 11 x 13 inches
Downloadable Chart £5.00

Swan Lake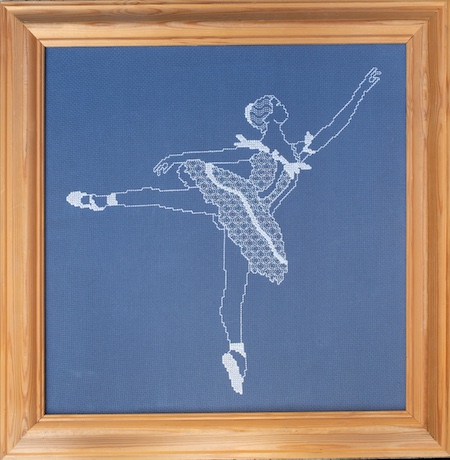 Another blue and white design but this time in reverse. Solid areas of cross stitch combine with delicate blackwork patterns to create this beautiful ballerina. 
The dress is a combination of white thread and blending filament to give a subtle giitter to the garment. 
Design size: 11.7 x 12 inches
Downloadable chart £3.50

---
---