Blackwork Animals and Birds

A collection of 3 realistic blackwork animals along with a stylised rooster and dragon, all available as instant downloads.
There are various ways of shading a blackwork design. The method used here is to add extra stitches to the pattern in the darker areas. If you haven't tried shading before, you might like to try out my free pattern first or download my Blackwork for Beginners ebook.
Realistic blackwork animals
The Sentinel - blackwork elephant
The Warrior - Blackwork white rhino
A partner design to the one above, the strength and size of this white rhino are apparent to all who see it. The design uses a single blackwork fill pattern with variations, to achieve the realistic shading.
You can read the story behind this design here. 
Design size: 10 x 15 inches

Downloadable Chart £4.25

Blackwork Barnacle Goose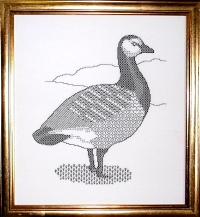 Instead of outlining each shape, we allow the blackwork patterns to blend into each other in this design. The patterns are simple, but you will need to monitor the chart as you work to keep on track.

This goose got its name during the Middle Ages, when people believed it hatched from barnacle shells!
Design size: 12.5 x 11 inches

Downloadable Chart £3.60

Stylized blackwork creatures 
The Rooster
Oriental Dragon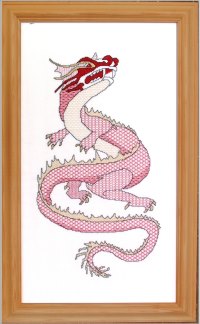 Design size: 18.5 x 10.3 inches
47cm x 26cm (approx)

My son was born in the Chinese year of the dragon, so this blackwork design has special meaning to our family.

Designed in red and gold, it also looks splendid in green and gold. 
Just four different blackwork fill patterns complete this design. To create the shading to his belly and tail add extra stitches to the pattern to darken it.
Stitch the solid areas around his head in cross stitch, leaving his teeth and mouth blank for contrast.
Downloadable Chart £5.00


I have a love/hate relationship with rhinos
As a young child, the window in my bedroom was barred to prevent me from falling out. Well not me specifically - the bars were there when my mother moved in. As I lay in bed during the long summer evenings, they created shadows on the wall.  
One night the shadow changed into a huge rhino with an enormous horn! It looked like it was charging straight at me. I screamed at the top of my voice and my parents came running. All I could do was point at the wall, sobbing loudly. 
My mother instantly realized that a pile of toys was creating the facsimile on the wall and moved them swiftly. The shadows returned to normal and I gradually calmed down. After that event, I always asked her to go into the room first to make sure the rhino had not returned, before I would go to bed.
Fast forward more than 50 years and my feelings for these noble beasts has changed. There are so few left it is devastating! My heart weeps for the Northern White rhino as only two females remain after the last male, Sudan, passed away in 2018. 
My blackwork rhino is my attempt to preserve at least an image of one of these mighty beasts. It's not enough of course, but the best I can do. 
Keep in Touch with Stitchin'Times Newsletter