Tips for exporting MacStitch's charts?
by Wendy S
(Seattle, WA)
Hi there -
I'm so glad I found your site~ YAY!
I'm a new designer and have been playing with MacStitch on my iBook - and love it~
I am having some trouble exporting the pdf's as I'd like: and wonder if you have any tips for exporting .chart docs to a more formatted page?
I'm hoping to have a well-designed pattern template to export into and am at a loss. The pdfs I've done so far are functional, but I'd like to add some text about the designs and my email address to each of the pages of the pattern - suppose I could do the email on the copyright line, too....
Anywho - your insights and tips would be so helpful!~
thanks!
w


Carol replies

Yes, I am enjoying working with MacStitch on my iMac, also, Wendy.

I don't tend to add my e-mail address, but do add my web site domain name to the Copyright line under the Properties section, Wendy, as shown below.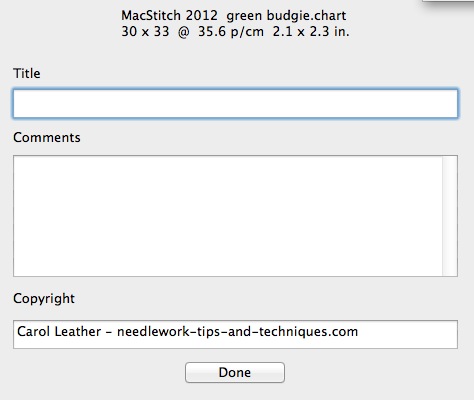 I then pick the Export PDF function, from under the File menu and use the settings shown below.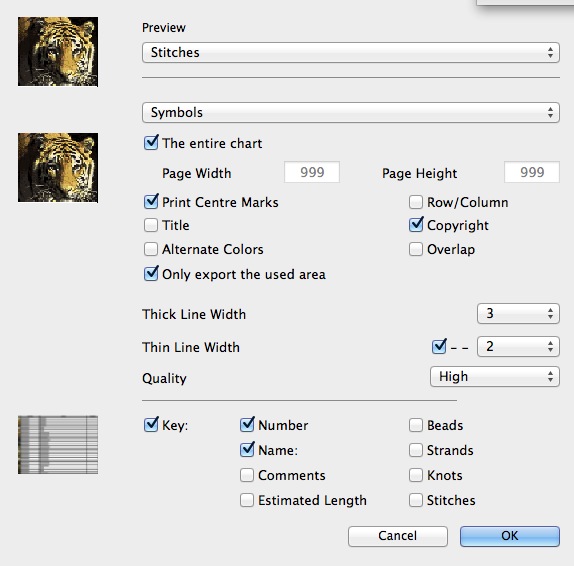 I find that this is sufficient to enable the stitcher to work from the chart, and to have an idea of what the finished project should look like.

If I want to add any extra information to the pdf I can do so by using PDFpen Pro.

You can see the results of the straight export in my little green budgie design by clicking on the following link..

Green Budgie chart.

I hope this helps,

Regards,

Carol