Using rayon embroidery thread 
Rayon embroidery thread and I had a love-hate relationship for many years. I adored the luxurious, shimmering, appearance it gave to my work. But it fought me with every stitch, until I learned to work with it, instead of against it!
Read on, for tips on how to use it in your own stitchery.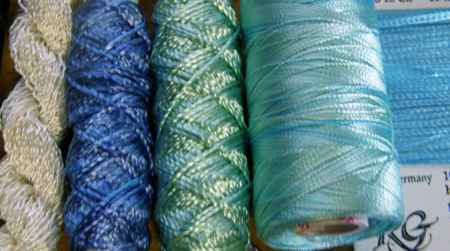 (left to right) rayon boucle (Step Francis), hand dyed rayon (Olver Twists) Natesh machine rayon and Neon Rays ribbon
Rayon fibres are perhaps best know for their use in Brazilian Embroidery, but many other techniques make use of them as well. For most other types of needlework, you would probably just want to use them for a specific area, rather than stitching the entire piece in rayon.
Rayon is a man-made, synthetic fibre, which gives the appearance of silk, while being more economical. Silk, of course, is a natural fibre. Rajmahal Art Silks actually contain 65% rayon and 35% silk.
Tips for using rayon embroidery thread
I found having a wet sponge beside me while I worked was the key to using rayon. After separating the strands, I ran them across the sponge to dampen them.  

Using the thread when too wet, can cause the fibers to tangle and break. So thread up a few needles before stitching, giving the rayon time to dry off a little.

Dampening the rayon in this manner will remove any kinks and make it easier to work with.
Rayon embroidery thread is slippery and can slide out of the needle while you are sewing. 
To prevent this, I cut a length and fold it in half. I then thread the cut ends into the needle, leaving a loop at the other end. I pull the needle through from the reverse side of the work, leaving the loop on the back. After taking the needle down through the fabric, I pop it through the loop to secure the thread.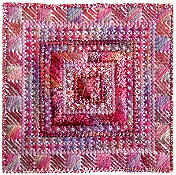 A student's workshop piece using rayon and other threads
Talking of needles, pick one that has a large enough eye. If you force the rayon through an eye that is too small, it will "saw" away at the thread and cause it to fray and break.
With these tips, you will enjoy using rayon in your projects.
Brands of rayon embroidery thread
Anchor Marlitt Embroidery Floss
Perhaps the most easily obtainable rayon embroidery thread, at least here in the UK, is Anchor Marlitt. This comes in skeins and it is a 4 ply yarn. It is divisible and you can use as many strands together as you need.
Brazilian Embroidery Threads
Brazilian Embroidery
traditionally uses rayon embroidery threads, of which the best quality are those manufactured by
Edmar
.
Edmar threads are available in various forms, ranging from fine to chunky. They are all hand-dyed and colourfast. There is no need to separate the strands. Before you stitch, pull the cut length to straighten it out. 

The types available are...
Glory, a fine 2 ply with a loose twist
Iris, a medium 2 ply with a loose twist
Frost, a medium 3 ply with a tight twist
Lola, a heavy 3 ply - great for thicker branches and stems
Cire, another heavy 3 ply, with a slightly looser twist than Lola
Nova, a very heavy 6 ply with a loose twist, which is useful for padding
Boucle, a nubbly textured yarn
Madeira
Madeira Decora rayon floss is sold in tangle free, 5m spiral packs and is available in 80 solid colours and 10 variegated.
Sulky rayon thread
Sulky Rayon Thread - the finer 40 wt. comes in 388 colours and the thicker 30 wt. is available in 102 (solid) and 54 (variegated) - both weights are ideal for machine embroidery or delicate hand embroidery.

Keep in Touch with Stitchin'Times Newsletter