British Wildlife cross stitch patterns
These four wildlife cross stitch charts have been re-released as downloads only. No need to wait for the postman to pop a parcel through the letter box; purchase now and download immediately. Of course, in addition to the convenience, you will also save money by not having to pay any postage charges
Each design features a family of animals in their natural environment.  Nothing in nature is neatly enclosed in boxes and to reflect this I have allowed part of each design to "break out" beyond the edge of the design.
No fractional stitches are used in the badgers, heron or foxes designs. However, there is a fractional stitch in the stag's eye, to give it shape. Check my instructions for fractional stitches if you haven't tried them before, they are not as frightening as you may think!
Badger family
This mother badger is introducing her cubs to the world outside their set.
On the occasions I have seen badgers, it has been just before the daylight disappears and night draws in, when they are setting off to hunt.
We have a number of badger sets locally - the closest is just a short walk from our home.
Downloadable pattern £2.50

Fallow Deer family
Red Fox family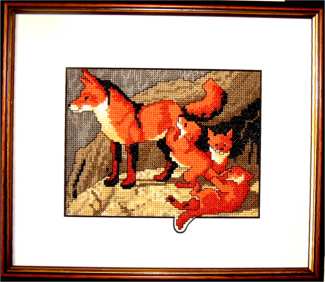 Approx. design size: 6.75 x 5.75 inches
Heron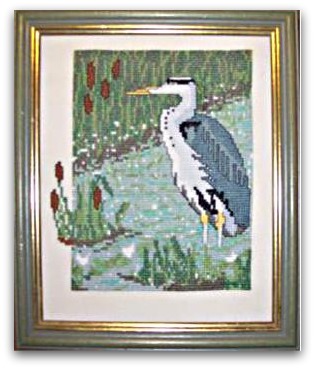 Approx. design size: 6 x 7 inches
Standing perfectly still, patiently waiting for an unsuspecting fish to swim past, the heron could be mistaken for a garden ornament. In fact, I spotted one recently which didn't look very realistic and I was just about to share my thoughts with my companion, when it flew off!
This wildlife cross stitch design was based on a photo I took of a real heron.
Downloadable pattern £2.50

Keep in Touch with Stitchin'Times Newsletter