Problem with where to start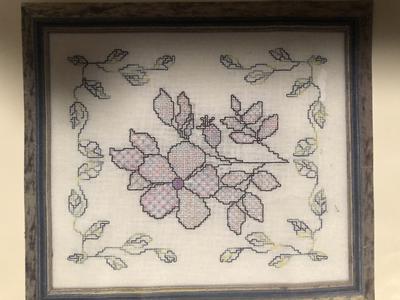 16 years ago I made my first two blackwork patterns which happened to be your designs, I realised today:

1 Blackwork stitcher, 6"x4", Lacemaker with stand and hooped fabric, and
2 The Mischiefs -The sewing room, 9"x8.25"

Because they both turned out well my sister gave me a cross stitch design by Inglestone called Rosa, design no 404D, 8"x9.5". Designed to be made on evenweave,but I also bought Aida as easier to work on because instructions were limited on the reverse of the colour picture in the pack. However even on enlarging the design the fabric threads are very unclear and I have no idea where to start. I will try to upload a picture of this multicolour design; looking at it I wonder whether a simpler place to start would be to start at the base of the rose stem, which appears to be centred across the width ...

Can you advise as to how I go about it? And will Aida make a difference to the size? Inglestone appear to be no longer in business so I am unable to contact them.

I would very much appreciate any help or advice you can offer - I don't want to give up on this.