Why you need magnifying lamps for embroidery
Magnifying lamps are not just for the elderly. Anyone who does detailed needlework, crafts, or even just reads fine print can benefit from using a magnifying lamp.
If you do embroidery in the evening and use an ordinary desk lamp to try to increase the illumination level, you will find that such lighting is rather harsh and does not provide the best color balance.
If possible choose natural light by choosing a table next to a sunny window. But depending on where you live, your opportunities for optimum sun exposure can be limited - especially in winter!
Magnifying lamps solve this problem by providing evenly distributed bright illumination without any distracting shadows or glare from another source of light.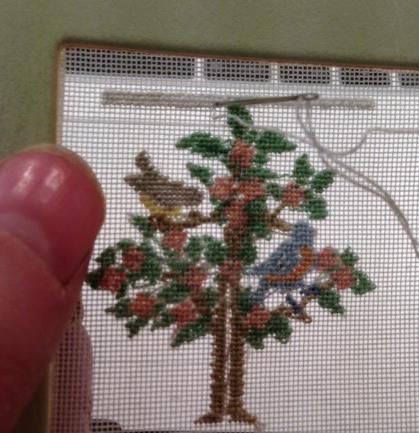 The benefits of using a magnifying lamp
Using a magnifying lamp reduces eye strain, especially when you are doing detailed needlework. With reduced eye strain, it is easier to sew for longer periods of time.
Another benefit of the magnifying lamp is that it makes color matching your thread more accurate and easier than with traditional lighting sources.
To understand this, let's take a look at how the human eye works in comparison to regular lighting sources.
Standard desk lamps (or even too much light from a window) generate eye strain and eye fatigue. The standard light source we use to illuminate our work causes eye fatigue because it is simply too bright for your eyes to adjust to.
Eye ache and eye fatigue affects your color perception, an important point when you are sewing or doing other detailed needlework such as counted cross stitch or needlepoint.
Our eyes can better adapt to changes in levels of light when illuminated by a magnifying lamp, so eye strain and eye fatigue are reduced. The result is an improved color perception which helps you get the most from your embroidery project.
It is important to get a good quality model that provides high-efficiency illumination with the proper color temperature for optimum results.
Gone are the days when lacemakers used a lighted candle behind a glass full of water, which magnified the light enough for them to continue working when the sun went down.
What are the symptoms of eye strain?
How do you know if you have strained your eyes doing too much embroidery in bad light? The following symptoms are a giveaway...

Your eyes feel itchy, watering and sore
You suffer from blurred or double vision
You have bad headaches
You find you have an increased sensitivity to light
You find it difficult to concentrate on your needlework
There is now such a wide choice of magnification lamps available, suitable for wherever you do your handicrafts, that you can wave eye fatigue goodbye. Even better - they don't need to break the bank!
How do you choose a magnifying lamp?
When buying a magnifying lamp, there are several factors to consider. First of all, you need to determine whether or not your work will require an additional lighting source and if so which type. 
Most lamps come with built-in 500 watt halogen lights that last three thousand hours or more but you may prefer to use bars of LED lights that are brighter and have longer life spans.
Next consider the size and weight. Will you be using it at home only, or will you need it to be portable so that you can take it with you to classes?
Some are nearly three feet tall while others only extend about half that height, making them more suitable for cramped work areas.
Larger bases can easily take up an entire table so if you're looking at something that will be used frequently, you might want to opt for one with a smaller footprint that attached to the edge of your work table with an included clamp.

From a safety aspect, the base and arm should be stable so they won't tip over. They should also be easy to adjust and able to hold their position firmly, while remaining lightweight enough to manoeuvre. 
Consider whether you would like a separate light source and magnifying lens, each on its own flexible gooseneck, or if you would prefer a lamp with a circular bulb that surrounds the magnifier in the center.
Some units consist of just the lamp, without a magnifying glass.
Types of magnification
Most lamps have a large optical element which enables them to be used for several purposes but those with smaller optical elements are ideal for tasks that require greater amounts of magnification. 
Lamps with larger lenses tend to be more expensive but they're not necessarily better than those that have smaller optical elements.
Magnification power
You are likely to find that the strength of magnification is expressed either in dioptres or as 2x, 3x etc. But what do these terms mean?
Now I will try not to get all technical on you, and keep this simple.
The term dioptre refers to the curvature of the lens. A magnifying lens is convex (or thicker in the middle) and the thicker it is, the more dioptres and therefore the more magnification.
To calculate the magnification strength of a lens where only the dioptre value is given, you can use the following formula - divide the number of dioptres by four and then add one to that figure.
The following table shows some common equivalents...
Dioptres

3d

5d

8d

Magnification strength

1.75x

2.25

3x
What strength do you need
Keep in mind that the higher the level of magnification the closer the lens needs to be to your stitching or pattern, and the smaller the area that will be visible.
Therefore, buying a really strong magnifying lamp will not necessarily be your best option. You need room to pull the thread through the fabric, without hitting the lens and scratching it with your needle!
Personally, I opted for a 2x magnification, which I found worked well for me. 
Color temperature
Normal light bulbs give out a warm, yellow light which has a color temperature of approximately 2700 kelvin. For your embroidery purposes it is important to be able to match colors accurately. In order to do this, you want to look for a lamp that uses daylight light bulbs which have a value of 6400k.
This type of bulb can be expensive, however, so if you need to economize you could opt for a cool white light of 4000k, which will still help.
In summary
If you are looking for a way to keep your eyes healthy when embroidering or quilting, then investing in the best magnifying lamp is an excellent choice.
There are many different types of lamps available on the market which can be overwhelming if you don't know what type of features and benefits they offer. By reading this article, we hope that it has helped narrow down the choices so you can make an informed decision about how much magnification power will work well with your needs.
Now all you need to do is find one at a price point that works for your budget! Have fun shopping online today.
Keep in Touch with Stitchin'Times Newsletter