Showcase your latest crazy quilt projects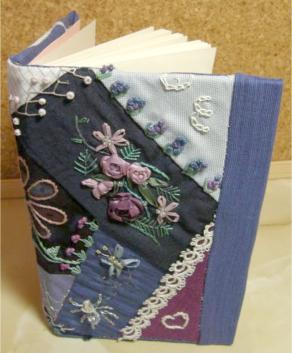 We all love to see what our fellow crazy quilt enthusiasts are working on don't we? Well here is your chance to show off! Use the invitation below to easily create your own page on this site and show us what you have been doing.
Don't worry if your project isn't finished yet. We like to see nekkid blocks as well as fully encrusted ones. Perhaps you have a block that isn't talking to you, and you just can't see what to add to it next. Upload a photo or a scan and ask for advice.
In fact if you have any questions relating to working a crazy quilt this is an ideal place to ask them!
Don't forget to pay it forward and comment on other people's work, letting them know what you like and asking how they did it. This way we can all learn from each other.
Why do you crazy quilt? Which are your favourite stitches and colours? Have you created a button trail? Do you like the encrusted look? This is your section of the site and you can use it to share ideas and tips.
Tell us who your project is for? How long have you been working on it? What will you make it into when its finished...a quilt, a wallhanging, a pillow, a tea cosy or perhaps a bag?
Are you feeling left out because you haven't yet created any crazy quilt projects? Don't worry, check out my step-by-step instructions for piecing a crazy quilt block and join in the fun.
Well, time for me to stop waffling, and pass this page over to you.
Show off your latest block or project
Are you a crazy quilt fan as well? Have you created a block you are especially proud of? Want to show it off? This is the place! Upload a picture of your block (or just part of it) and tell us about how you stitched it.
Check out other stitcher's blocks below
Click below to see contributions from other visitors to this page...

Keep in Touch with Stitchin'Times Newsletter