Displaying and Hanging A Quilt
with Flair and Imagination
Often people with a passion for collecting or making quilts end up with closets and drawers full of these beautiful objects. Because they are unsure of the proper procedure for hanging a quilt or they aren't quite sure of interesting ways of displaying them, the quilts often never see the light of day.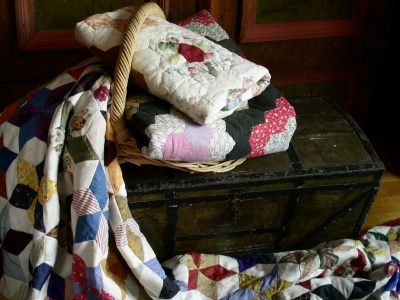 If you are lucky enough to have a beautiful quilt you would love to hang, here is the correct way of hanging it.
Cut a piece of fabric 4 1/2" wide and 2 inches shorter than the width of your quilt. 
Fold right sides together and sew a tube using a 1/2" seam.
Turn right side out and press. 
Hand sew to the back of your quilt at the top. 
You now have a sleeve to put a rod through. 
I have found that making the tube provides a more stable sleeve than by merely just turning under a 1/2" seam on a single piece of fabric.
You can purchase decorative drapery rods to hang them from. This way you can change the quilts often and display more of them. 
Now you are ready to hang your quilt anywhere.
If you plan on hanging one quilt permanently, you can put a wooden 1x2 board through the sleeve. If you are going to use this method, you may want to cut your sleeve 5" before making the tube to allow a little play for the board. You can then nail or screw the board to the wall in a permanent position
When you choose a spot for hanging a quilt, be sure to keep it out of direct sunlight. Because this is made of fabric, the sun will fade the quilt and also hasten the deterioration of the fabric.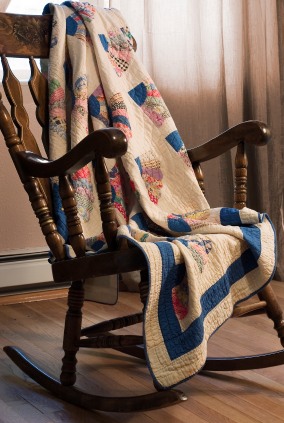 Displaying quilts
When it comes to displaying quilts, there are many other interesting ways to do this. Here are a few tips you can use for displaying them...
Purchase an old cupboard or armoire and display them on the shelves. If you choose this method, be sure to fold the quilts with acid-free paper in the folds. Re-fold them occasionally to keep the folds from setting into the quilts
Drape them over a rocking chair and put some old rag dolls in the chair along with them
Fill an old trunk or suitcase with them. Arrange them in a pleasing manner, having them spill out of the trunk
If they are not too valuable, use them as tablecloths on end tables. Cover them with a glass top to protect them
If you have damaged quilts that are not valuable, you can cut them, save the salvageable pieces, and frame them or create a collage of quilt pieces.
If you have mini quilts or salvaged pieces of quilts, place a doll in an antique cradle and use your quilt as a coverlet
Once you find ways of hanging quilts and try some various ways of displaying quilts, you and others will be able to enjoy them. Don't hide your collections in a bureau draw or closet. Bring out these wonderful works of art and enjoy them every day.
Author's Resource Box:
Gloria Daniels has worked in many areas of the home decorating field and has been helping clients decorate their homes creatively for over 20 years. 
---
---
Keep in Touch with Stitchin'Times Newsletter