Learn how to embroider by hand
one stitch at a time
Are you looking for a new way to express yourself creatively? Learning how to embroider may be the perfect solution.
Embroidery is a fun craft that you can learn easily, with the right guidance and practice. Not only is it an enjoyable activity, it also has the potential to become a meaningful creative outlet.
In this section, of the site I will share the essential basics of how to embroider, from the tools you will need to building up a library of stitches. So, set aside some time to learn the craft of embroidery and enjoy the beauty of creating with a needle and embroidery floss, pearl cotton, yarn, crewel wool and many other fibers.
I would love to teach you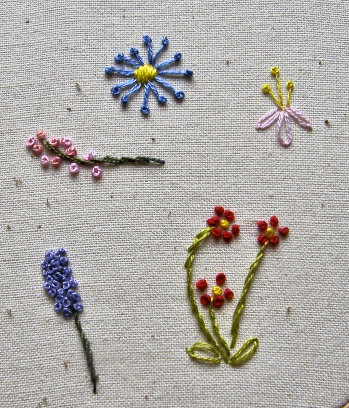 My grandmothers taught me how to embroider when I was a young girl.
Needlework was a subject at my school in the 1970s. I persuaded my teacher that embroidery was more interesting than dressmaking, so I got to practice lots of techniques.
Can't find relatives to teach you? No problem. I would love to step in as a substitute.
Over the years I have taught in many venues throughout the UK including schools, shops, shows, churches and private houses. 

Now, with the help of the internet, I can pass that knowledge onto you in the comfort of your own home. 
Consider me your virtual friend, sitting by your side, guiding you through the different stitches and techniques of hand embroidery. 
So enough talk, let's get stitching.
Start with simple projects to gain confidence. Record your accomplishments. And never underestimate the pride you'll feel when you want to show off what you've accomplished.
How do you get started?
What will you need?
Find the right needle for your fabric and thread here
Choose the best embroidery scissors for the job
Learn how to use an embroidery hoop and why
How do I ...
How do I use an iron on transfer to get the design on the fabric?
How can I embroider my name to personalize my belongings?
How do I stitch a line in a design?
How do I fill an area with stitches?
Which stitch ...
Which stitches can I use to embroider small flowers?
Which stitches can I use to embroider leaves?
What stitch can I use to embroider a strawberry?
What stitch can I use to embroider a hen?
Can I use variations of chain stitch to create a fish design?
How can I create a furry effect?
Once you have learned the basics...
we can take things a little further. 
Try some different embroidery techniques
If you have more experience, or like a challenge, check out the following pages on the site...
Thread painting - use long and short stitch to create a embroidered picture
Stumpwork or raised embroidery - create an Easter bunny in a basket
Cutwork - worked in crisp white on white
Embellish a crazy quilt - you can really go to town here!
Colcha embroidery - a traditional technique from New Mexico
So what is hand embroidery?
Let's look at the dictionary definition...
"The decoration of fabrics with stitches, worked with needle and thread"
My early projects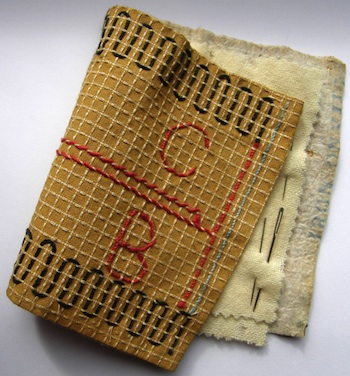 We all have to start somewhere. I thought I would share some of my earliest embroidered projects with you.
The needle case shown above was the first piece of sewing I did at junior school. I threaded the running stitches under the loose threads on the surface of the fabric. I was about 8 or 9 years old when I stitched this. 
In the 70s, I learned how to embroider big, bold flowers onto my purple flared jeans. I wore these with an embroidered cheesecloth blouse decorated with small lazy daisy stitch flowers around the neckline and shoulder.
Also at school, I appliquéd felt leaves onto a table mat for my mother, which she insisted on using well into my adulthood
Just before I got married, I started a stamped cross stitch tablecloth, but that never got finished as my skills improved and I realized what a mess I had made of it!
I stitched many embroidery kits, including one that had wild animals all over it
I stitched my grandparents a picture of an old man and lady, which they proudly hung in their lounge for all to see.
Ready to learn how to embroider?
When I am teaching needlework in person, I am often told that I seem to remember what it was like to learn something new and that I explain the basics really well.
Hopefully, you will find my written hand embroidery instructions just as easy to follow. But remember, I am always here if you need extra help. I am happy to explain things further and in different ways until you understand how to embroider a particular stitch or technique. Just ask!
The most important thing is to have fun while you learn to embroider by hand. It is a wonderful way to relax from the busy lifestyle we all live nowadays.
You could create an heirloom to pass down to your children and your children's children. Averi's mother did just that, and I am delighted to share photos of her work here on the site.
What Other Visitors Have Said
Click below to see contributions from other visitors to this page...

Keep in Touch with Stitchin'Times Newsletter