Photos of vintage embroidery

I received a lovely e-mail in which Averi mentioned that she had some treasured vintage embroidery projects of her mother's. She kindly agreed to send some photos that I could share them with you.
Her mother, Julie Mola enjoyed free style hand embroidery, used in the traditional way on clothing and bed linen. she utilized a number of basic embroidery stitches in her work.

The Embroidered Apron
Let's start with an embroidered apron...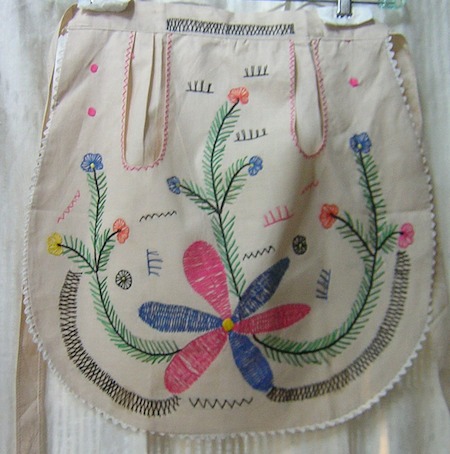 ...and a close up detail of the stitching.

I do not see any transfer lines on the fabric so wonder if this was done entirely freehand? I believe she used two rows of herringbone stitch to create the large flower, taking the needle down in the center of each petal to reduce the length of each stitch. This avoids the thread getting caught during laundry.  
Julie embroidered a similar apron in a different colour scheme...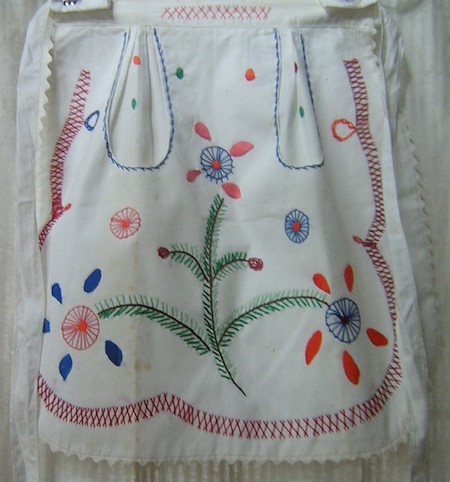 ...and a slightly different pattern. She makes use of herringbone stitch for the border...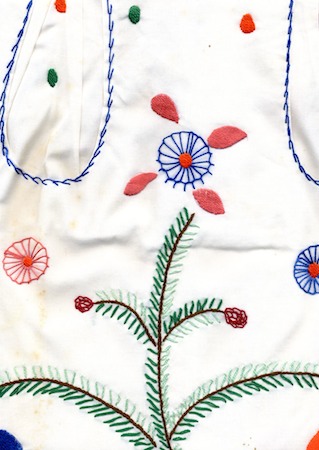 ...and straight stitches in two shades for the fir branches. I believe the circular motifs are worked in buttonhole stitch.
It is possible that the red leaves are appliqued in place, rather than embroidered. 
Embroidered Pillowcases
More fir branches (or are they ferns?) are stitched here in green and blue.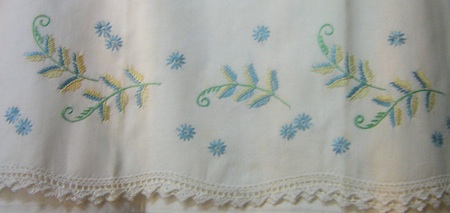 Julie also crocheted the lace edging.
Another of her vintage embroidery pieces was a crib pillowcase featuring a little bunny, who's outline
 is stitched in a similar way to traditional Redwork Embroidery.
The little flowers are worked in lazy daisy stitch. This pillowcase may have been worked over a transferred image, with the delicate colouring on the bunny already printed on the fabric.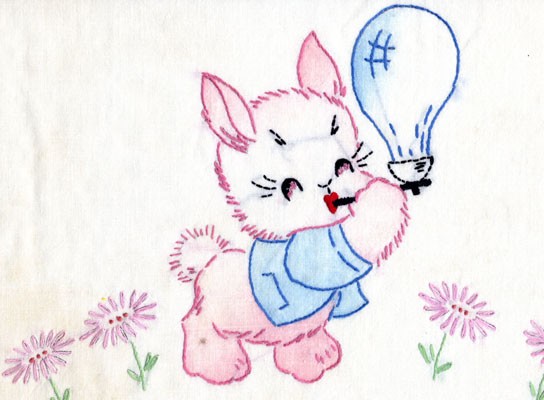 The next piece to share with you was also on a pillowcase. This is just a detail, showing a potted plant.

And lastly a basket of flowers, this time on an embroidered tablecloth. The basket appears to have been outlined using stem stitch with the red petals of the flowers worked in short satin stitches widthways. It's back to an old favourite, lazy daisy (or detached chain stitch) for the leaves. 

I would like to thank Averi for being so kind in sharing her mother's work with us all. If you have any pieces of vintage embroidery you would like to share be sure to drop me an e-mail on the Contact Carol page and maybe I can feature it for you. 
Keep in Touch with Stitchin'Times Newsletter