Homemade Valentines Cards
are extra special
What better way to say you care than with homemade valentines cards! 
Instead of popping to the local shop and buying the same valentines day greetings cards as hundreds of other people, why not take the time to create something yourself, that really says "I love you!"
This free cross stitch heart pattern is super simple to stitch. You will have it finished in an evening. 
You can even add a touch of silk ribbon embroidery, to make it extra special. I used some scraps of 4mm silk ribbon to stitch four colonial knots surrounded by loose stem stitches, to create the rose. Then I added two green lazy daisy stitches for the leaves.
I stitched my bunny in pale blue with a two tone pink heart. 
You may prefer a little brown rabbit and a bright red heart. Feel free to change things to suit yourself. 
You could stitch the heart in the colors of your loved one's favorite football team or add backstitched initials on it! Homemade Valentines cards are meant to be personal, so adapt my basic design in any way you wish.
This little fella is 36 stitches tall by 36 stitches wide. That will make the design measure 2.5 inches square when stitched on 14 count Aida (or 28 count evenweave over two fabric threads). If the aperture of your card is smaller, then try stitching him on 18 count instead.
I used two strands of floss for the cross stitches and a single strand for the backstitch. I chose slightly darker shades of blue and deep pink for the outlining as I felt black would be too harsh. I used the blue around the bunnies paws, as they would be in front of the heart.
You can outline the eyes and nose if you wish. I preferred to leave them, as I like the effect of the crosses for the eyes, almost as though they are sewn onto a treasured toy rabbit.
If you require help with mounting your rabbit into an aperture card my handmade greetings card page will give you all the details.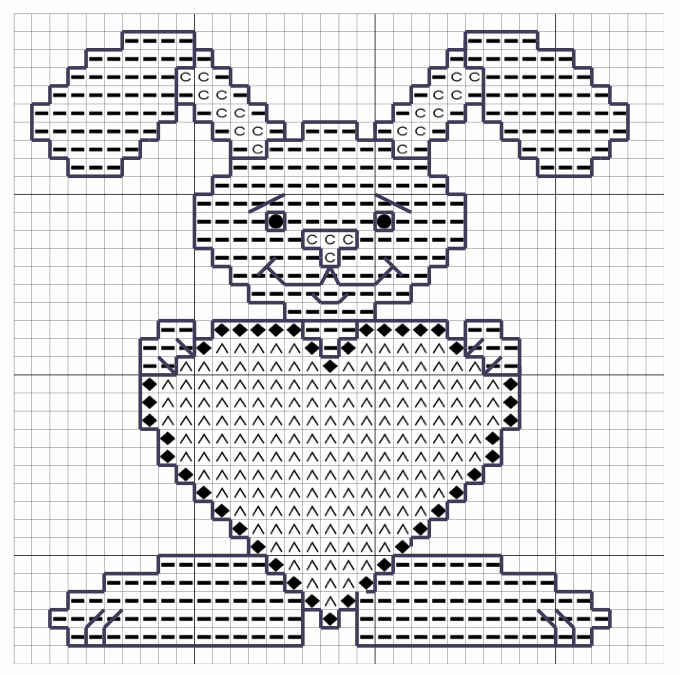 This chart is the copyright of
https://www.needlework-tips-and-techniques.com
You are welcome to stitch it for your own valentines day cards, but please do not copy it and use it elsewhere on the Internet. If you stitch him and want to show him off, that's fine. I would appreciate a link back to this page, in that situation, so that others can also stitch him if they wish.

Want more?
Don't forget to sign up for Stitch'n'Time so that you are alerted when I add new freebies and other information to the site. All you need to do is to pop your e-mail address and first name in the box on this page and click the subscribe button. Its free and I will never pass your e-mail address to anyone else.
---
---
Keep in Touch with Stitchin'Times Newsletter