Free cross stitch pattern index
Ready to try a free cross stitch pattern? If you've digested the information on my beginners page, then you're probably keen to stitch your first real design.
But wait!
Before you go ahead and browse my cross stitch design catalog you might like to try a freebie, as a gift from me. This will give you a chance to try out my charts to make sure you can follow them easily. It will also give me a chance to say thank you for visiting my site today.
All you will need is some basic supplies, cross stitch fabric, a needle and maybe a hoop. 
Got them together? Great! Now choose from the list below...
PDF file - sorry no pic yet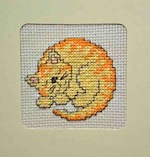 There are also other types of free embroidery designs throughout the site. Clicking on the link above will take you to a list of those also.
Please feel free to use these charts to introduce a friend to cross stitch. I am also happy for you to link to the free cross stitch pattern pages so that others can find them.
Please respect my copyright and do not copy my page and then add it to your own Web site. All pages on this site are protected by Copyscape and I will be alerted if you do that, and would have to ask you politely to remove them. 
---
---
Oct 28, 19 05:33 AM

Learn how to use Split stitch in multiple ways in your embroidery projects

Sep 21, 19 05:48 AM

Simple blackwork Christmas designs to download and stitch for cards, coasters or decorations. Choose from star, bell, robin or blackwork angel patterns

Sep 21, 19 05:32 AM

Learn how to do blackwork embroidery? Find instructions, patterns and ideas for this, and lots of other types of needlework