Free Cross Stitch Pattern
Free cross stitch pattern - Turkey
I've included a turkey as my free cross stitch pattern this time around.
This little fellow would make lovely place cards for the festive meal table if stitched on perforated paper. Or you could pop him into a Christmas card or hang him from the tree as an ornament. 
My cross stitch freebies are super simple to stitch and won't take you more than an evening to complete, so why not make more than one!
You will need:
To stitch your free cross stitch pattern you will need...
6 inch square cream Aida 14 count
size 24 tapestry needle
small 4 inch embroidery hoop
DMC stranded embroidery floss in the colours listed in the key* (If you prefer Anchor floss, please see my handy conversion chart).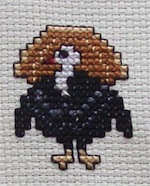 Changing the finished size
If you want to have your completed turkey bigger or smaller, you can use this handy cross stitch calculator to work out what fabric count will give you the size you require. 
Copyright information

These free cross stitch patterns are provided for your own use.
You may stitch them and sell the finished product to raise money for charity or good causes, but please be aware that the copyright of the design is mine and therefore selling the pattern itself would be in breach of the copyright laws.
If you wish to share the pattern with friends please just give them the link to this page. If you have your own website you are free to link to this page, with my thanks.

Want more?
Don't forget to sign up for Stitch'Time so that you are alerted when I add new freebies and other information to the site. All you need to do is to pop your e-mail address and first name in the box below and click on the subscribe button. Its free and I will never pass your e-mail address to anyone else.

---
---
Keep in Touch with Stitchin'Times Newsletter
Free Cross Stitch Pattern