Free Christmas Cross Stitch Pattern
A free Christmas cross stitch pattern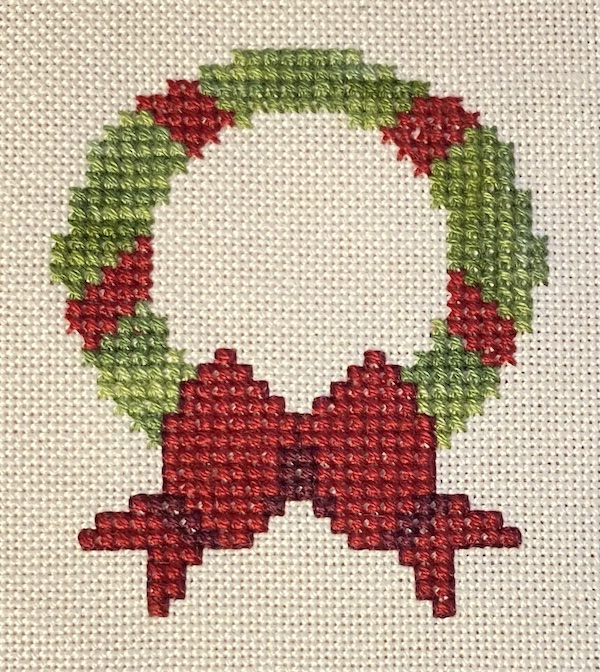 How excited are you about the Christmas season this year? Are you still frantically searching for the perfect Christmas card or mini gift to give to a loved one? Don't worry; I've got you covered with this simple free Christmas cross stitch pattern designed by me, Carol Leather. 
This quick to stitch Christmas wreath makes use of leftover embroidery floss, so it's perfect if you have a few strands remaining from other projects. To save the hassle of changing thread colours, I used a variegated floss for the main wreath, but you can pick just a single green if you wish. Add two shades of red for the bow, and a darker colour for the backstitch outline, grab a small square of Aida or evenweave fabric, a needle, some sharp scissors, and get stitching!
New to counted cross stitch? Here's a helpful tutorial on how to get started.
If you want to put your finished stitching into an aperture card, click on this link for instructions.
It will only take you about an hour to stitch this project, but it will look absolutely gorgeous once it's done! The design is 30 x 35 stitches and the stitched area will measure a little over 2 x 2.5 inches (5.44 x 6.25 cm) when finished. 
I have kept it simple, but if you want to fancy things up, why not add some beads or crystals to your wreath? Or choose a metallic thread and deck your wreath with a sparkly gold ribbon!
The link below will take you to the pdf download for the chart, which you can print and use to stitch as many Christmas wreaths as you like. You can even sell your stitching at the local bazaar or craft fair, especially if you are raising money for charity.
However, please do not abuse my copyright by copying or selling my chart. This is my gift to you, please use it fairly.

Keep in Touch with Stitchin'Times Newsletter
Free Christmas Cross Stitch Pattern